By Maxine Hess
Writer, charles | SaaS branding | Conversational marketing
In the world of digital marketing a game-changing new marketing channel is taking off: messenger apps. From WhatsApp to Instagram, these are a powerful, personal and direct way for ecommerce brands to talk to customers. If you're new to this, here's what WhatsApp marketing means, and how you can (and why you should) get started.
What is WhatsApp marketing?
WhatsApp marketing is a new type of marketing in which businesses send use WhatsApp for promotional purposes. They send marketing messages to customers through the WhatsApp Business messenger service. These marketing messages could be discounts, competitions, product launches or even surveys.
In 2022, WhatsApp started to allow businesses to send marketing messages on WhatsApp. Previously businesses were restricted from sending unsolicited advertising or marketing messages to people.
WhatsApp marketing campaigns are generally sent to a highly segmented audience.

This is a new and changing market. You may hear other terms used for WhatsApp marketing, including: "WhatsApp campaigns," "WhatsApp promotional messages," "WhatsApp advertising," "conversational marketing," "conversational business," "chat marketing," "social marketing." In the DACH (Germany, Austria and Switzerland) region, WhatsApp marketing messages or campaigns are called "WhatsApp newsletters."
WhatsApp marketing definition
WhatsApp marketing [ wuhts-ap mahr-ki-ting ]
Promoting products, services and brands to consumers in WhatsApp.
WhatsApp marketing refers to the use of the messenger for commercial purposes. You use the communication channel to provide your customers or prospects with individual information, so-called service notifications. Possible goals are to strengthen customer loyalty, satisfaction and reduce costs, like customer acquisition costs (CACs) and lengthen customer lifetime value (CLV).
Why are more and more businesses doing marketing on WhatsApp?
Businesses are looking for more personal ways to communicate with their customers. Email is impersonal, offering only a one-way means of communication and has low opening rates of around 17%.
Meanwhile, social media is a crowded landscape full of noise and algorithms that can be hard to crack.
WhatsApp messages on the other hand go directly to customers, and customers can reply if they like – opening up conversations that lead to brand loyalty and sales.
WhatsApp and other messenger services are perfectly placed to take advantage of this opportunity. With the functionality of WhatsApp Business improving all the time, together with WhatsApp Business software, now is the time for businesses to start planning marketing campaigns on WhatsApp, and designing a WhatsApp marketing strategy.
The results are impressive, with delivery rates of 100% and open rates of over 90%.
In countries like China (WeChat), India and Brazil, WhatsApp marketing is well established as a revenue stream. In Europe it's a fast-growing opportunity as businesses learn the benefits of talking with customers on WhatsApp.
What's the difference between WhatsApp marketing messages and customer support messages?
WhatsApp marketing messages are sent to customers without the customer sending a message first. WhatsApp Business calls them "business-initiated messages.
Customer support messages are sent as a reply to a customer's question. WhatsApp Business calls these "user-initiated messages." For these, you need to hold the entire conversation within a 24-hour window (designed by WhatsApp to incentivize businesses to respond quickly to customers).
WhatsApp marketing messages cost more per conversation than support messages.
See some examples from Meta here
How much does it cost to do WhatsApp marketing?
Every WhatsApp Business account (WABA) gets 1,000 conversations a month for free.
After that, you pay per conversation you have with a customer (WhatsApp calls them "message threads"). So if you send a WhatsApp marketing campaign, and the customer replies and you have a conversation, you'll pay for one conversation only, as long as it's within the 24-hour window.
The cost per conversation depends on the type of message (see above). Check the WhatsApp Business page for the latest prices. You can see EUR prices here, GBP prices here and USD prices here.
If you choose to get WhatsApp Business software, you'll usually pay a bigger fee for each conversation, which includes the WhatsApp fee, plus a fee for the software provider. This can actually be a good thing, as it incentivizes the provider to grow your business so you message an increasing number of people.
You would also pay a monthly subscription for the software, which should include advice and consultation on how best to plan and word your WhatsApp marketing campaigns.
Why do companies pay for WhatsApp marketing (especially when email is free)?
Because WhatsApp marketing (done right) offers a very high return on investment (ROI). WhatsApp is a very direct, personal channel and customers tend to respond very well to marketing campaigns sent on this channel. Particularly when they're highly relevant and well targeted.
It's also a direct, personal way to build strong customer relationships that will endure in the long term.
WhatsApp is not a short-term sales channel. In contrast to other types of marketing and advertising, WhatsApp marketing needs a gentle, thoughtful approach.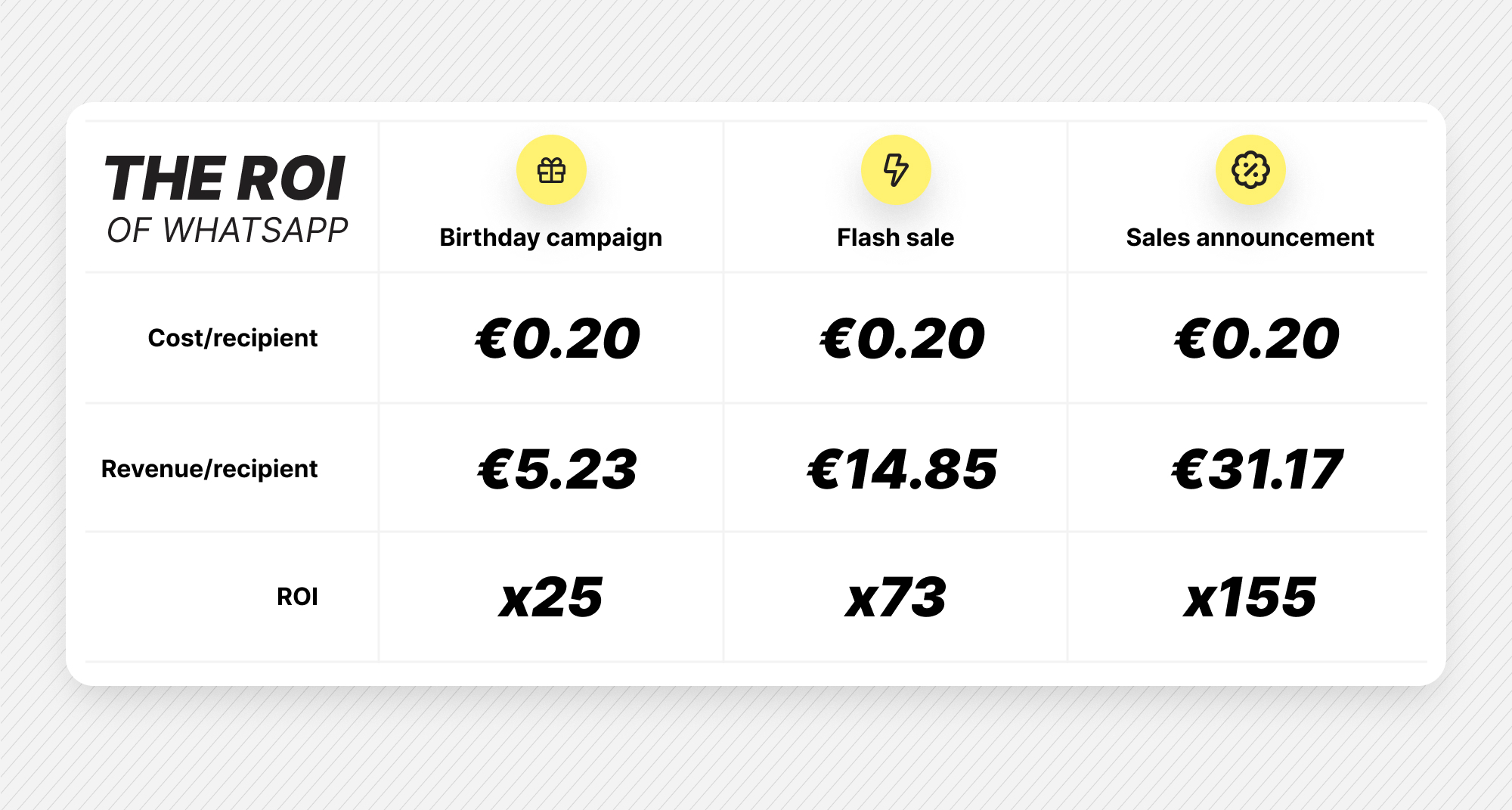 Recent ROI results from client WhatsApp marketing campaigns
What software do you need for WhatsApp marketing?
If it's just you, you can use WhatsApp Business on your phone. If you're a little larger, you could use the WhatsApp Business Cloud API. This would take some development work to use but offers extra functionality.
For maximum return and ease of use, medium- to large-sized companies are best to choose an out-of-the-box WhatsApp Business software platform like charles.
This helps you manage thousands of messages easily, spread conversations across many chat agents, analyze results, automate WhatsApp marketing campaigns, integrate your online shop (like Shopify or WooCommerce) and more.
The provider should also help you learn about WhatsApp best practices and ultimately how to build your brand successfully in this channel.
Is WhatsApp marketing spam?
No, not if you comply to the EU's General Data Protection Regulation (GDPR). The GDPR makes it against the law to send marketing messages on any channel without the customer saying they want it first.
We advise our clients to ensure a double opt-in when customers are signing up to their WhatsApp channel. This means saying twice that they want to hear from you on WhatsApp.
The GDPR also requires secure servers for data privacy. If you use WhatsApp Business Cloud API for example, the servers are unfortunately in California and are not compliant. That's why our servers are based in the EU, to keep our many European clients GDPR compliant. With spam on the rise in countries outside the EU, like India, a GDPR-compliant solution is wise when communicating with customers.
Why WhatsApp?
Most popular: WhatsApp is the number 1 messaging app in the world, with 2 billion monthly users and as many as 100 billion messages sent every day.
Secure: WhatsApp offers end-to-end encryption, which means only the person you send the message to can read it. No-one, not even WhatsApp, can read your messages.
Direct: unlike Facebook Messenger and Instagram, WhatsApp goes directly to your customer phones, with more people getting instant notifications.
How to get your brand started with WhatsApp marketing
Getting started is simple. With our WhatsApp software platform, it's easy for brands to open a WhatsApp channel within weeks. Then you can send marketing, sales and support messages and respond to customers on WhatsApp: with seamless automated opt-in flows, performance analytics and more.
---

Interested in driving more customer engagement
conversion and loyalty with WhatsApp marketing?

Sign up for the charles newschat on WhatsApp 💛