By Maxine Hess
Writer | WhatsApp marketer | Creative
Updated on September 25, 2023
You may have seen that businesses like adidas, Absolut Vodka and Air France now use WhatsApp for marketing. If you're thinking of WhatsApp marketing for your business, first learn what it is, the pros and cons, the costs and where to start.
What is WhatsApp marketing?
WhatsApp marketing is a new type of marketing in which businesses use WhatsApp for promotional purposes. They send marketing messages to customers through the WhatsApp Business messenger service. These marketing messages could be discounts, competitions, product launches or even surveys.
A WhatsApp marketing channel typically sits beside (increasingly, ahead of) email marketing and may replace an SMS marketing channel entirely.
You may hear other terms used for WhatsApp marketing, including:
WhatsApp campaigns
WhatsApp promotional messages
WhatsApp advertising
Conversational marketing
Chat marketing
Social marketing
In the DACH region (Germany (D), Austria (A) and Switzerland (CH)), WhatsApp marketing messages are often called "WhatsApp newsletters."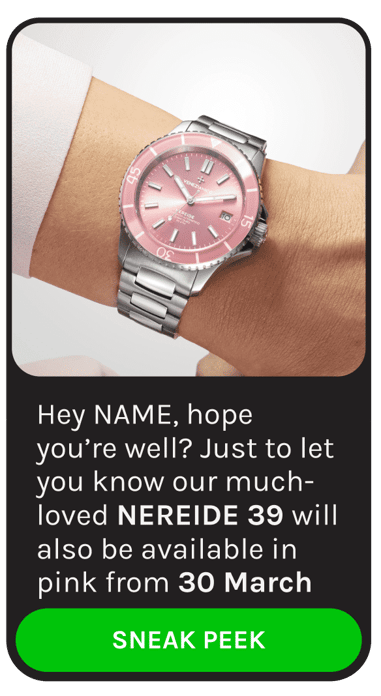 Exclusive early-access to a product launch – one way brands are using WhatsApp marketing
Why WhatsApp?
Widely used: WhatsApp is the number 1 messaging app in the world, with 2 billion monthly users and as many as 100 billion messages sent every day.
Excellent on privacy: WhatsApp offers end-to-end encryption, which means only the person you send the message to can read it. No-one, not even WhatsApp, can read your messages.
Highly visible: unlike Facebook Messenger and Instagram, WhatsApp goes directly to your customer phones, with more people getting instant notifications.
How does WhatsApp marketing work?
The steps businesses take to do WhatsApp marketing:
Collect

phone numbers

Get permission to send marketing communications
Send marketing messages through the

WhatsApp Business messenger

(the app or a software solution built on the WhatsApp Business Platform)
After sendout, businesses respond to any customer replies, carry out analytics, track user behavior and optimize for future campaigns. Customers can ask to unsubscribe at any time.
WhatsApp marketing campaigns are generally sent to highly segmented audiences no more than 1-2 times per month. Types of WhatsApp marketing messages are:
Discounts
Competitions
Quizzes
Product launches
Surveys
Seasonal creative campaigns
Brand building
Delivery updates
Order confirmations
Is WhatsApp marketing GDPR compliant?
Yes, when done right. Your WhatsApp marketing can easily comply to the EU's General Data Protection Regulation (GDPR) (DSGVO in Germany) when you follow these 3 key steps:
Always get double opt-ins:

t

his means the customer needs to say two times that they want to hear from you on WhatsApp. This is prevents another person signing up your phone number for unwanted marketing messages:


Opt-in 1:

the customer needs to send your business a WhatsApp message saying they want marketing communications. This can be done via a wa.me link in places like your website, emails or direct mail/in-store posters (as a QR code).
Opt-in 2: your business sends the customer a WhatsApp message checking they want to receive marketing communications via WhatsApp. Customers can tap on "YES" or "NO" buttons. Once the customer taps "YES," they are fully opted in and you can legally send them marketing messages on WhatsApp.



Tell customers clearly how to stop messages:

add this information to your first message. For example: "Message "STOP" to stop receiving our communications. In charles WhatsApp software, this will automatically prevent any more messages being sent. You can also add a footer to every message, like an "unsubscribe" link in an email.

Store customer data in the EU:

the GDPR requires EU-based servers for data privacy. If you use

WhatsApp Business Cloud API

, the servers are unfortunately in the US and are not compliant. Servers should be based in the EU to keep your WhatsApp marketing GDPR compliant.
There are more data privacy regulations, like giving customers the right to be forgotten. Software like charles has all these regulations built in, making data privacy compliance less of a concern.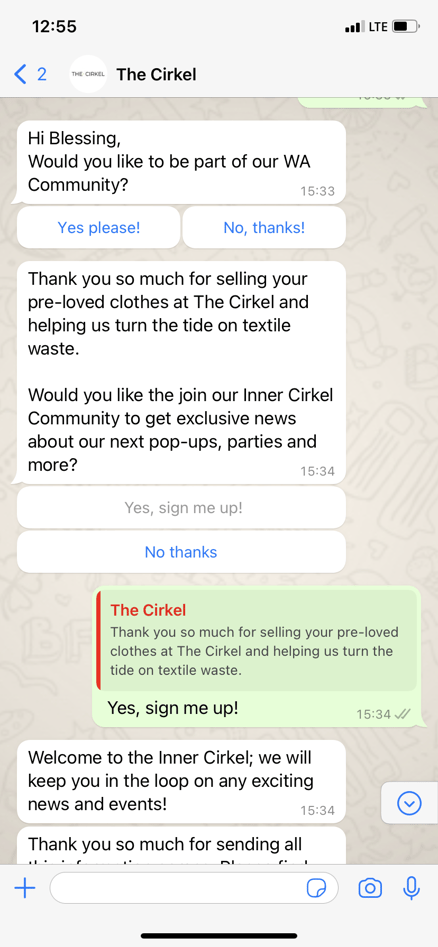 Example of a GDPR-compliant "double opt-in" where the customer gives permission twice
With heavy fines for breaking regulations, and spam on the rise outside the EU (for example in India), EU-based businesses need to remain GDPR compliant with WhatsApp marketing campaigns. See more in We 💛 GDPR: why WhatsApp spam won't come to Europe
What are the pros and cons of Whatsapp marketing?
We're a fast-growing WhatsApp marketing software company that's gaining newer and larger clients daily. It's clear the advantages of WhatsApp marketing far outweigh the disadvantages.
But nothing and nobody's perfect. Here we share both pros and cons so you can make an informed decision:
The pros of WhatsApp marketing
WhatsApp is a direct, personal channel and consumers tend to respond very well to marketing campaigns sent as simple Whatspp messages. Particularly when campaigns are highly relevant to their preferences and behavior:
High open rates: WhatsApp messages are short, sweet and within an app people already use. This leads to most of your messages being seen: open rates of around 90%.
Low effort: WhatsApp is an app people know well and enjoy using. Businesses can fit right in without having to do any extra work. Setting up a marketing campaign is quick and easy.
Strong customer loyalty: WhatsApp is a good retention channel. Customers appreciate getting personalized messages, discounts and product news in a short format, in an app they already have. It's very easy for businesses to reconnect with customers.
Narrow segmentation: through WhatsApp conversations and questions during opt-in, you learn about people's preferences and behavior. This enables you to send highly targeted campaigns to customer you know will be interested in your message.
High ROI: the effort of sending a marketing campaign via WhatsApp is very low, yet the revenue generated is typically very high – leading to very high ROI numbers. See WhatsApp KPIs below.

Ability to be found:

in

Colombia, Mexico, Indonesia, and the UK,

customers can search a WhatsApp or their favorite businesses so businesses can be found easily in WhatsApp. In Brazil, there's a WhatsApp business directory which makes this even easier. (This will come to the EU soon.)
For more, see Top 5 reasons ecommerce brands should start with WhatsApp marketing from onlinemarketing.de (in German here, 29 August 2022).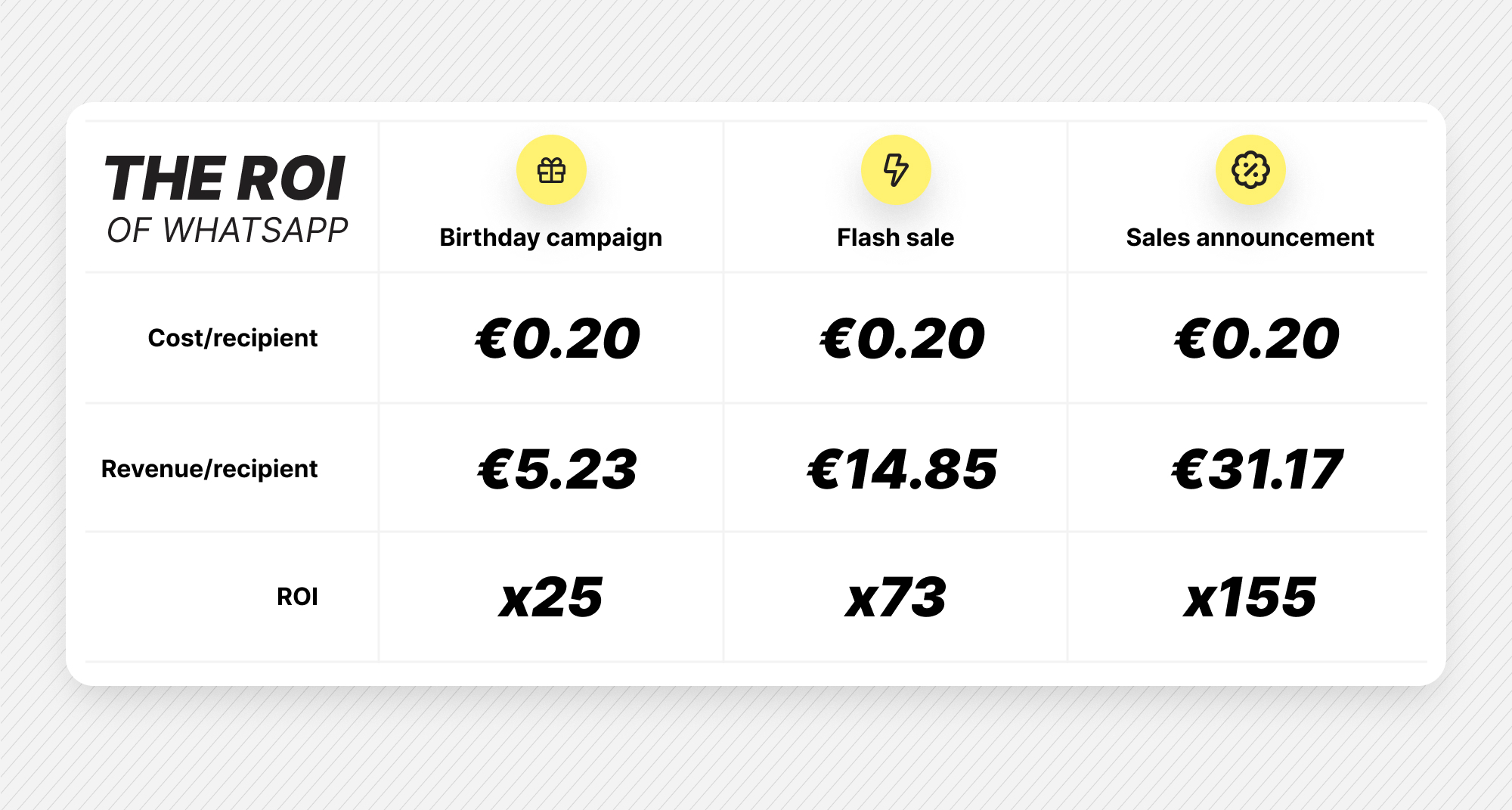 ROI results from recent client WhatsApp marketing campaigns
The challenges of WhatsApp marketing
The disadvantages of WhatsApp marketing:
Higher sendout costs compared to email: emails are mostly free to send, WhatsApp marketing campaigns come with a cost per conversation from WhatsApp (and your software provider).
Limited data to date: at the moment (in Europe at least), WhatsApp marketing is a fairly new market. This means businesses only have 1-2 years of results to draw from to make a good business case for WhatsApp marketing and measure success.

Risk of being blocked:

WhatsApp is a personal channel. Break trust and your customer will block you. Unless they opt in again, you've lost them.



Message limits: depending on your quality status, you can be limited in the number of messages you send, and even suspended for a time. Read messaging limit numbers here.
Customer acquisition: WhatsApp is mostly a retention tool at the moment. Larger businesses should already have decent web traffic before setting up a WhatsApp channel. When the WhatsApp business directory rolls out in more countries, this will change.
WhatsApp marketing vs SMS and email marketing
This is how WhatsApp marketing compares to traditional marketing channels, email and SMS:
✉️ WhatsApp vs email
WhatsApp messages are much easier to create and send than emails, and enjoy far higher open rates, engagement and conversion. They may come with extra costs to send but achieve far higher ROI (when done right).
Most ecommerce brands still use both for different purposes, but are increasingly putting WhatsApp first in their marketing strategies – because of the higher revenue with lower effort:
WhatsApp marketing
Email marketing
Cost
Free for app, cost per conversation to send from WhatsApp Business Platform (plus software provider fee)
Free to send (plus software provider fee)
Consumer use
Most popular messaging app in the world with 2 billions monthly users (source: Statista)
4 billion daily users (source: Hubspot)
Open rate
~90%
(source: charles)

~22%

(source: Mailchimp)

Click-through rate

~45-60%

(source: charles)

~2.3%

(source: Campaign Monitor)

Security
End-to-end encryption
Password protected
Attachments
Many multimedia attachments allowed: voice messages, images, videos
Images, gifs. Video lowers user experience. Voice messages not used widely in emails.
Formatting

Bold, italics, strikethrough or monospace, bullets

Wide formatting possibilities
Interactive functionality

Can add poll, 2x buttons, list, drop-down menu

Limited interaction: click on link, reply to email
💬 WhatsApp vs SMS
In Europe, WhatsApp is a no brainer over SMS. It's highly used (see usage of WhatsApp in Germany), costs less to send and offers more message options and formats. In the US, SMS is still quite popular, although WhatsApp is growing all the time.
WhatsApp marketing
SMS marketing
Message length
Headline: 60 characters
Message body: 1,025 characters
160 characters
Cost
Cost per conversation to WhatsApp plus software subscription and conversation fees
When connected to WiFi, free. When offline, cost per message from mobile provider. Plus cost per message from software provider.
Consumer use
Most popular messaging app in the world
Not as popular in most countries (due to cost), except in the US, where SMS more popular than WhatsApp.
Network connection
3G, 4G and WiFi commonly available in Europe
Relies on mobile data when out of WiFi area.
Security
End-to-end encryption (see more)
No end-to-end encryption (see more)
Attachments
Many multimedia attachments allowed: voice messages, images, videos
Can't send voice messages: send attachments, need to send MMS which costs more
Formatting

Can add headline. Bold, italics, strikethrough or monospace, bullets, links.

No rich text options (unless use MMS). Can send links.
Extra functionality

Can add list and buttons

No extra functionality
WhatsApp marketing use case examples
The best way to understand what WhatsApp marketing is, is to see some real examples. Here are some key WhatsApp marketing use cases from our clients:
Personalized offers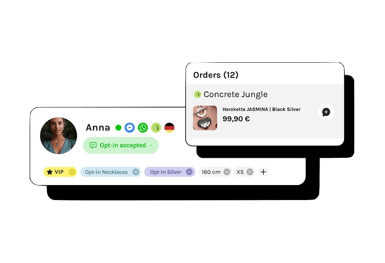 Jewellery brand Concrete Jungle segments WhatsApp newsletters very precisely, based on gender, past purchase behavior and more. Customers only get offers relevant to them, which helps maximize conversion. Thanks to fine segmentation, Concrete Jungle's marketing campaigns have an average return on ad spend (ROAS) of 300%.
Seasonal events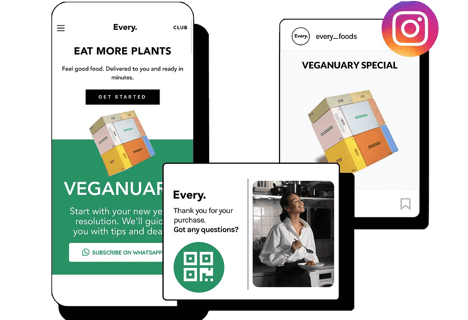 Every.'s Veganuary campaign was all done through WhatsApp, using QR codes on flyers and social media channels, sign-up forms on their website, and other activities to collect opt-ins. In just one month, Every. generated 300 new customers and 850 new opt-ins.
Interactive campaigns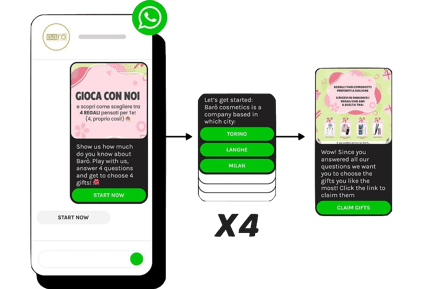 You can get creative with WhatsApp to engage customers. Our clients like SNOCKS and WRSTBHVR see great success with competitions, quizzes, polls and more through automated conversational flows. Customers get prizes and discounts, while businesses learn more about their customers and add informational tags automatically to customer profiles.
Are WhatsApp marketing messages the same as customer service messages?
No. WhatsApp marketing messages are classed differently by WhatsApp. WhatsApp uses the term "conversations" not messages and charges different prices for different types:
Business-initiated conversations

This is where WhatsApp marketing messages fall. These are conversations started by your business, not your customer. You create a "message template" which needs to be approved by WhatsApp first (this takes several hours). These conversations cost more and need to be finished within a 24-hour window.

User-initiated conversations:


This is where

WhatsApp customer service

messages fall. These are conversations started by your customer. These conversations also need to be finished within the 24-hour window.
What happens if you miss the 24-hour window?
After the "user initiated" 24-hour window closes, any message you send will be "business initiated" and will start a new conversation. To send this, you'll need to get a new message template approved and it'll cost more per conversation to send.
This incentivizes businesses to respond quickly to customers and not to send too many messages (avoiding being blocked or decreasing quality rating).
A good software solution (like charles) will make sure you don't miss the window and incur unneccessary costs and complexity – through sending regular reminders in the tool.
🚨 From June, conversation types change
From June 1, 2023, conversations will be categorized differently by WhatsApp:
Utility (purchase confirmation, billing statements...)
Authentication (logging in, account recovery...)
Marketing (everything else: promotions, informational updates...)
Service (started by the user, helping to resolve enquiries)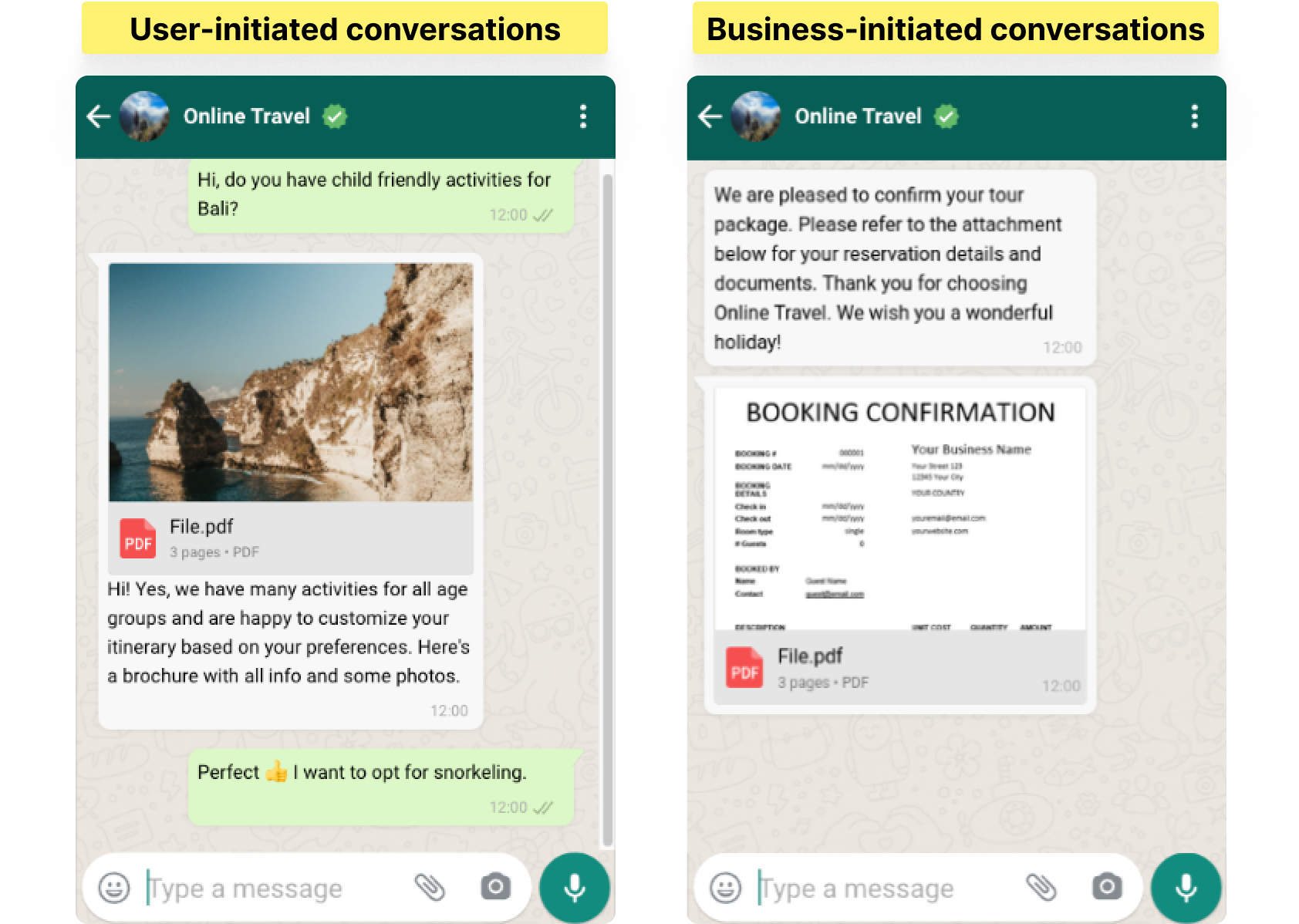 WhatsApp message types (source: Meta for Developers)
You can see more message examples from Meta here.
How much does WhatsApp marketing cost?
WhatsApp marketing costs vary depending on how you use WhatsApp Business, the type of conversation and whether or not you use a software platform. Here's an idea of how much
WhatsApp Business app costs
Just like in the consumer app, your messages are completely free.
WhatsApp Business Platform costs
If you use the WhatsApp Business Platform (also sometimes called WhatsApp API or WhatsApp Business API), you pay:
€0 for the first 1,000: every WhatsApp Business account (WABA) gets 1,000 conversations a month for free.
Then a cost per conversation: you pay a small fee for every conversation you have with a customer. A "conversation" includes all messages within a 24-hour window from the first 1 sent by your business.
The cost per conversation depends on the type of conversation (whether business initiated or user initiated). Check the WhatsApp Business page for the latest prices. See EUR prices here, GBP prices here and USD prices here.
WhatsApp Business Platform with SaaS solution costs
If you choose to get WhatsApp Business software-as-a-service (SaaS) solution to ease your entry into the WhatsApp Business Platform, you'll pay:
A monthly subscription for the software: which should include advice and consultation on how best to plan and execute your WhatsApp marketing campaigns
Cost per conversation to WhatsApp: prices here
An additional fee per conversation: this is actually a good thing, as it incentivizes your software provider to grow your business (so you message an high volume of people)
This would be offered through an official WhatsApp Business Solution Provider like charles.
🚨 WhatsApp pricing changes in June
From June 1, 2023, WhatsApp pricing changes:
WhatsApp marketing best practices
Here's some best practice advice for your WhatsApp marketing campaigns from Blessing Osadolor, charles Client Success Manager:
Offer: this will depend on your brand. For low average order (AOV) products, discounts like 20% off work well. For high value products, you might want to add an extra reward, or offer deals like

4 for 3.

Concept: a competition, an event, a fun name, a visual. Stay true to your brand. Decide if you need to hire an agency or have the resource to do your own (steal our ideas here

)

Timing: start your campaign before the event when things are a bit quieter. Offer early access via WhatsApp. See if there's an interesting time for the campaign. For example, a sportswear client brand boosted engagement by sending a WhatsApp deal to soccer fans during half time.
Segmentation: we always say, "high relevance, low frequency." You need a relevant audience and few messages. This way customers will stay engaged and not feel like you're spamming them. You can segment very finely in our platform.
Automation: increase relevance and ease your work. For example, your campaign asks a question, your customer replies yes/no, blue/red, then a relevant offer gets sent automatically. You can even automate your thank you message.
UTM links: use tracking links so you can accurately measure the success of your campaign and make learnings.
Checkout link: with charles you can set up a "Chatout" link – a link to a filled cart that helps customers complete a purchase in as little as one tap (if logged in to your store).
Thank you message: use thank you messages to encourage further actions: like an extra discount, a question, a review request, a marketing opt-in.
Replies: are you there for real-time conversations? Do you have enough people? Are they trained? It's really important you answer within a minute or so.
Promoting your campaign: website banner? Flyers? Emails? Guerilla action?
See more tips in 6 dos and 1 don't of WhatsApp marketing and 5 secrets of WhatsApp success for Black Friday.
WhatsApp Business app vs WhatsApp Business Platform
For more in-depth information on the difference between the app and the platform, see this article. For a quick summary, read on:
WhatsApp Business app
This is a free app any businesses can download. Businesses can set themselves up with a name and description and start chatting with customers.
Who is this for? Individuals and small businesses just starting out.
Some key characteristics:
Send up to 250 messages at a time
Use a WhatsApp Web with limited functionality
Create a product catalog
Send "quick replies"
Use a wa.me link to bring people into your chat (generate yours here)
Download app and see features here.
WhatsApp Business Platform
The WhatsApp Business Platform (formerly WhatsApp Business API) is a cloud-based WhatsApp API that offers more functionality than the app – to send more messages, manage conversations across teams, see analytics...). Businesses need to invest in software development or use existing WhatsApp marketing software from a WhatsApp Business Solution Provider (like us) to use it.
Who is this for? Medium to large businesses and enterprises.
Some key characteristics:
Send 1,000s of messages at a time
Make more interactive messages and flows
Spread conversations across multiple chat agents
Analyze results
Send UTM links and track with Google Analytics
Automate conversations
Integrate your online shop (like Shopify or WooCommerce) (more integrations here)
For maximum return and ease of use, most medium- to large-sized companies choose a WhatsApp Business SaaS solution (like charles). It acts like a contact center and can be tailored to your business.
WhatsApp KPIs: how to measure success
These are the main WhatsApp marketing key performance indicators (KPIs) you should use to gauge the success of a campaign:
Open rate: similar to email open rate, how many people opened your inital WhatsApp message out of the number that received it. The benchmark for this number is around 80-90%.
Click through rate (CTR): "or tap-through rate" since we're mostly talking mobile. How many people tapped on your WhatsApp message compared to how many opened it. The benchmark for WhatsApp click-through rate is 45-60%
Total revenue: how much revenue did you generate through this campaign? Not all campaigns are about revenue, but if your goal was to make sales, this is important.
Revenue per recipient (RPR): the average amount (total revenue divided by number of people to whom your message was delivered). A benchmark for this is €1.70 and we tell clients they should make an RPR of €1 for a campaign to be worth it. During Black Friday 2022, our clients saw an RPR of over €3 for the first time, showing the growing maturity and appeal of WhatsApp as a marketing channel.
Return on campaign spend (ROCS): the value of your campaign compared to the costs of WhatsApp marketing. Similar to return on investment (ROI).
How to start with WhatsApp marketing in 2023
It's easy to get started with WhatsApp marketing, whether you're using the app or a tailored solution built on the WhatsApp Business Platform (formerly WhatsApp Business API):
With the WhatsApp Business app
Download the free app, add a business phone number, get verified. Go :)
With a WhatsApp Business solution
Follow these steps to start WhatsApp marketing with a WhatsApp Business solution:
Make a business case:

check your business is right for a dedicated WhatsApp solution. It could be you don't need WhatsApp at all. Or you could start with just the WhatsApp Business app on your phone.

Buy WhatsApp solution:

there are many WhatsApp Business Solution Providers (BSPs) to choose from (including us). Go with the

one that best suits your business needs, understands your industry and local market and that offers ongoing support to help you navigate this new world. See this checklist of

11 non-negotiables in WhatsApp Business software

. Usually you sign up for a minimum of 1 year. This is a good length of time to test WhatsApp as a channel.

Onboard:

this should be possible in a matter of 1-2 days – or even hours – and include integration with your current software platforms, like your online shop and messaging platforms.
Assign resource:

work out how much resource you need to do a) set up marketing campaigns and b) manage any customer replies that come in when you send out a campaign. For small businesses, the channel is often managed by the founder, or 1 person. Small to medium sized businesses may have a WhatsApp Marketing Manager and several customer service agents working on email and WhatsApp at the same time. Enterprise companies would likely have chat agents fully dedicated to this channel.

Execute marketing strategy:

know your business objectives, then plan and execute your marketing actions for the year – which seasonal events, who will carry them out, how you'll flex for events, how you'll stay true to your brand values and messages and how you'll measure your success.

Continually optimize: once you start sending your campaigns, you'll learn what does and doesn't work – especially if you do A/B testing. Keep iterating, keep learning, keep improving. Your software provider should help you with this.
Why is WhatsApp marketing so big in 2023?
The need is growing
Businesses

are looking for more personal ways to communicate with their customers and build

long-term relationships

. Email is impersonal, offering only a one-way means of communication, with low average opening rates of around 17%. And social media is a crowded landscape full of noise and algorithms that can be hard to crack.

Consumers

want quicker answers and more personal communications. They're tired of impersonal emails, faceless retail companies and marketing complexity. They increasingly want to use messaging apps to communicate with businesses.
The results are improving
Statistics like 90% open rates and 22x ROI are a big reason businesses are flocking to WhatsApp. See our clients' results from Black Friday 2022 to see the difference 1 year makes.
The functionality is maturing
Both WhatsApp and software solutions are improving rapidly. With the conversational commerce market growing, more investment is – even with a downturn in other industries. Advanced tools like automation, detailed analytics and commerce integration save time and money and help continual optimization.
Many businesses aren't there yet
The opportunity is big, yet many businesses are not yet on WhatsApp. This makes now the time for early adopting businesses to easily differentiate themselves from their competitors by being there for their customers on WhatsApp.
Still have questions?
We'd be happy to answer them for you. Just get in touch with us through the demo form and we'll get back to you very soon. Or see some FAQs below.
WhatsApp marketing FAQs
Is WhatsApp marketing legal?
Yes, WhatsApp marketing is legal. When WhatsApp Business was launched in 2018, it was a customer support channel only. Businesses weren't allowed to send unsolicited advertising or marketing messages via WhatsApp.

In 2022, WhatsApp allowed businesses to send WhatsApp marketing messages.
Who is WhatsApp marketing for?
WhatsApp marketing is mainly used by ecommerce and retail brands, from single-person businesses, to larger direct to consumer (DTC) shops, to global enterprise brands.

It's increasingly being used for other use cases like charities staying in touch with donors, sports clubs building communities of members, food delivery services, business to business (B2B) companies and even life coaching services.
Which countries use WhatsApp marketing most?
WhatsApp marketing is already established in countries like India, Spain and Brazil (WeChat is a similar, more advanced app in China). It's now growing in use across the rest of the world as WhatsApp grows its functionality and consumers look for more direct, personal ways to stay in touch with brands.

This is particularly true in key European markets like Germany and Italy, where WhatsApp usage is very high. They're becoming increasingly familiar with using WhatsApp to communicate with business and feel it has many advantages over traditional channels like SMS and email.
How much does WhatsApp marketing cost?
WhatsApp marketing using the WhatsApp Business App is free.
If you use the WhatsApp Business Platform (API) it depends on the number of messages and country. The first 1,000 messages are free, then there's an additional cost per conversations. In Germany, this is €0.011 (as of February 2023).
See above for more on WhatsApp costs.