Posted: September 18, 2023
Updated: December 09, 2023
Are you sitting it out, waiting for WhatsApp marketing to become "mainstream?" BREAKING: it already has. Here are more reasons you should get started with a WhatsApp marketing tool in 2023.
When it comes to buying the charles WhatsApp marketing tool, we see two main types of people buying our product:
First, the WhatsApp marketing mavericks
These are people, often founders or CMOs at innovative new brands who live to try out new things.
They're excited about the arrival of WhatsApp marketing in Europe and the chance to be seen, instantly, on people's phones.
It's an adrenaline rush to jump into the unknown, even without a parachute.
They see potential, not problems. They believe that risks pay off and get a kick from starting with new channels before anyone else. They know that being a pioneer not only brings in extra revenue, but can attract industry publicity and speaking opportunities and... who know what else?
The future is WhatsApp and they want a part of it.
We count many such eCommerce brands among our clients, across industries – from fashion to food, furniture to beauty. For examples, take a look at SNOCKS, Hey Marly, Bears with Benefits, Oatsome, Pferdegold, Woodboom, Venezianico.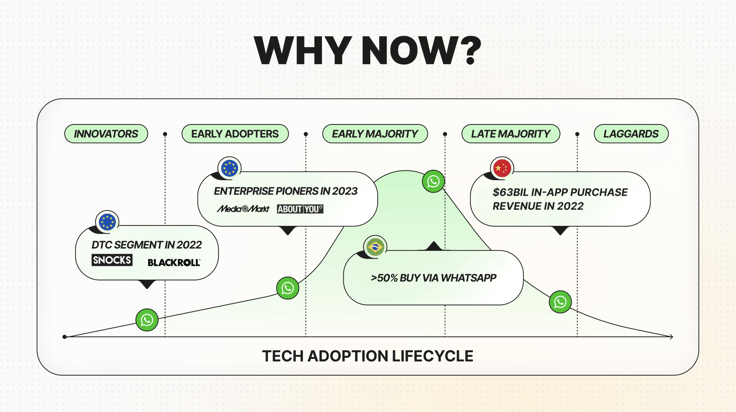 We're seeing that WhatsApp Business is growing fast in Europe
– soon to become as huge as it is in Brazil. and WeChat is in China
Second, the WhatsApp marketing watchers
These tend to be people working in CRM teams at mid-large eCommerce brands and enterprises.
They're a little older maybe. A bit more experienced and a bit more wary. They've seen WhatsApp presented as an amazing marketing channel at conferences (maybe even by us at OMR).
They're excited about its possibilities. But they're also cautious.
They're not yet convinced about WhatsApp's maturity. They think it might be too much work and may disrupt current marketing operations. They don't fully understand the costs of WhatsApp marketing or how to set up WhatsApp marketing metrics as they do in other more familiar channels like email.
They're waiting for the moment when it becomes a no-brainer and they can safely buy a WhatsApp marketing tool and get started with conversational commerce without any risk.
This is for the WhatsApp watchers
We realize that buying WhatsApp software is a big decision. It comes with costs, business and personal risks, and some uncertainties. We know that it's an emotional decision as much as a rational one.
But sadly we see companies missing out on revenue and recognition because they wait too long to invest in tools that will allow them to start with WhatsApp marketing.
It's sad because it's an easy marketing channel to run, and brings very high returns (around 6-8x on each campaign). And because the technology is much more mature than many realize.
We want to help you understand how you can boost both revenue and recognition (and relationships) by being an innovator in this space. And, worse, that waiting for WhatsApp is could be an even greater risk to your business.
What you'll learn in this article
To help you understand the benefits of starting earlier rather than later, in article we cover:
How businesses can benefit from starting with a WhatsApp marketing tool early:

we go into depth about why it's a good idea for brands (in Germany in particular) to get off the fence and start with WhatsApp marketing now

How your career could benefit from investing in WhatsApp marketing software early:

beyond business goals,

we discuss how implementing a new channel before your peers could be the personal differentiator you need to stand out in tricky employment times



Why the risks of WhatsApp marketing software are lower than ever: we tell you the current state of WhatsApp software and explain why it's now a safe investment from a GDPR, integration and ROI perspective
How soon you should start with a WhatsApp marketing tool: we explain why you should get going before Black Friday 2023, and if this is not possible, at the latest in 2023/24

A timeline for implementing a WhatsApp marketing tool:

we give you a realistic plan for how long it will take to onboard with WhatsApp software, get to know

How

charles' WhatsApp marketing solution

keeps you ahead of the game (and earns you a better ROI):

we take you on a tour of why our WhatsApp platform is the best to start with to ensure stability, efficiency and long-term success, in particular for enterprises



This is also for your boss
Of course there are usually multiple people involved in making a software purchasing decision within your company, all with different concerns. If you're keen to get going with WhatsApp marketing but are experiencing some blockers, it might help to share this with the relevant teams and people.
And of course feel free to contact us to speak with an expert in WhatsApp for businesses.
How getting a WhatsApp marketing tool in 2023 benefits your business
From a business perspective, we advise European eCommerce brands and agencies to prioritise WhatsApp marketing in 2023.
Here's what you stand to gain from an early entry into WhatsApp marketing:
Get WhatsApp before your competitors
We have 100s of clients in DACH and Italy and this number is growing fast. We started off with small eCommerce brands, but in the last 2 years we've seen a rise in bigger clients. We're now getting a growing number of large global brands starting with WhatsApp marketing. But having said that, right now, in 2023, you still have a chance of being the first of your kind with a WhatsApp channel. Not only does this give you a competitive edge – so important in these economic times – but it gets you connected with customers that may go to your competitors if they get there first.
Learn how to be a success at WhatsApp early
WhatsApp is easy to use, but as it's quite a new marketing channel – for consumers in Europe as much as brands. There are only learnings from a few years in Europe to draw from about what works and what doesn't work. You'll need to do some experimenting first. Plus, you'll need to find out what works best for your brand. Now is the time to play around with a WhatsApp channel. Learn what works, learn best practice advice from your WhatsApp Business Solution Provider and be more successful than those who arrive in WhatsApp next year, making all the mistakes you've already overcome.

Get your marketing mix in order for 2024 planning


WhatsApp never sits alone in your marketing mix. It needs to work with other channels, particularly email, as part of your CRM strategy. You'll need a little time to integrate email with WhatsApp and plan it into your strategy for 2024. Why? So you work more efficiently and more importantly, your customers experience a seamless journey from your brand, no matter what touchpoint.

Test WhatsApp before expectations grow


Customers may forgive some mistakes (like frequency, wording, media attachments) while WhatsApp is a new experience for them. This makes 2023 the perfect time to do A/B testing and learn how to get the most engagement from customers, and avoid annoying them. As they get more used to dealing with European businesses on WhatsApp, they will be less forgiving.

Earn extra revenue


The average WhatsApp return on investment (ROI) our clients are making on WhatsApp campaigns (we call it return on campaign spend (ROCS)) is 6-8x. It's simple: the earlier you start, the more money you will bring in for your business.

Be ready when the WhatsApp wave comes

Meta is investing big in WhatsApp Business. New functionality already exists in more established markets like India and Brazil. For example, you can make purchases natively in WhatsApp, without leaving the app (see JioMarkt in India). And consumers can search a WhatsApp Business Directory. This is all functionality that will come to Europe soon. If you're already set up with WhatsApp, you're going to fly much faster.

Set up your WhatsApp automation flows for 2024
You can automate entire WhatsApp conversations very easily (in charles, clients use our open canvas Journeys feature). These help with retention, customer service enquiries – and basically earn you money in the background while you do something else. At the end of 2023, spend time setting up these flows (we will help you with this), and in 2024, let them do the work for you – and spend your time coming up with amazing new revenue-generating WhatsApp campaigns.
Gain a reputation as a pioneer
Searches for "SNOCKS WhatsApp" are one of the highest drivers of organic traffic to our site. SNOCKS is one example of a company that has gained a significant amount of publicity by implementing WhatsApp marketing software (through charles) very early. Other eCommerce brands have seen its innovative WhatsApp, and taken notice of the huge revenue the company is driving this way. And they're scrambling to find out how they do it. Get there first and be known for staying on top of technology.
WhatsApp is really going to be the next chapter, with business messaging and commerce being a big thing there

Mark Zuckerberg, Meta founder
(Source:CNBC)
Why waiting for WhatsApp could damage your business
As well as many positive reasons for starting with WhatsApp Business now, there are some negative implications for business that hold back.
These are the reasons that you may regret putting off your WhatsApp channel:
You're losing revenue every day
Every day you don't have a WhatsApp marketing channel, you're losing the chance to connect in a personal and long-term way with your customers. You're missing the chance to get instant feedback on products, learn about customers, make them feel special, offer early access, automate repeat purchases, send interactive product finders and much more. And you're missing out on purchases and revenue that could be flowing in through automated WhatsApp flows.
Miss Black Friday 2023 and you miss a huge opportunity
More on this below, but Black Friday is your last chance this year to make sure you're ready to go with WhatsApp in 2024. We've seen a huge increase in brands jumping into WhatsApp before Black Friday. Because they can use this shopping day to grow their WhatsApp audience fast. Then you have subscribers ready for the holidays, and all the things you have planned for 2024. Miss this and you need to wait another year for a sticky shopping event like this.
Consumers may get frustrated with you
As consumers see the benefits of WhatsApp and other messaging apps, they may wonder why you don't offer this service. They're travelling to places like Brazil, India and Italy where WhatsApp Business is part of daily life. They see how SMS marketing works brilliantly in the US. They have family in those places. They're aware of these possibilities. At the same time, customers are increasingly frustrated with the slowness of traditional channels and want the immediacy of WhatsApp. By failing to offer this to them, customers will turn to other brands that offer this.
You may end up the same as the email marketing waiters
Many skeptical companies waited too long to get going with email, thinking it was just an overhyped flash in the pan. This caused them to miss out on huge amounts of revenue and subscribers. Late to the game, some businesses floundered while those who recognized the potential for email sped ahead. WhatsApp is going to be as essential to European businesses as email. The earlier you get started, the better.
70 per cent of people feel more connected to businesses they can message
Why investing in a WhatsApp tool is now lower risk
WhatsApp only started to let business send bulk marketing messages to customers in 2018. While it created a free WhatsApp Business app for small business owners, it didn't create software for larger business to send unlimited messages to an unlimited number of people.
Instead, it made the WhatsApp Business Platform (formerly API) available to "WhatsApp Business Solution Providers (BSPs)" so they could build an interface on top of it.
Solution providers like charles :)
This means that many WhatsApp marketing tools and software solutions are young. Some less than 1 year old. Some may be untested, lack functionality, not be built to scale, not be GDPR compliant and lack the the customer support needed to succeed in WhatsApp.
And as the market grows, the number of these WhatsApp tools trying to make fast money is growing. Unfortunately, not all of them are made with solid intentions, or thinking of clients first, that makes it hard to sift the good from the bad.
We completely understand why this worries some businesses. Choosing the wrong WhatsApp software, and giving customers a bad experience, could damage their reputation and lose them customers and revenue. Which in 2023, no brand can afford to do.
But (the right) WhatsApp software is now mature
With several years to develop a software interface, the more established WhatsApp providers like charles – and charles alternatives like Trengo, Manychat and Twilio – are now a risk-free investment:
Tried and tested


Platforms like charles have been extensively tested with clients for the last few years. Learnings have been taken on board and the platforms have been built in tune with the needs of business – in charles' case we've built it especially to maximize revenue for European eCommerce brands.
Essential integrations
No business wants new software to disrupt existing operations. Established WhatsApp platforms like us have now partnered with other software platforms to ensure basic integrations with exisiting tools like Klaviyo, Shopify, Facebook Messenger and more.
GDPR compliant
Larger companies in particular worry about data protection and breaking the law. If WhatsApp is new, will it be compliant with GDPR? It's important to choose a more established software provider based in Europe, like charles. More established will mean more legal checks and data protection built in to the product. European will mean data is held in the EU, not in the US or other countries where it could breach GDPR.

Established best practices


Customer success teams at more reputable WhatsApp SaaS companies like charles have detailed documentation on what does and doesn't work, the best use cases for maximum revenue, product guides and more – and they (we do at least) share it willingly with clients. They have 100s of creative campaign ideas to draw from. In short, a lot of groundwork has already been done, so larger companies don't have to start from scratch. They can build on the foundations of the last few years of experimentation.
See our checklist for choosing a risk-free WhatsApp Business Solution Provider here.
We partnered with Klaviyo to supercharge CRM teams with email plus WhatsApp – with clients like German fashion brand, Wormland, already seeing results
How your career can benefit from investing in WhatsApp marketing software early
Beyond KPIs and budgets and business goals and screens, we are humans. We care about the businesses we work for, but we also care about our careers, promotions, learning, growth, the feeling we're getting ahead and not staying stagnant, the life we can provide for our families.
Here's how your career (and personal satisfaction too) could benefit from a simple thing like a WhatsApp marketing tool:
Build your standing as a successful innovator
By pushing to invest in WhatsApp software that will enable your business to grow revenue with a WhatsApp marketing channel, you show your entrepreneurship. This is a goal we're increasingly measured by in our performance reviews. Here is a golden chance to be a pioneer, even within very traditional companies where you may not see a huge opportunity to prove yourself this way.
Achieve eye-catching numbers
WhatsApp is about growing relationships, but it's also a numbers game. Which is good, because businesses and hiring managers care about them. Our clients make figures like €150k revenue in as little as one hour after sending out a WhatsApp campaign. These results are easy to track and our software shows these analytics instantly. This is hard proof that your decision to go with WhatsApp software was a sound and successful one. Numbers like these can't be taken away from you and can go straight onto your CV or into your performance review to help secure your next role or more senior job title.
Get prestigious speaking opportunities
We're getting more and more chances to speak at marketing, digital and eCommerce events. Become an early WhatsApp expert and you'll be in demand from conferences, and even within your own company.

Get extra publicity from your WhatsApp marketing partner


Your WhatsApp software partner may also be interested in showcasing your expertise. We create client stories with the person who manages the WhatsApp channel within brands. We host webinars together with clients (like our recent one with Steffen Sieber, CRM Manager at ABOUT YOU). We invite clients to join us for masterclasses at events and our upcoming DMEXCO And we share happy posts from clients' personal LinkedIn accounts, like this one from ). We may know about WhatsApp marketing, but we are continually learning from our amazing clients, so rest assured we're always willing to listen to the innovations you're initiating within your company.
Grow your LinkedIn reputation
There's more content about WhatsApp marketing on LinkedIn every day as people wake up to its potential. This is your chance to be known as one of the pioneers, and grow your reputation and following early (this has a knock-on effect of getting people interested in your eCommerce business – as brands like SNOCKS have seen).
Be the third WhatsApp marketing manager in the world
The first "WhatsApp marketing manager" we know about was Peter Hubner from our client SNOCKS. We were only able to find one more on LinkedIn. Create history by inventing a new job role and even building a new type of team.
When to start with a WhatsApp marketing tool
Of course we would say you should start with WhatsApp marketing software today. And that you should get a demo from our sales team straight away.
But there's a very big opportunity coming up that it would be a mistake to miss: Black Friday and Cyber Monday.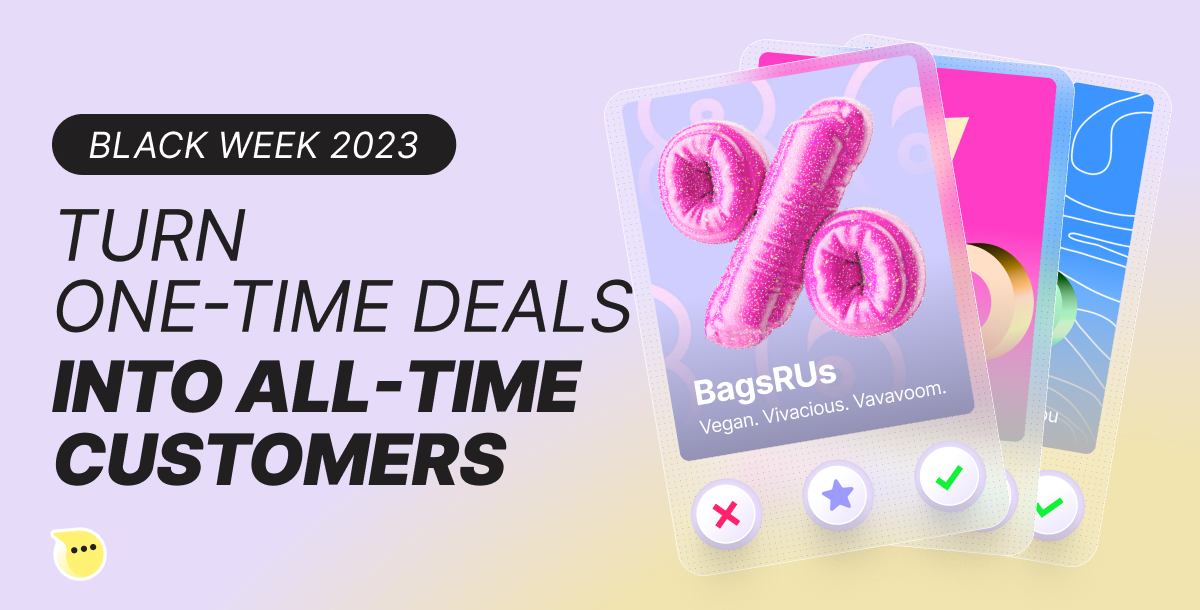 Our campaign for Black Friday encourages eCommerce brands to use this as a chance to get started with WhatsApp – for both increased revenue and longer-term relationships
The biggest chance of the year to build a WhatsApp channel
It's during Black Week that you're going to get as many people as you can to subscribe to your WhatsApp channel. This is the time to start relationships that you can build on for years to come. To make learnings about WhatsApp marketing. To set yourself up for success in 2024.
See our guide to building long-term relationships in WhatsApp during Black Friday.
At the minimum, start in 2023
There's still time to get started with WhatsApp for Black Friday 2023. But if you miss it, don't worry. Christmas and the holiday season is still a good goal for starting with WhatsApp. Then you'll still be ready to go in 2024. As always, we're here to help.
Timeline for implementing a WhatsApp marketing tool
How long does it take to get started with WhatsApp? This process is far shorter than you might think.
Why? Because with WhatsApp, you don't need to reinvent your marketing or CRM teams, you don't need to hire new people (for a year or so at least).
WhatsApp marketing is simply something you add on to the marketing mix you already have. It doesn't replace anything (in particular, email marketing), it works with the tools you have. Now, with integrations for everything from email (we integrate with Klaviyo) to Facebook to Shopify, it's easier than ever to just plug in and play.
The main stages are:
Choose a WhatsApp tool:

here are some things to consider when partnering with a WhatsApp Business Solution Provider (like charles) Typically, clients tell us they took several months from demo call to signing a contract.
Onboard and integrate: it takes as little as a few hours to get started with a WhatsApp platform.
Build your audience: this can take a month or so (unless you use Black Friday to make a big splash), but while this is happening you can learn and test and improve your WhatsApp marketing skills. See tips for growing your WhatsApp audience here.
Why

charles' WhatsApp marketing solution

is the best choice in 2023

Choose the charles WhatsApp platform and you ensure stability, efficiency, long-term success and maximum revenue.


We're the WhatsApp tool of choice for German and Italian enterprises like MediaMarkt, ABOUT YOU and l'Occitane, and have a reputation for excellent customer support.

We're also one of a handful of official Meta Partners and WhatsApp Business Solution Providers. We're built in Europe, for European companies and we focus on maximizing revenue for eCommerce brands.

Here are some more reasons to choose charles:
Mature: we've been around since 2019 – several years before some of our competitors were founded
eCommerce in our DNA: we used to be a fashion brand, and our founder Artjem Weissbeck also founded fashion brand Kapten & Son
Marketing focus: while we offer the necessary functionality for customer support, we focus on the marketing use case as that's what will earn you the best ROI (and reduce the need for additional customer service agents)
Data held in EU: this is essential for GDPR compliance
Best functionality: we have had several years to build our tools, based on customer feedback and experience (see our product here)
Grab the WhatsApp opportunity with us?
This is where we tell you to talk to charles to find out how to get started and get a demo.
But we want to know you too. Connect with us on LinkedIn, message us on WhatsApp.