Customer Success Manager UK, charles
Posted: October 19, 2022
Updated: December 09, 2023
Got your brand WhatsApp ready for Black Friday? How do you get the best out of your new channel? charles UK Customer Success Manager, Blessing Osadolor, shares her top 5 secrets of WhatsApp success.
Now you're up and running with WhatsApp Business 🙌
Hopefully with charles?
WhatsApp may be new to you as a sales and marketing channel but luckily it's not rocket science. Here are the top 5 secrets of success I've learned from the brands I work with:
1. The clearer your objective, the better the results
2. The harder you work to promote your WhatsApp channel, the greater the rewards
3. The more well-thought-out your campaign, the better
4. The more you test, the greater the chance of success
5. The more long-term you think, the greater the brand loyalty
We're going to be so saturated with advertising for Black Friday, you'll want to make sure you're top of mind before then to ensure conversion

Here's how to put these into action for the most successful Black Friday you've ever had: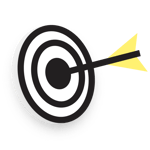 1. Set one clear objective
This is the most important element of all. Fix one clear goal from the beginning so all campaign efforts work towards the same goal.
Without an objective, it's hard to design a cohesive campaign. And you can't tell if it was a success if you don't know what success looks like. Objectives usually fall into two areas. The more specific you are, the better:
💰 Create revenue
Your goal here might be to push a particular product, reactivate customers or reward VIPs. Discounts, offers and exclusive early access campaigns work well here. Measuring results is easy: analyze clicks, purchases and revenue (all in the charles tool.)
💛 Build brand
For an objective around brand-building, you might send an informational campaign, organize an event or ask questions to get to know customers. Measure results with clicks, website visitors, WhatsApp subscribers and purchases. But also: trust in the quality and good intentions of your content. Not all results are tangible.
Big shopping days like these are also a good chance to build a WhatsApp audience. If this is your goal, incentivize customers to join your channel with a time-limited offer, event or freebie.
Or surprise everyone and don't do Black Friday
One movement that's becoming more popular is to not offer anything on Black Friday: see Buy Nothing Day. This doesn't mean you stay silent, just that your objective won't be sales.
Your goal could be: "to grow brand awareness with ethical-minded people in the UK," or "raise X amount for charity," for example. Your concept might be giving a percentage of sales to a good cause, helping customers be more sustainable, or even closing up shop and going to the forest for the day 🍃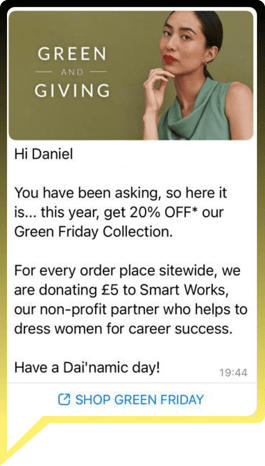 One sustainable clothing client, Dai, combines Black Friday deals with charitable giving

2. Build your WhatsApp audience
Your Black Friday campaign won't be worth the effort if you only have 30 people to send it to. Leading up to November 25, your #1 homework should be your gathering people into your WhatsApp channel. See more on how to get people into chat here (step 3).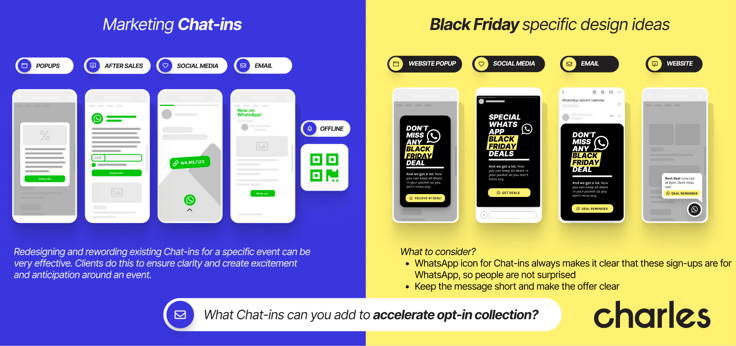 Ideas we gave our clients on how to use "Chat-ins" for a successful Black Friday
And warm customers up before Black Friday
I'd highly recommend you send your new audience a campaign a few weeks before Black Friday. We're going to be so saturated with advertising for Black Friday, you'll want to make sure you're top of mind before then to ensure conversion.
It could be a discount or deal, an exclusive early acess link, or an informational campaign. It shouldn't be too sales-focused at this point as it's bout building long-term relationships.
If you just gather an audience, wait 4 weeks, then drop in with a Black Friday deal, you're likely to be ignored. It's better to give them a good brand feeling first.

3. Create a well-thought-out campaign
Now's the fun part: creating your campaign 🎨🛠 The more creative, relevant to customers and true to your brand you are, the better your engagement will be.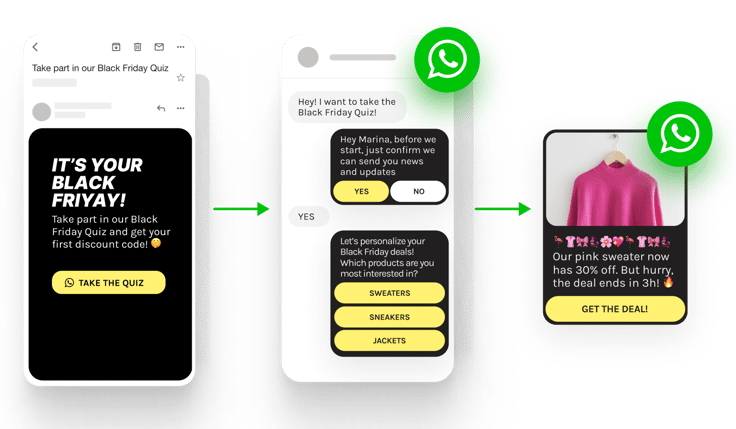 A creative Black Friday flow that gets email subscribers into WhatsApp, then sends a personalized offer based on their response (automated with charles)
Checklist for campaign success
Offer: this will depend on your brand. For low average order (AOV) products, discounts like 20% off work well. For high value products, you might want to add an extra reward, or offer deals like

4 for 3.

Concept: a competition, an event, a fun name, a visual. Stay true to your brand. Decide if you need to hire an agency or have the resource to do your own (steal our ideas here

).

Timing: start your campaign before Black Friday when things are a bit quieter. See if there's an interesting time for the campaign. For example, a sportswear client brand boosted engagement by sending a WhatsApp deal to soccer fans during half time.
Segmentation: we always say, "high relevance, low frequency." You need a relevant audience and few messages. This way customers will stay engaged and not feel like you're spamming them. You can segment very finely in our platform.
Automation: increase relevance and ease your work. For example, your campaign asks a question, your customer replies yes/no, blue/red, then a relevant offer gets sent automatically. You can even automate your thank you message.
UTM links: use tracking links so you can accurately measure the success of your campaign and make learnings.
Checkout link: with charles you can set up a "Chatout" link – a link to a filled cart that helps customers complete a purchase in as little as one tap.
Thank you message: use your thank you messages to encourage further actions: like an extra discount, a question, a review request, a marketing opt-in.
Replies: are you there for real-time conversations? Do you have enough people? Are they trained? It's really important you answer within a minute or so.
Promoting your campaign: website banner? Flyers? Emails? Guerilla action?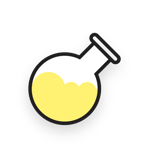 4. Test, test, test before you send out
I recommend doing some A/B testing before the day. That way you can craft your Black Friday campaign based on numbers. Get to know what works, whether length, calls to action, punctuation, emojis, gifs or other variable.
You should also send it to yourself and colleagues first:
Does it look ok on the phone? You'll be writing the message on your desktop. Check how it looks on the phone and make sure you don't have to scroll.
Is the text length ok? It depends on your audience and your campaign, but best is always short and snappy on WhatsApp. Open conversations, don't finish them.
How's the image? Is it the right format? Is it too big? Is it a high enough resolution?
Does the customer journey make sense? Is the tone the same across the campaign? When you answer, do you get the right message?
Is the CTA clear? Make sure it's not buried in text and shows up at the top of your message.
UTM link? Also crucial! This will help you track what people do next on your website and is a big part of gauging the success of your campaign.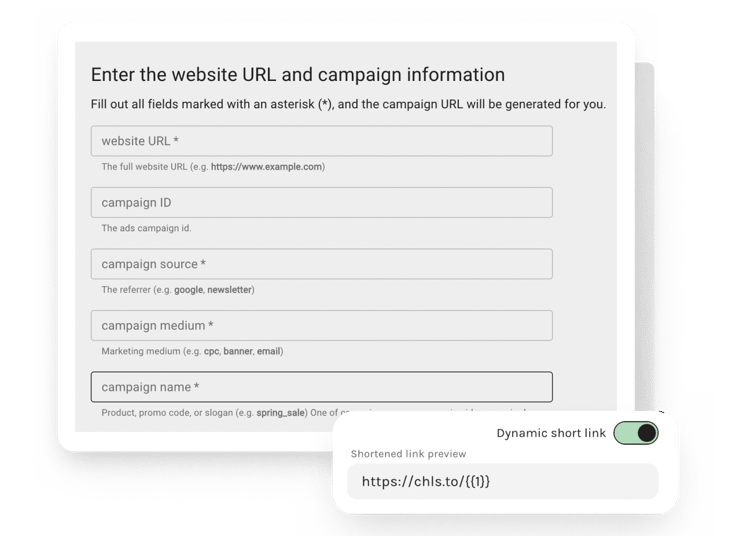 Tracking your campaign with a UTM tracking link is essential to measure success

5. Keep the conversation going after Black Friday
If all has gone right (we hope so 🤞), you now have an engaged audience in WhatsApp. Feels good? Here's how to keep the fires burning after Cyber Week:
👯 Have chatters ready: boost your team for at least 24 hours after the campaign is sent out. Depending on your strategy, you may also need to keep an eye on messages on Cyber Monday or the entire Black Week.
🧑‍🎓 Optimize for Cyber Monday: tweak the campaign based on Black Friday results and send a new, improved campaign to hit that revenue goal. Fix your website if necessary – checkout page, product landing pages and web banners.
👖 Use low stock to your advantage: if your product sold out on Black Friday, this is a great hook to get people buying on Cyber Monday. Tell them it's back in stock, be quick.
🧐 Analyze results for future success: evaluate general engagement on your website. How many people clicked and on what? What did they buy? What did they nearly buy? If you see a lot of people clicked on black shoes, send them a campaign when you get a new pair of black shoes in.
🍕 Keep nurturing your customers: plan one or two campaigns you want to do after Black Friday. We recommend no more than 1-2 campaigns a month to keep the relationship going. One could be a discount, one informational.
🧦 Make use of the lifecycle of your product: if you sell socks, you could retarget customers in a few months to say, hey, there's a new style just in. Or a packet of food, send them a checkout link in 21 days with the product already in the cart. Some of our clients put a QR at the bottom of a box of food for easy reordering when its empty.
And importantly: don't annoy your new audience! You've now build a rich, receptive subscriber base for the future, be careful to take things slow and build relationships beyond flash sales.
If you're not set up for WhatsApp Business yet, I can only urge you get into WhatsApp as soon as you can. The more prepared you are, the bigger your audience, and the more you've practised with this channel, the more successful your Black Friday campaign will be. Any questions, just drop me a line.
Wishing you a successful Black Friday and Cyber Week!
Also see:
💬 5 steps to get WhatsApp ready for Black Friday
🤩 5 ideas for WhatsApp campaigns for Black Friday
Want to stand out with

WhatsApp marketing this Black Friday 2023?
There's still time! Book a 30-min demo and we'll show you how our WhatsApp platform can help your business build relationships and grow revenue.