By Jay Pendragon
Copywriter
Updated on January 27, 2023
Medium and large companies wanting to start easy conversations with customers have a powerful tool at their disposal: the WhatsApp Business API. A platform like charles helps you use it and adds value. Here are 5 ways it does this.
To unlock the potential of the WhatsApp Business application programming interface (API), brands need the expertise and guidance of a WhatsApp Business solution provider like charles – a trusted source of truth for any brand looking to connect with customers via chat.

Yet before you can dive head first into the world of WhatsApp, it's important to understand the key differences between the variations of WhatsApp – and how working with a business solution provider can influence your success.
What is the WhatsApp Business API?
To cover the needs of larger businesses, WhatsApp launched the WhatsApp Business API in 2018. This solution enables companies to connect with customers on a wider scale, linking the API to their WhatsApp Business Solution or WhatsApp CRM via various integrations.
On top, it also guarantees compliance with all current legal frameworks, which takes the burden off your company and allows you to focus on creating long-lasting relationships with your customers via WhatsApp.

To start you off, we've gathered 5 inspiring functionalities of the WhatsApp Business API so you can see for yourself how this fundamental tool can lead to higher engagement, stronger community building, and more sales.
5 inspiring functionalities of the WhatsApp Business API
The WhatsApp Business API is more capable in terms of automation, multi-device use, and reach, so let's look at each of the functionalities in-depth to give you a profound understanding of how the WhatsApp Business API can turn a conversation into a major engagement and sales driver for your business.
1. Automation in the WhatsApp Business API
One of the many perks of the WhatsApp Business API is advanced automation options that take the onus off customer service teams, who would otherwise have to reply to many identical questions via email, and provide a lower entry barrier to customers who need answers before making a purchasing decision.
One example of a brand who leveraged the WhatsApp Business API's automation capabilities is Maniko, who is pioneering a highly innovative product that takes on classic nail polishes.
Since their product uses a different approach than conventional solutions, they often get the same questions concerning their product, its application or returns.
With support from Charles, Maniko has established several touchpoints that guide customers into chat and offer them a personal channel to receive answers to their most pressing questions. On the website, Maniko implemented buttons, while QR codes on flyers sent alongside Maniko's products also offer a way into the conversation.
After scanning the QR Code, users are directly taken into a chat where they can send a prewritten message. This message triggers an automated flow that sends out a video explaining the application.
Sure, it is more work upfront – videos need to be created, message flows need to be set up – but overall, this decreases Maniko's service effort and opens the door for further conversation with the customer.
Read the full case study:
How Maniko drives its NPS and benefits from over 10x higher CTRs on WhatsApp
2. The Hidden Power of the WhatsApp Business profile
While this might seem like a minor functionality of WhatsApp Business and the Business API, the ability to create a business profile goes a long way in establishing a rapport with your customers.
Providing information like your address, business description, email address, and website right within the WhatsApp ecosystem helps streamline the conversational experience by adding a layer of authenticity and increasing the chance of potential customers engaging with you.
Especially the sections for opening hours and ways to contact the business will inspire trust – an element which is crucial to any purchasing decision.
When you create your business profile, we recommend:
Keep it clear and concise: In this section, customers want to glean the most important information at a glance, so please forgo linguistic acrobatics in favour of focussed clarity.
Highlight your core message: WhatsApp Business API is just one piece of your overall communication strategy and as such needs to be aligned with your key message.
End with a CTA: Whether it is to chat with you so you can unlock the power of conversational commerce or to visit your store in person, seize the chance to nudge your prospects into the direction that will support sales and drive engagement most.
3. Easy access and unlimited users with WhatsApp Business API
This one will make you go "Duh!" 😅
Imagine you're a medium-sized business in ambitious growth mode, just discovering the benefits of WhatsApp Business and how it can turn prospects into long-term fans of your brand.
Now imagine only one employee can access your WhatsApp business account and only from their phone. Bummer, right?
Fortunately for this business in question – and for you – the WhatsApp Business API allows for unlimited users from as many devices as you wish to link to your account. Contrary to the Business App, which needs to be accessed from a phone, the WhatsApp Business API offers easy access across all devices.
Combined with its unlimited users, this feature turns the WhatsApp Business API into a powerful tool that will boost your conversations to the next level and drive sales right along with it.
One such business that seized the opportunity offered by WhatsApp Business API is Woodboom, a premium furniture company whose customers ask an average of 7 questions before deciding to purchase.
While the Berlin-based, family-owned business has always applied a customer-centric style of communication and the ability to convince and win back customers in empathetic conversations, email and website did not seem to be the appropriate channels to maintain these close connections over the long run.
Woodboom leveraged the expertise of existing personnel to deliver exceptional customer experiences while requiring less effort from the founders. Not only were they able to scale the number of potential customers going into a consultation, they also managed to maintain the high service level without much additional effort, all thanks to unlimited users and easy access.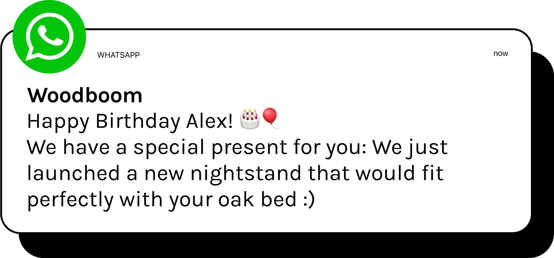 Read the full case study:
How WhatsApp became Woodboom's #1 revenue channel
4. Unlimited messages through the WhatsApp Business API
Companies can also use the API to engage with a more personalized touch – allowing for tailored, highly visual communication to an unlimited number of recipients that goes beyond the traditional email marketing journey.
One of these is the ability to send Whatsapp newsletters, a message that can be sent from a brand's Whatsapp Business account to a specific list of customers.
It can include anything from:
an exclusive discount
a limited-time discount
information about a new product
a picture or video message
From nurturing your most loyal shoppers, to reaching new ones or simply using a more visual way to communicate with your target audience, WhatsApp newsletters offer a wide range of benefits to marketers.
One example of clever community building via WhatsApp Business API is the energy drink brand HOLY Energy, who used WhatsApp newsletters to drive customer engagement ahead of the launch of their new drink flavor.
Announcing its upcoming launch via their social media channels, the brand enticed their customers to sign up to receive an 'early access' code via WhatsApp to shop the product before anyone else.
Once customers received the special code via WhatsApp, they were directed to a dedicated landing page to enter their code and access the new product.
This strategy drove a record 10x higher revenue on launch day, doubling the brand's subscriber list. 💪
5. Access the WhatsApp Business API through trusted solution providers
So, what's a WhatsApp Business Solution Provider?
In the increasingly popular world of conversational commerce (or cCom, for short), WhatsApp Business Solution Providers sit at the forefront of innovation. These providers are the link between the WhatsApp API and a company that uses WhatsApp to communicate with their customers.

Business solution providers help brands and businesses use the
WhatsApp Business API to increase sales, drive engagement and provide amazing support
With access to the WhatsApp Business API, the global community of Business Solution Providers (like Charles) enable brands (like yours) to make the most of WhatsApp: Sending highly personalized communication that drives engagement, generates more sales from current and new customers alike and offers world-class support that their customers will love.
While the API is not free of charge and only available through official Business Solution Providers, its capabilities are what make it a worthy investment: Large businesses that want to win – and keep – conversation-loving customers need a scalable approach to using WhatsApp as a sales and engagement channel.
Difference between WhatsApp Business app vs. WhatsApp Business API
They're the same but actually REALLY different. First things first, though!

Before we uncover the ways in which WhatsApp Business API can help you 10x your revenue on launch day (more on that later), let's fully get to grips with the WhatsApp ecosystem.

There are three versions of WhatsApp:
WhatsApp: which most of us use for day-to-day personal conversation
WhatsApp Business
WhatsApp Business Solution API
Most of us are familiar with the first, so let's focus on understanding WhatsApp Business vs. WhatsApp Business Solution API.
Here's a quick cheatsheet to help you understand the key differences between the two variations:
| | | |
| --- | --- | --- |
| | WhatsApp Business | WhatsApp Business API |
| Best for | small/local businesses | medium/large enterprises |
| Can be used by | 1 user via 1 device | unlimited users and devices |
| Automation | limited to quick replies, greeting/away messages | wide variety of messaging automation enabled via the API |
| Content reach | can broadcast content to up to 256 contacts | can broadcast content to an unlimited number of contacts |
| Contact retrieval | app contacts are retrieved from phone contacts | contacts are retrieved via the API |
The limitations of the WhatsApp Business app
Designed for small businesses, the WhatsApp Business app is free to use and offers a limited set of features to present your business and communicate with customers:
Showcasing your products
The app can be used to create a catalog to present your products/services.
Responding to customers
The app offers text templates to automate customer responses to a limited extent.
Providing useful business information
The app enables businesses to share info like opening hours with customers.
While these options already provide some benefits to businesses, the app does not support:
Advanced automation (like chatbots) to keep up with customer demand
Guaranteed data protection and GDPR compliance
Multiple users across multiple locations
Wider company access (i.e. it can only be accessed via smartphone)
Messaging more than 256 contacts
What about the WhatsApp Cloud API?
In a nutshell, Meta has announced as of 2022 that they have made a publicly accessible cloud API for WhatsApp which would allow anyone to connect to WhatsApp's services.
It it quite remarkable how Meta has made this step, with Mark Zuckerberg's notable words: "The best business meet their customers where they already are." Meaning that conversational commerce will be a preferred means of buying in the future.
Here's our full comparison between the WhatsApp app, the WhatsApp Business API and the Meta Cloud API: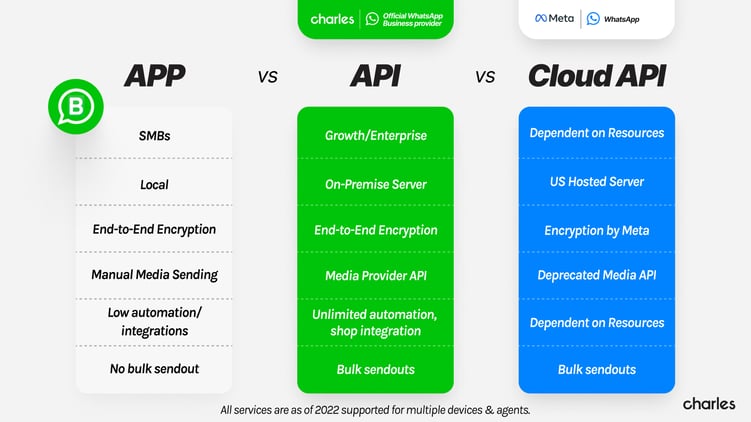 To not set any wrong expectations, it is good to mention that all products are basically on their own and very different. The ways Meta has currently segmented the services is to allow selected and certified partners to the Business API, and the Cloud API is open to the public, but quite restricted to teams with enough developers and different features.
Ready to start a conversation? 💭
Reach your customers with the charles WhatsApp Business API
While this might all sound a bit overwhelming at first, we at Charles are conversation experts and have made it our mission to support our customers at every step of their WhatsApp Business API journey.
As an official WhatsApp Business Solution Provider, we're here to boost your business and help you provide an engaging experience that turns your customers into long-term fans! 🤩
The WhatsApp customer journey
A customer's WhatsApp journey starts by clicking a WA.ME link placed on your site (or any other touchpoint where you'd like to engage with customers).
Once the customer clicks on the link, they will be asked to opt-in to receive communication via WhatsApp from your brand.

Want to try it out for yourself? Check out our WA.ME link here.
After they've opted in, the real conversation starts. From questions to orders, you now have a direct line to your customers.
As for brands, your journey with WhatsApp starts with a simple conversation…
… with us!
When leveraging WhatsApp as a revenue channel, you'll need a dedicated team to guide you from setup to chatout and help you make the most of your efforts.
Want to see the power of a conversation in action and learn how to benefit from the WhatsApp Business API?
Reach out to us for a chat today! 💛
Related Questions
What is the WhatsApp Business API?
The WhatsApp Business API is a B2B service provided by Meta which allows businesses more possibilities for growth. Such as WhatsApp marketing, selling in chat, support in chat and even automations.