By Maxine Hess
Writer | WhatsApp marketer | Creative
Updated on September 29, 2023
WhatsApp API platform? Check. WhatsApp Business account? Check. WhatsApp purchases? Erm...? Don't worry, turning your subscribers into customers is easier than you might think.

We've explained the 5 main steps of how to convert a brand lead into an advocate.
Now let's zoom in to the first part of that: the first purchase.
How do you get your new WhatsApp subscribers – all excited about your brand and happy to be here in a new, friendly channel – into customers who actually spend money with you?
Is it possible to get purchases via WhatsApp?
Yes, you can absolutely get people to buy products from you in WhatsApp.
In some countries, like India, the functionality is there to do the entire purchase natively in WhatsApp. Like you might on Instagram right now. You buy, then when you're done, you go back to scrolling cute dog pictures. As WhatsApp Business invests more heavily in more countries, this functionality is coming to Europe but it's not here yet.
So how can customers buy through your WhatsApp channel right now?
In the charles WhatsApp platform you send customers a "Chatout."
What's a Chatout?
A Chatout is a prefilled cart that you build within the charles Conversations feature. Based on customer preferences or a conversation you've just had with them, you can drag and drop products into a cart. Then you send the customer a link to this cart.

With Chatouts, you can reduce time to purchase by sending customers a readymade cart
If customers are already logged in to your shop, they can buy in as little as 1 click. All this takes away hassle and complexity, improves personalization and reduces the barriers to purchase.
This is all made possible thanks to the charles integration with online shops like Shopify and WooCommerce.
Do you need to get WhatsApp purchases?
It depends on your business goals whether or not you need people to purchase in WhatsApp. If you decided to open your WhatsApp channel to help answer customer queries, then of course bringing in revenue through purchases is secondary.
Or, you might open a WhatsApp channel to build a community or a brand feeling.
However, we recommend a WhatsApp channel is opened on a basis that it earns you revenue. This is the foundation of our platform and support.
And it's why we focus on WhatsApp marketing over customer service.
Why?
Because customer service on WhatsApp can quickly become overwhelming. It takes time and resource to have people there, live, to answer questions. Chatbots serve a purpose but ultimately can end up alienating customers.
Also, WhatsApp Business comes with extra costs compared to email. You pay WhatsApp a cost per conversation you send. So ROI is a very important aspect of this channel. In many ways it needs to work harder than traditional channels like email.
Especially now, as budgets shrink and the economic climate gets trickier across Germany the rest of Europe.
So our clients use WhatsApp as a marketing tool. And mostly, they automate things. They send automated campaigns and they automate many parts of their CRM journey with Journeys.
How to get your first WhatsApp purchase
Of course we don't want to say that you should push too hard for purchases in WhatsApp. It's important to go gently in this channel. If you're too pushy you risk alienating customers, lowering your WhatsApp quality rating and even being blocked (from which there's no way back).
Having said that, if someone has opted in to hearing from your brand in WhatsApp, it's highly likely they like what you offer and want to buy from you at some point.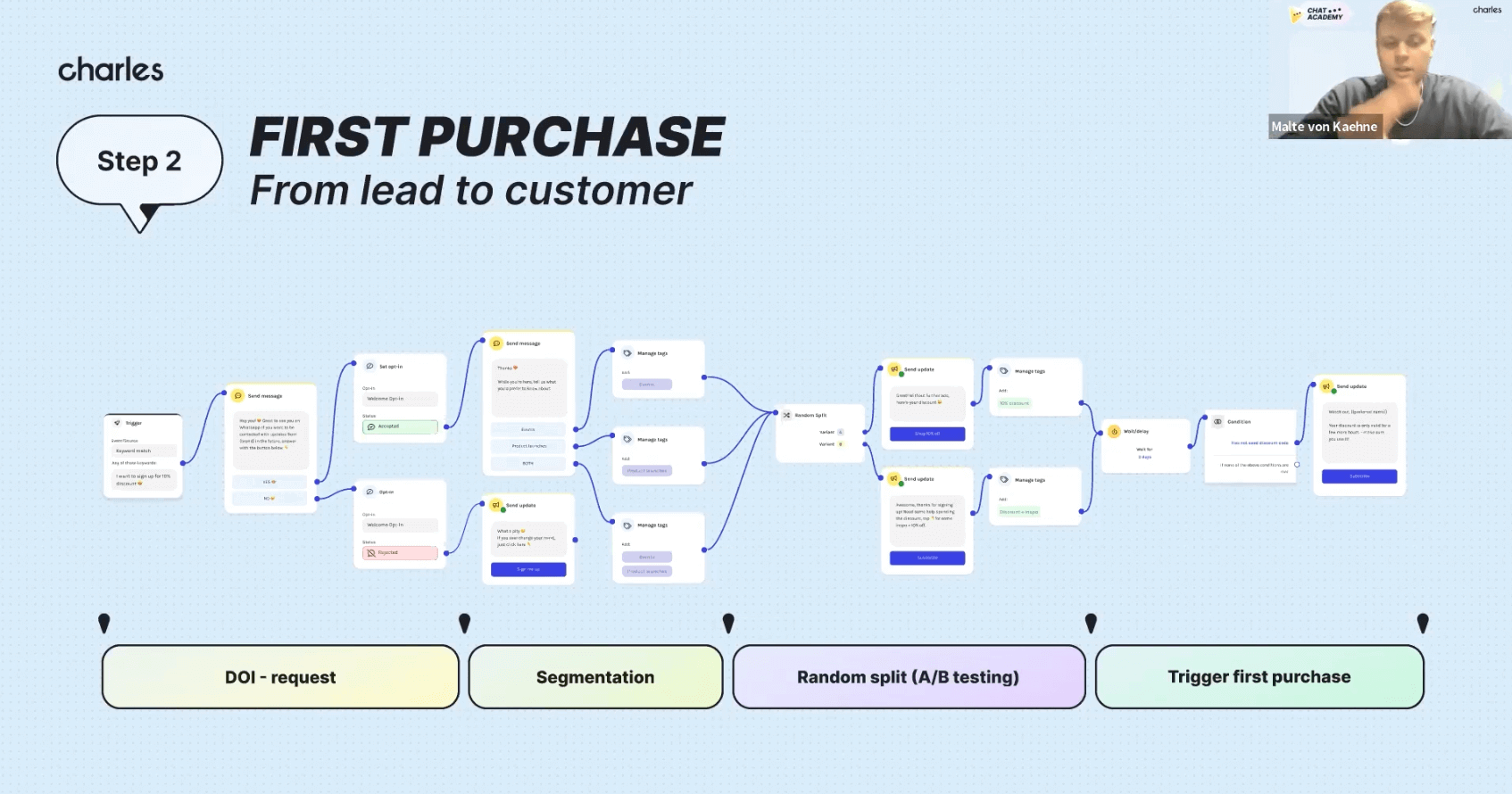 Slide from our webinar on how to convert a lead to a loyal customer on WhatsApp
So here's how to get customers to do their first deal with you in a non-intrusive way. This is all done with our WhatsApp automation tool, Journeys. This enables you to set up automated flows for every step of the customer journey. Once set up, they do their magic in the background for you.
Convert during your WhatsApp welcome flow
Send WhatsApp reminders about discount codes
Get creative with engaging WhatsApp campaigns
1. Convert during your WhatsApp welcome flow
While customers are warm and excited about your brand it's the perfect time to encourage a purchase. The best way to do this is:
Offer a 10/20% discount

for signing up to a WhatsApp newsletter, just like you would to an email newsletter
Mention the offer again when they get into your WhatsApp channel – you can automate a message that gives each customer a unique code after they've finished their double opt-in
Make this offer time dependent – there's nothing like a bit of urgency to prompt a purchase
Suggest products based on customer preferences – if you've asked about what kind of styles they like, go ahead and suggest the perfect product to use their discount on (this can all be automated using tags to segment audiences in Journeys)
2. Send WhatsApp reminder(s) about discount code
Customer didn't purchase during the welcome flow? No worries, get back to them later on that day with a quick, friendly message to remind them the code will expire soon.
Test both using a reminder and not using a reminder. See if it annoys your customers or prompts action. If the former, cancel the reminder. If the latter, keep going :)
Whatever you do, don't send 2 reminders. This will come across as too pushy and risk your reputation.
Typie's tip: keep costs down by sending the reminder a maximum of 23 hours later. If you wait longer than 24 hours from when they first opted in, you will have to pay WhatsApp for a whole new conversation.
3. Get creative with engaging WhatsApp campaigns
You've already tried the direct purchase push. Now it's time to take things a little slower.
Wait a week or so and send a more creative, brand-led campaign. Have your creative department or agency dream something up. In WhatsApp, the functionality is rich and the only limit is your imagination. For example we made a WhatsApp game for WWF that, even though it took, 10-15 minutes to play, thousands of people played.
The lesson is that people will spend time with your brand if you make it interesting for them and less about you.
Many of our clients use product finders in Journeys that lead customers to the perfect product for them. This can all be automated and it can sit on your website permanently – both encouraging people to sign up to your WhatsApp channel, and giving them a low-cost "personal shopper" experience.
This kind of approach makes customers feel like you care about who they are and what they need, and helps you build a good brand feeling. Ultimately the value you give people is what's going to help you turn WhatsApp subscribers into loyal customers.
Other ideas are to offer a WhatsApp style consultation – maybe even live with an influencer – or a fun quiz. Again, all this can be automated, all easy to set up with Journeys.
See more ideas for WhatsApp eCommerce here.
Why use segmented audiences?
WhatsApp is a personal channel. You only want to send people information they're interested in.
It's crucial to segment customers so they only get relevant messages. Otherwise they will start to feel like your WhatsApp channel is a spam channel.
Also it keeps things as efficient as possible. By sending to the people most likely to convert, you reduce the number of WhatsApp conversations you pay for.
How to turn WhatsApp leads into loyal customers
This is just one aspect of the customer journey in WhatsApp. In our webinar, 5 summer secrets, we told you the full 5 steps of how to convert a lead into a loyal customer in WhatsApp, all with automated conversational flows.
From GDPR-compliant double opt-in to first purchase to repeat purchases to brand advocate, find out how to do it all with WhatsApp automation. Check it out here:
How to use convert subscribers into loyal customers using WhatsApp automation
Get your first WhatsApp purchase on Black Friday 2023 (and keep them coming back)
Black Friday is November 24. If you're thinking about using a WhatsApp marketing channel this year, we recommend you start as soon as possible. This way, you have more chance to build your subscriber base and plan your retention strategy after Black Week is over.
Talk to charles to find out how to get started and learn how to use this big shopping opportunity to build your WhatsApp audience – and retain them for ongoing revenue.