By Maxine Hess
Writer | WhatsApp marketer | Creative
Updated on September 29, 2023
Google Analytics changed from UA to GA4 on July 1. What does this mean for marketers? Should you care? How does it affect your WhatsApp tracking in charles? How does WhatsApp tracking work anyway?
Most eCommerce marketers in 2023 have a Google Analytics (GA) account. While there are some alternatives, GA remains the most popular analytics tool in the world. In fact of the websites that use tracking analytics, 86% of them use Google Analytics.
This is why, when Google announces changes, marketers sit up and listen.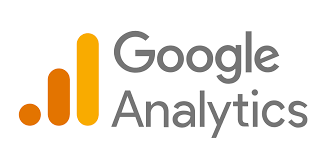 Google Analytics is a hugely popular tracking tool for marketers
Until now, marketers have been using the version of Google Analytics called "Universal Analytics" (UA). On July 1, 2023, it changed to a new version, "Google Analytics 4" (GA4).
We want to help you understand what you need to think about – if anything – since this change. And understand. In this article, we look at:
What Google Analytics is
How to migrate from UA to GA4
What changes from UA to GA4
How this impacts tracking in general
How this impacts tracking with WhatsApp
How best to track your sales in WhatsApp
How charles helps you with WhatsApp tracking
What is Google Analytics?
Google Analytics is a free service from Google that enables companies to track statistics like website visitors, bounce rate and more.
Google Analytics helps businesses understand how well their campaigns, designs and text are working, so they can continue to optimize and improve results. And it helps marketers understand which channels, keywords, webpages and campaigns are performing best.

This is an example of a webpage's performance in Google Analytics – impressions vs clicks.
In this case, it's showing a high click-through rate and its position on Google search pages is high.
How to migrate from UA to GA4
You'll find a [UA→GA4] Migration guide for beginners blog post here from Google and you can follow a series of YouTube videos made by Google here.
Not sure if you have UA or GA4? Here's how to check. But if you created your analytics property before October 14, 2020, it's likely you have UA. If you created it afterwards, it's likely you already have GA4.
Typie's tip: Do you use the charles platform? Once you've migrated to GA4 in Google, you can then follow these 3 easy steps to make the switch in our platform.
Changes from Google UA to GA4
In 2019, Google introduced Google Analytics 4 (GA4) to "address evolving measurement standards and help businesses succeed."
GA4 was designed to enable "businesses to see unified user journeys across their websites and apps, use Google's machine learning technology to surface and predict new insights, and most importantly, to keep up with a changing ecosystem."
After phasing it in for several years, on July 1, 2023, Google replaced its legacy system, Universal Analytics (UA), with GA4.
From this date, Google stopped processing analytics through UA. So if you haven't logged in to your Google Analytics account yet, you'll be greeted with this message: "This property stopped processing data starting on July 1, 2023. To continue measuring website traffic, create a new Google Analytics 4 (GA4) property."
What's new in GA4?
So what exactly has changed from UA to GA4? Here's a quick summary:
THE KEY DIFFERENCE: It helps you understand more of the customer lifecycle: using an event-based model, GA4 can track user journeys across your website, apps (including WhatsApp) and even offline interactions. So it analyzes more than just your website for a a more complete picture
Also:
It's built on business goals: UA was designed to track numbers so you can interpret them. GA

is designed with key business objectives in mind, "like driving sales or app installs, generating leads or connecting online and offline customer engagement"

It has machine learning at its core: so has even more accurate analytics
It doesn't rely on cookies: it works with and without cookies (because people often say "no" to being tracked by cookies, results with UA can be up to 30% lower than in reality)

It has improved privacy: according to Google:

"to support new privacy-preserving technologies, GA4 is built with AI-powered solutions, such as behavioral and conversion modeling. These solutions give you a complete view of performance without compromising user privacy, but they're not available in UA properties."

It measures "events" not "hits"
See a detailed breakdown of differences in Conversions between UA and GA4.
Here's a 5-minute introduction to GA4 from Google
New GA4 features
For advanced analytics users, here are 4 new features GA4 offers:
Event editing and synthesis – without code, directly in the UI
Data import – now with measurement protocol for both app and web events, plus data widening
Cross-domain measurement – you can set this up in the UI, with no code
Lifecycle reporting – now with tailored eCommerce reporting
Want to know more? Try this tutorial for beginners.
How this impacts tracking in charles
In charles analytics, the view for our clients remains the same. We simply grab the data from Google and display it in our user interface as before.
You just need to make sure you switch from UA to GA4. To do this, follow this guide.
Google Analytics is just one of many integrations we offer at charles
How WhatsApp tracking works
If you're interested in learning more, here's how WhatsApp tracking works in general.
As with any other channel, you can track key parameters in WhatsApp to attribute results to this channel and measure the success of your campaigns.
This way, you have more visibility of what's happening, which is essential if you want to understand attribution and improve campaigns and channels in the future.
With the ultimate result of course that you drive more revenue with your marketing efforts – even more important in these tough economic times.
There are 3 main ways to track WhatsApp campaigns:
Add UTM parameters to links in WhatsApp campaigns and measure resulting orders through Google Analytics
Use Shopify discount codes for offers in WhatsApp campaigns and measure resulting orders through Shopify
Other tracking software


Combined, they give you the best picture of how your WhatsApp marketing campaigns are performing.
Fun fact: UTM stands for "Urchin Tracking Module." This comes from the "Urchin Tracker," which was tracking software bought by Google in 2005 – and on which Google Analytics was built.
How WhatsApp tracking works in charles
Since it's what we know best, let's walk you through how WhatsApp tracking works in the charles platform.
We use UTM links for Google Analytics together with Shopify discount codes to track your campaigns, and show results for:
Total revenue
Number of orders
With these figures, you can better understand which WhatsApp content is working, which type of campaign to invest more in and which to tweak.
It also helps you compare WhatsApp as a channel compared to other channels like email and social media.
When you use the same campaign UTM parameter (for example "easter-offer") and different source ("WhatsApp" or "email" or "social") you'll be able to see all of them and compare results in a single view in Google Analytics.
See our explainer on WhatsApp metrics and KPIs (with benchmarks) here.
Using UTM parameters in your links
UTM links are just your usual web links (URLs) with extra "parameter" words added at the end so you can understand where people are clicking and where they go next.
There are 5 possible parameters. You write the words and then they'll show up in your Google Analytics:
Campaign: the name of your marketing campaign, like "black-friday-2023"
Source: the site the person came from, like "Facebook" or "your website"
Medium: the channel the visitor came from, for example, "organic search" or "social media"
Content: the type of content the person clicked, whether "image" or "sidebar" or "menu"
Term: the keyword someone used, like "whatsapp marketing" or "GA4"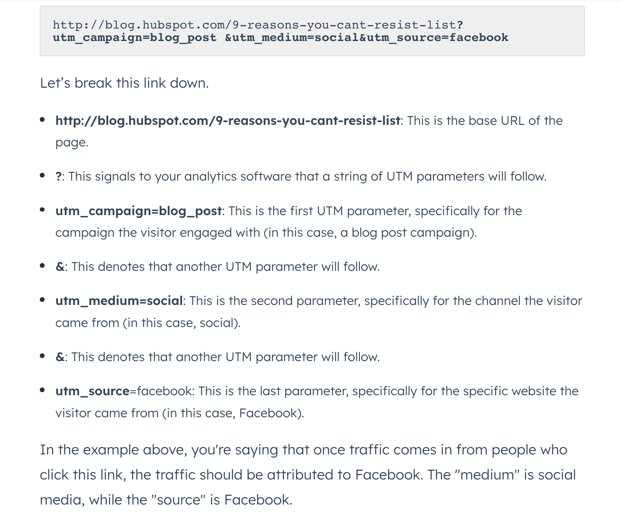 A handy breakdown of a "UTM-ed" link from Hubspot (source: Hubspot)
Here's a good UTM link explainer from Hubspot.
How UTM links work in charles
In the charles platform, we automatically add UTM parameters to links in your WhatsApp messages. This applies to our automation feature, Journeys, and Campaigns.
Then you'll need to make sure you've integrated charles with Google Analytics.
We use Google's "Last-click" attribution model (though we're planning on changing this in future). So right now, all credit for a conversion is given to the last link a person clicked. See more Google attribution models.
Diving deeper – a WhatsApp tracking example
Let's show how it looks in the charles platform. For our "5 summer secrets" webinar tomorrow, we made this automated WhatsApp flow in Journeys for attendees to try out:

In the last message of the flow (far right with the blue button), we link people to our SNOCKS case study. The blue button shows that this link will take people out of WhatsApp and into their browser: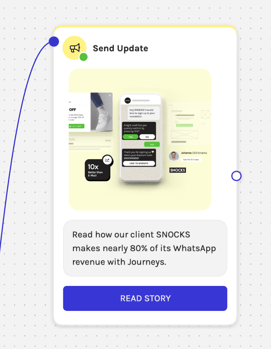 This link is automatically given UTM parameters so we can analyze it in Google Analytics later on, or in charles. You can edit the text in the UTM link.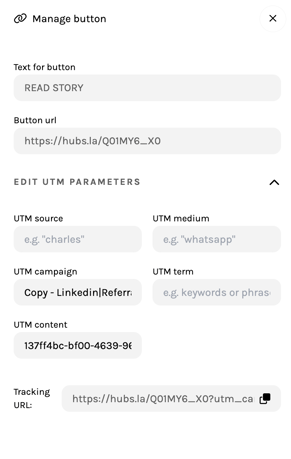 You can edit the message content and image in charles too. Here, this message "template" is already approved by WhatsApp. We would need to edit it and approve it again (usually this only takes a minute or less).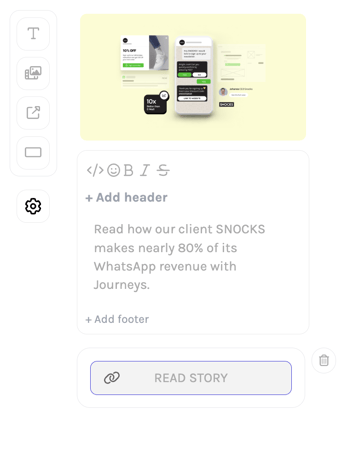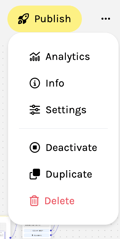 Then, once the campaign is sent out, you can click the three dots at the top right then click "Analytics" to see your results.
You can check the analytics of the entire flow, each node (or WhatsApp message) and (with UTM links) your revenue: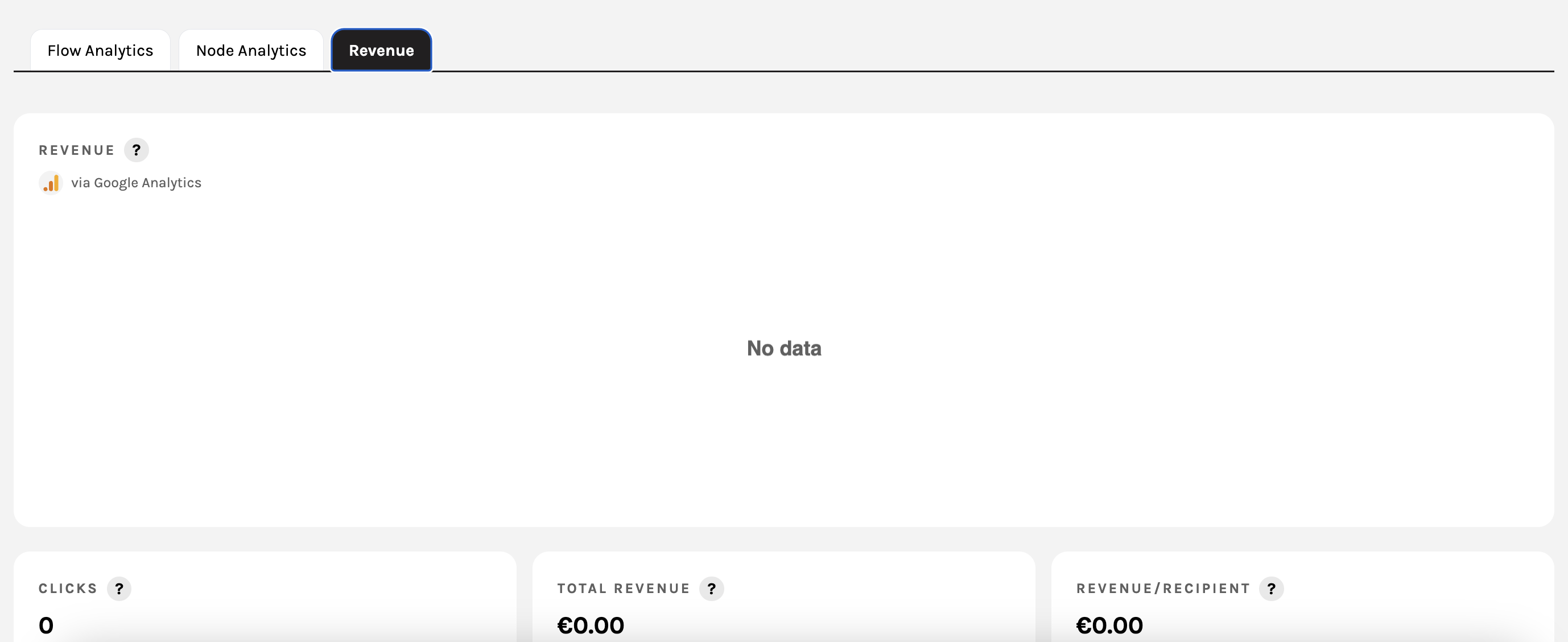 Though obviously this campaign hasn't gone out yet :)
Using Shopify discount codes
Right now, Shopify discount codes can be used in Campaigns, and they're coming to Journeys very soon. We'll also support other online shops soon.

Here are the analytics you'll see for WhatsApp campaigns in the charles platform
When you create a campaign, you just need to get a discount code from your Shopify platform and add it here:

Then any orders made through this message will be attributed to this campaign: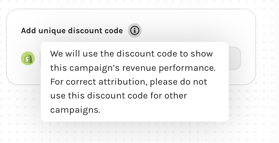 You'll also be able to see number of orders and revenue attributed to this WhatsApp campaign in your Shopify account.
Why do you need Shopify codes as well as Google Analytics?
It's useful to have Shopify discount codes as well as Google Analytics because in Google, you don't always get the full picture. If people don't accept cookies, Google may not be able to track them (though there's also cookieless tracking in GA4, one of its benefits). In reality, results are usually 30% higher.
With Shopify discount codes however, cookies don't apply, it's just a matter of entering a simple code, so results are more complete and accurate.
To sum up
The move from UA to GA4 is undoubtedly a positive one, enabling more accurate analytics for marketers and better privacy for customers.
Making the switch is easy, but from July 1, UA was discontinued anyway, so it's not something you can avoid – it's just something for your to-do list.
Analytics in WhatsApp is just as important and measurable as with any other marketing channel. In charles, it's vital to our platform.
We show numbers of orders and revenue from every campaign using UTM parameters for Google Analytics and Shopify discount codes. It's easy to use and easy to view results. Using both of these analytics helps give a more accurate picture of your WhatsApp campaigns.
Our team love using charles. They say, "It's like watching TV! You see the orders coming in straight away, 'ding ding ding.'"

Annika Himborn, Director Commercial Success and Controlling
Your charles Success manager will always be on hand to help you understand how our features and analytics work and how to interpret (and boost) results.
Analytics is central to the charles platform. We understand how marketers need to see numbers to measure performance and manage marketing channels. Want to learn more about our approach to WhatsApp analytics? Book a demo.
FAQs about Google Analytics and GA4
What's Google Analytics?
Google Analytics is a powerful tool for marketers to measure the success of their marketing campaigns and compare content, channels and more. In this way, they can improve them and understand where best to invest budgets.
Analytics work through "UTM" links, with parameters including campaign and source.
What's GA4?
GA4 is simply "Google Analytics 4," the latest version of Google Analytics. From July 1, 2023, it replaced the previous version, "Universal Analytics" with benefits including more accurate analytics, measurement across apps and websites, cookieless tracking and better privacy.
When does UA switch to GA4?
The migration from UA to GA4 has been happening for several years, but from July 1, 2023, UA stopped tracking analytics. If you use Google Analytics now, you will have to use GA4.
How do you track people in WhatsApp?
To track people in WhatsApp marketing campaigns, you can use Google Analytics, Shopify discount codes and other external tracking software of your choice. In charles, we use the first 2 for a complete picture.
How can charles help me with tracking in WhatsApp?
charles automatically adds UTM parameters to links in our automation tool, Journeys, and in our Campaigns tool so you can measure the results of your WhatsApp marketing campaigns. These are shown in the "Analytics" section of our platform.
We also give you the chance to add a unique Shopify discount code in Campaigns so you can see your results in Shopify and in charles.
We show numbers of orders and total revenue (so you can understand revenue per recipient (RPR), a key WhatsApp metric). See more on WhatsApp KPIs and metrics here.