It's a common problem in eCommerce: you have a new product you want to launch... But you don't have reviews yet... But you can't get reviews without launching the product.
Oatsome saw WhatsApp as an exciting new opportunity to fix this problem for its new product Choco Crush – which it was launching on February 13, 2023.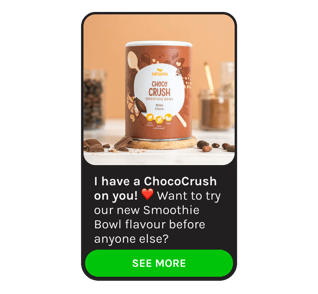 Oatsome's new Smoothie Bowl, Choco Crush. Launched with love on February 13.
Oatsome already has a thriving WhatsApp channel with 8.5k subscribers, managed with the charles platform. It saw its WhatsApp subscribers as an interesting opportunity to get early product reviews.
"Our main objective was to get social proof before the public launch," says Saskia Dörr, CRM Manager at Oatsome. "We also wanted to see how pre-access works. We'd never had one before but we've seen other brands use WhatsApp to offer pre-access to products."
Oatsome is a brand that likes to innovate, and this holds true for its WhatsApp marketing strategy. "Most of the time I saw that brands give 1-2-day pre-access before the public launch. We thought if we give them a longer time to order it, we can use this time to build social proof that we can use to strengthen the main launch campaign afterwards."
With a small team and a full calendar in January – doing campaigns around healthy vegan breakfasts and sending recipes on WhatsApp – the Oatsome CRM team wasn't able to test this new approach. It took the brave move to try this new idea across the entire WhatsApp channel.
"While we couldn't test pre-access on WhatsApp before we launched Choco Crush, we did test other things – like what happens if we insert an image or not."