By Maxine Hess
Writer | WhatsApp marketer | Creative
Updated on September 29, 2023
Every WhatsApp salesperson will tell you that WhatsApp gets you open rates of around 90%. But many fail to mention the killer benefit of Whatsapp: retention. We take a look why it's so sticky – with 7 WhatsApp templates you can use.
WhatsApp is often sold as a tool to get amazing open rates of an average of 90%.
It is. But we don't position (just) it this way.
Why?
Because to earn the maximum revenue from WhatsApp as a channel, you need to think about so much more than the open rate. You need to think what happens after a WhatsApp message is opened: from tap-through, to first purchase, to reengagement to repurchase to BFF (and ever).
WhatsApp is a ubiquitous messaging app (82% of Germans use WhatsApp, and almost 90% of them use WhatsApp every day) for a reason. People love it because it's a place they keep their besties with them all the time: friends, family, groups and yes, even businesses. It's not a dating app. It's a place for comfortable, fruitful, lasting relationships.
How are you going to keep people coming back for more? What kind of content will your audience love to get from you on a regular basis?
In WhatsApp, once someone has opened your message, the last thing you want to do is:
Be salesy
Be a flash in the pan
Be annoying
Be blocked
You do, however, want to:
Be welcome there
Be heard
Be a 2-way conversation
Be gentle
Be human
Be relevant
Be loved
So we tell marketers thinking about investing in WhatsApp Business that WhatsApp is an amazing tool for the entire customer journey – and that importantly, this is a journey that doesn't need to end.
With those amazing open rates, why not make sure you work to keep customers engaged in this channel. This way, when you do have something to say, you're heard and responded to?
It's a nice feeling for a brand's marketing or CRM team to know they have a tool at their fingertips to share news and product launches and know their audience will actually read and respond to these messages. That's what our clients tell us anyway 🥰
So in this article, we take a look at the retention powers of WhatsApp marketing:
Why WhatsApp is an amazing retention tool (particularly in Germany)
7 WhatsApp campaign examples that give you good reasons to message customers
How to use WhatsApp automation for easy customer retention
We explore why WhatsApp is proving its worth for European eCommerce brands tired of acquiring new customers and aiming to get more from the ones they have.
Why WhatsApp is a fantastic customer retention tool (with a Germany focus)
Let's look at reasons WhatsApp is so good at keeping customers with you in the long-term (feel free to use these to convince your boss):
Familiarity: People like getting messages in WhatsApp (even from brands)
In email marketing, you're happy when you see open rates of 30%. In WhatsApp, they're regularly 90% (see WhatsApp benchmarks here).
We know we said we don't focus on open rates, but they do need a mention. In Germany, with such a large and highly engaged WhatsApp user base, WhatsApp is a no-brainer for brands for this reason alone. As long as they also think about what happens after the opening ;)
85% of consumers they're interested in receiving timely and proactive communications from brands
Relevance: You can be personalised in WhatsApp at scale (so customers will want to hear from you)
With interactive automated messaging, integration with shop systems and more, you can learn about customers very easily – and store their preferences. Then you can be very personalized and relevant in the messaging you send people.
These tailored WhatsApp messages will help your brand stand out from generic emails and social media posts.
When you get a customer's phone number, names are automatically populated into your databases – taken directly from WhatsApp. You can reuse the name easily, unlike with email where you need to ask for it in addition to the email address.
By using people's names and referring to preferences and previous orders, you pique more interest and create deeper connections, which is so important in WhatsApp. And, plainly speaking, you generate more revenue.
Companies that grow faster drive 40% more of their revenue from personalization than their slower-growing counterparts.
In Germany, consumers value brands that make an effort to be personal and relevant – and can be suspicious of generic marketing communications – this helps people to keep people interested in your communications.
It's worth noting that on the other side, consumers in Germany can be suspicious of brands that know too much about them. It's important to strike the right balance.
Again, WhatsApp can help with this. With the simple interaction capabilities of the WhatsApp Business API you can ask questions to which people can tap buttons in response. This leads to customers willingly give you information information about likes or preferences. They know they told you their favorite color or cat's name and that you didn't take it from monitoring their online activity.
Product: Our WhatsApp marketing tool, Campaigns, combined with our WhatsApp automation tool, Journeys, enables you to be very personalized in WhatsApp. You can segment audiences finely, adapt campaigns to each audience, add customer variables and much more. Get a demo here.
Immediacy: Customers get to know they can always call on you in WhatsApp
Consumers are tired of sending emails to brands with no response, or a very late one. Sometimes, they even try to message brands on social media platforms, still with no response.
WhatsApp feels more immediate. Customers learn that they can get in touch with you easily in WhatsApp and get quick answers to questions and it's reassuring for them to know this.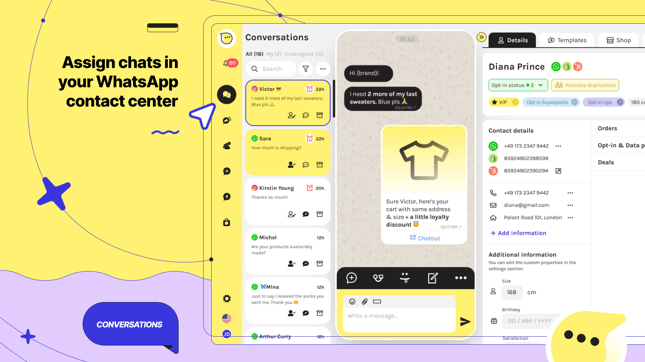 charles Conversations is a "WhatsApp inbox" in which you can respond to customer questions instantly – as well as add product links and even prefilled carts
And don't worry, this doesn't mean you have to hire new customer service agents. Our clients usually set up automated responses to common customer questions with Journeys or our out-of-office feature.
During big WhatsApp marketing campaign sendouts, they ramp up the number of people who are available to answer queries. Outside those times though, managing customer queries needs minimal effort. In fact, usually it's easily done within the existing marketing, CRM or email marketing team.
In Germany, where customer service isn't always as excellent when compared to the US for example (speaking as an Irish person who's lived in Berlin for 12 years 😖), your business can stand out very quickly with great WhatsApp customer service.
A bonus: all their interactions with your brand will be saved in your WhatsApp chat, so they (or your customer service agent) can easily find a conversation and refer to it later on.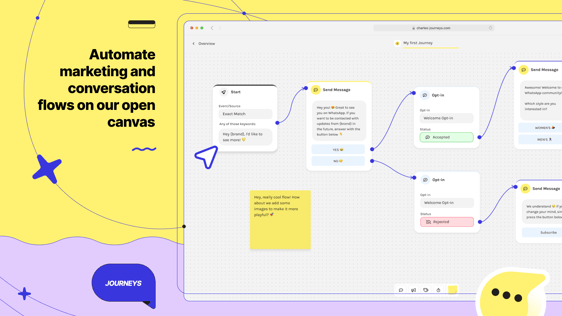 charles offers an easy-to-use open canvas called Journeys to
set up and analyze your automated WhatsApp flows. Get a demo here.
Omnichannel: WhatsApp gives you a valuable extra touchpoint
We all know that, with customers, the more touchpoints the better. And the more seamless these touchpoints are, even better.
WhatsApp completes your omnichannel marketing strategy, helping you be there in an app 2 billion people in the world love – in addition to social, email and other channels.
It's important that your WhatsApp channel doesn't stand alone. In fact it works best together with other channels – complementing them rather than competing for attention. See our article, "Email vs WhatsApp marketing" for more, including ideas on what kind of campaigns each channel is best for.
WhatsApp works best as part of an omnichannel strategy. It complements your website, email, and social media efforts, creating a cohesive brand experience. German eCommerce shoppers appreciate seamless experiences across multiple touchpoints.
Longevity: WhatsApp isn't going away
WhatsApp isn't just a tech one-hit wonder. It's here for the long-haul. In fact, with Meta's key platforms like Facebook struggling, Meta is investing heavily in WhatsApp right now, in particular in WhatsApp Business.
Meta has already proven the power of WhatsApp Business in other countries like Brazil and India, now it has its sights set on Europe. As do we :)
With the success of WhatsApp, and its growing use for businesses, you can rest assured that when you build a relationship with customers in WhatsApp, they're not likely to delete the app any time soon. Or ever.
Mark Zuckerberg is betting WhatsApp will be the next big driver of monetization for Meta
Trust: WhatsApp builds connections and relationships
In WhatsApp, you're far more connected with customers than on other channels like email or social. And connection builds trust. Trust keeps people with you in the long-term.
Trust is an essential factor in retaining customers in the competitive German eCommerce landscape. And remember, WhatsApp is about much more than discounts. Build your brand in WhatsApp with product finders, product care tips and useful messages and you'll reap the revenue and retention rewards.
Recall: WhatsApp keeps you top of mind with useful notifications
This is perhaps the most important: in WhatsApp, there are many useful reasons to get back in touch with customers. You'll see more below, but these messages include delivery updates, birthday discounts and abandoned cart nudges.
Far from being annoying, customers want these from brands, and they appreciate them in WhatsApp, where messages are short and snappy, quickly read and easy to find.
See more on Why WhatsApp will never become a spam channel in Europe.
WhatsApp spam can't arrive in Europe. Why? 1) GDPR, 2) The high cost of WhatsApp messages, 3) WhatsApp itself and 4) EU-built software like ours.

Christopher Schubert
Sales Director
7 WhatsApp customer retention message templates
So how exactly can you retain customers in WhatsApp? Here are some real-life examples of how our clients do it. Feel free to use these templates for your WhatsApp marketing.
You can easily set all of these up in our WhatsApp automation tool, Journeys. This way, all of this costs you little effort and maximum brand love and ongoing revenue.
Plus, you need barely any resource to do them – they don't need to have images, subject lines, extensive rounds of copywriting. You just need some simple, friendly text (which we've written for you).
1. WhatsApp order confirmations
On your thank you page after a purchase, offer to send order confirmations via WhatsApp.
This is a hugely successful, low effort, low friction way for brands to encourage opt-ins to WhatsApp channels. And it's good for customers too, being much more immediate, shorter and snappier, and less clunky than email confirmations.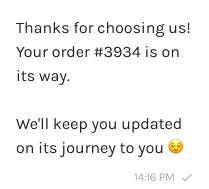 WhatsApp order confirmation message example
2. WhatsApp delivery updates
Even more useful than order confirmations are WhatsApp package updates. Customers love receiving new parcels, and feel better when they know how soon to expect it. They especially like it when brands notify them in a timely, friendly way in WhatsApp.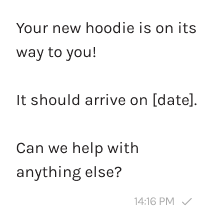 WhatsApp delivery update message example –
with helpful offer to answer further questions
3. WhatsApp product tips
Go one step above most brands and help customers get more from the products they've already bought from you. With many consumer brands trying to become more sustainable, this is a great way to help customers extend the life of their purchases. You can share expert tips to repair them or even offer to send them back to you for repairs.
For brands like Patagonia and Finside, who already offer to repair clothing, WhatsApp is a great way to connect back with customers to remind them – even a year or two later.
And you can add buttons to your sale or other products to encourage further purchases – but in a non-salesy way because you've led with something helpful.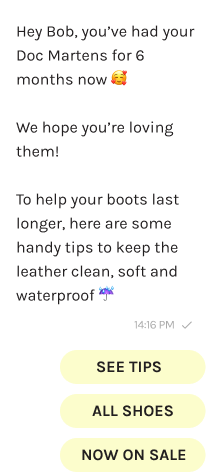 WhatsApp product care message example –
with added buttons leading to repurchase
4. WhatsApp feedback requests
Our clients get great response rates when asking for feedback in WhatsApp. Customers only have to send a quick message back and it's done.
And they appreciate being asked for their thoughts. Few people want entirely one-sided communications from brands these days.
Our client, Oatsome, managed to get 50 reviews of a product they were about to launch. See the full story here.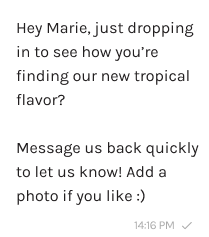 WhatsApp feedback request message example
5. WhatsApp exclusive discounts and products
As we mention in our article "WhatsApp vs email marketing," customers want to feel they get something extra from your WhatsApp channel. WhatsApp exclusives are perfect for this.
You can even send these only to VIP customers and give people good incentive to become one of your most loyal customers.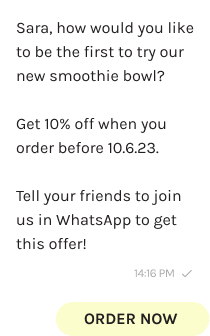 WhatsApp product exclusive message example
6. WhatsApp replenishment reminders
One of the most useful messages a loyal customer can get is a reminder message just before their regular order runs out. After all, they don't want to risk running out of their dog's food, daily breakfast, diapers...
You can set up a subscription, but not everyone wants that. Replenishment reminders are an excellent way to avoid asking customers for too much commitment, but still being able to pull in regular orders in a low-effort way.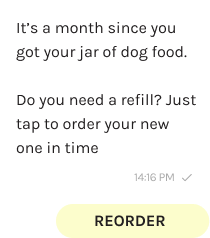 WhatsApp replenishment reminder message example
7. WhatsApp birthday wishes
Everyone loves a birthday greeting, even from a brand. Especially if there's a gift attached – like money off, discount or free product. In WhatsApp, birthday greetings work very well, since that's where most people people send greetings (sorry Facebook but I now get only 20% of the greetings I used to get there).
In fact, some of our clients are starting to move brand birthday greetings from email to WhatsApp because of the more personal nature of WhatsApp.
You wouldn't send your friends an email saying "Hey, Happy Birthday!" So why would you do it in a business context?

Saskia Doerr, CRM manager, Oatsome
Read Oatsome's story with charles
Think beyond birthdays too: pet birthdays, anniversary of signing up to WhatsApp channel, local holidays, start of summer... the list of how you can make customers feel special out of the blue is endless.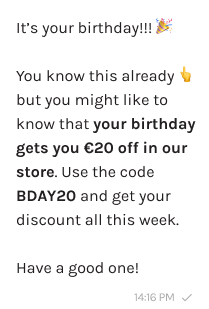 WhatsApp birthday greeting message example
These are just 7 examples of WhatsApp marketing retention message templates. There are many more where that came from – it's up to your imagination (or the ideas of our Success team).
How to use WhatsApp automation for smooth, easy customer retention
WhatsApp automation will save you time and effort in retaining your customers. You can stay personal and on-brand because you write the messages yourself.
And once set up, these messages will earn you money and keep customers content while you work on other things.
See our tutorial on how to convert leads into brand advocates for more on how to do this, and how to use Journeys, our powerful WhatsApp automation feature.
Watch our webinar tutorial on how to turn a WhatsApp lead
into a brand advocate in 5 simple steps
To sum up: WhatsApp marketing is your secret CRM weapon for customer retention
WhatsApp isn't just a messaging app: it's a powerful customer retention tool in the European eCommerce market, particularly in Germany.
With its unmatched open rates, personalization capabilities, and real-time communication, WhatsApp fosters trust and keeps customers engaged.
There are many retention use cases for your CRM strategy to keep customers interested in your brand, including order confirmation, feedback requests and creative birthday greetings.
To use the full potential of WhatsApp for your brand's customer retention strategy, use WhatsApp automation. For this, make sure you partner with a good WhatsApp Business Solution Provider (BSP) like charles. Here's how to choose the right BSP.
And make sure you go with more than just any software provider: you will need someone based in the EU (so data is stored in a GDPR-compliant way), and you will need one that will support you and help you create a strategy for success in this new (but exciting) channel.
We hope this helps you understand how WhatsApp helps you beyond the first message that's opened – and enjoy the stability of having guaranteed long-term revenue, together with customers who love hearing from you.
Ready to boost your customer retention strategy with WhatsApp? Talk to charles – Europe's leading WhatsApp Business Solution Provider (BSP). Book a 30-minute demo with us, tailored to your business goals.