Posted: October 18, 2023
Updated: December 09, 2023
Events
,
WhatsApp Marketing
Let's go back to basics for a second. As a WhatsApp user, you may have heard of WhatsApp Business. What's the difference? Who are they for? How much do they cost?
We talk a lot of depth and detail about WhatsApp for businesses: the features of our WhatsApp platform, WhatsApp marketing best practices, WhatsApp API costs and more.
But sometimes we realize we also need to explain the simple things.
So let's go back to the beginning.
In this article you'll learn about the difference between WhatsApp and WhatsApp Business, the newer arrival:
📕 Basic definitions of WhatsApp and WhatsApp Business
What is WhatsApp?
WhatsApp (official name WhatsApp Messenger) is a messaging app owned by Meta. It enables people to keep in touch with family and friends, across the world. Messages are sent over the internet rather than the mobile network (as used by SMS) so they're free to send – within your data plan.
Founded in 2009, WhatsApp was bought by Facebook parent company Meta in 2014. Today, with over 2 billion daily users, over half of the world's internet users are on WhatsApp.
We call it a messaging app for "private use" to differentiate it to WhatsApp Business.
Download it for Mac and Android here.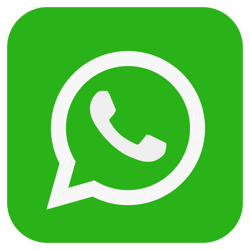 WhatsApp Messenger logo
What is WhatsApp Business?
WhatsApp Business is a version of WhatsApp made for businesses to communicate with customers and vice versa. It's for commercial use, as opposed to WhatsApp which is for private use between friends and family.
WhatsApp Business logo
Why did Meta create WhatsApp Business?
Every tech company needs to monetize its platforms at some point and Meta is no different. Across its portfolio, Meta saw WhatsApp as holding massive potential for monetization. WhatsApp was already hugely successful as a secure, convenient messaging app for friends. Meta identified an opportunity to allow businesses to benefit from being given access to this personal space beside friends.
It helped of course that WeChat in China, founded in 2011, was booming. Chinese consumers appreciated the quick connection with brands and the ability to do so many things one app, including purchasing. Businesses in China were benefiting hugely from the ease of interacting with customers and the simplicity of payments and marketing on this app.
Plus of course businesses loved that they didn't have to make an app themselves.
When and how did WhatsApp Business arrive?
Launched in January 2018 as a free app, WhatsApp Business enables businesses to communicate with their customers, and customers to contact businesses, as they would with friends. Initially it was only suitable for small businesses, since it offered only 1 user on their mobile phone and messages could only be send to 100s of people.
"WhatsApp is really going to be the next chapter, with business messaging and commerce being a big thing there"

Mark Zuckerberg(CNBC)
In August 2018, WhatsApp launched its WhatsApp Business API (now called WhatsApp Business Platform) so larger businesses could earn revenue and enjoy richer functionality. To use the API, businesses had to use a WhatsApp Business Solution Provider (BSP) like charles to would provide the user interface and support.
charles is a WhatsApp BSP that provides a WhatsApp marketing platform
for mid-sized to enterprise brands – packaging up the WhatsApp Business API into a usable form
In May 2022, Meta released the WhatsApp Business API to the cloud so it was available to all businesses. However, companies would still have to build their own user interface to use the API. They quickly recognized that this is expensive and resource intensive – and most companies lack WhatsApp expertise needed to make it a success.
As a result, even with the API available to all, most businesses still search for a WhatsApp BSP to partner with.
Initially, marketing or promotional WhatsApp messages – bulk WhatsApp broadcasts – were not allowed. In September 2021, WhatsApp began to allow this. This is where WhatsApp Business really started to prove its value for eCommerce brands, who increasingly need to ensure a return on their marketing channels.
Meta is continuing to invest heavily in WhatsApp Business as a revenue generator. Functionality is already very advanced in WhatsApp Business' biggest markets, including India and Brazil. In these countries, you can make payments and search a business directory in your private WhatsApp app.
As WhatsApp Business grows in Europe, this functionality will arrive here soon too.
👥 Users of WhatsApp compared to WhatsApp Business
Who uses WhatsApp?
Anyone can use WhatsApp. It's free to download and use, and available across (most of) the world.
Most people use WhatsApp on their phones, but it can also be opened on your desktop through WhatsApp Web.
What do people use WhatsApp for?
People use WhatsApp to message friends and family, send pictures, videos and voice notes, and even call people (over the internet rather than the mobile network). You can also set up and join group chats and calls – useful for family chats, sports groups and school communications.
Recently, WhatsApp introduced WhatsApp Channels, which is a one-to-many broadcast feature. Appearing as "Updates" in the WhatsApp menu (at the bottom of your phone screen) this is a place where WhatsApp users can subscribe to people and companies for the latest news and updates.
Increasingly in Europe, people can also use WhatsApp to message and stay connected with the brands they love. This is where WhatsApp Business comes in.

WhatsApp Messenger is an app for anyone, almost anywhere, to stay in touch with family and friends
Who uses WhatsApp Business?
Businesses selling products and/or services use WhatsApp Business. They use WhatsApp Business to connect and stay in touch with customers, send offers, automate conversations, make sales, build relationships and earn additional revenue.
While eCommerce brands selling products (rather than services) are the primary user of WhatsApp Business, other types of organization also find it useful. These include B2B companies, charities, coaches and sports clubs.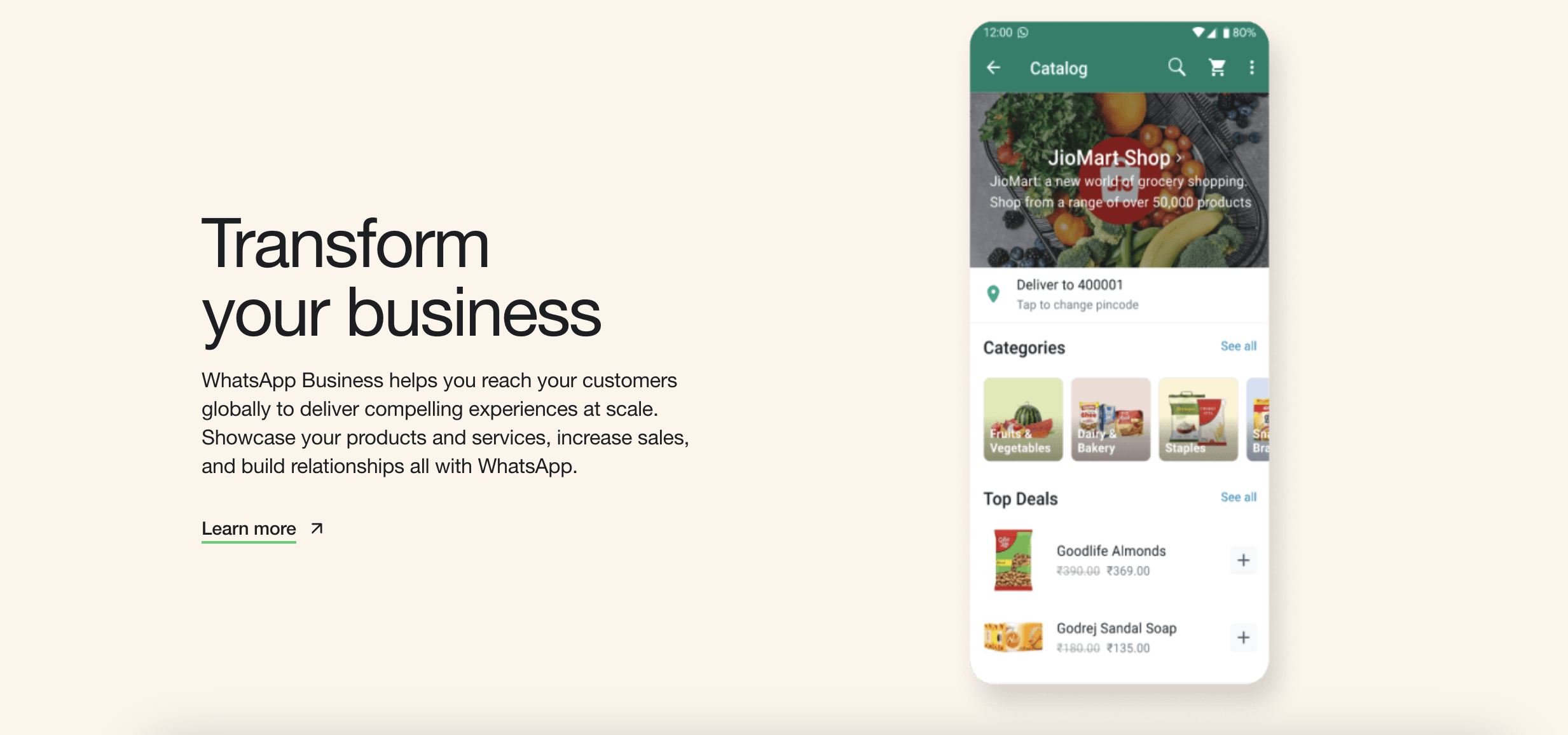 WhatsApp Business is an app or API that enables businesses to connect with customers in a more easy, personal and long-term way than most other traditional channels like email and social media
How do businesses access WhatsApp Business?
WhatsApp Business can be used in 2 ways:
Small businesses

or owners use the free

WhatsApp business app

.

This is slightly different to the consumer WhatsApp Messenger app in that it has extra functionality like the ability to add a business profile, labels to organize chats and messaging tools to quickly respond to customers.

But its functionality is limited and you can only send messages to up to 256 contacts at one time.

Mid-sized business to enterprises

use a

WhatsApp Business platform like charles

.

While WhatsApp created the technology to enable businesses to send WhatsApp messages to customers – called the WhatsApp Business API (now WhatsApp Business Platform) own platform – this can't be used by businesses as it is. It needs a platform or user interface built on top. A platform like charles is a user interface that uses all the API's functionality, like automation, sales, analytics and timed messages. (Curious to see how charles works? Get in touch.)
Looking for a WhatsApp Business platform?
charles is of course here for you. We're a leading European WhatsApp marketing platform based in Berlin, with a revenue focus, eCommerce background and GDPR compliance built in.
We're here if you want to talk to us. In the meantime, these articles might help:
⚙️ Difference in functionality of WhatsApp compared to WhatsApp Business
What functionality does WhatsApp offer?
WhatsApp Messenger offers the following key features:
Send written messages instantly to contacts
Send voice memos
Send media like photos, videos and gifs
Create groups
End-to-end encryption to prevent others reading WhatsApp messages
What functionality does WhatsApp Business offer?
The functionality of WhatsApp Business depends on whether you us the free app or the WhatsApp Business API:
WhatsApp Business app

Send messages to up to 256 contacts at a time
Send automated greeting message and out of office message
Add labels to filter customers easily
Create shortcuts to readymade responses to frequently asked questions with Quick Replies
Showcase products and services with a basic Catalog
Access a basic desktop version of WhatsApp Business

WhatsApp Business API (through a platform like charles)

Segment audiences finely for better performing campaigns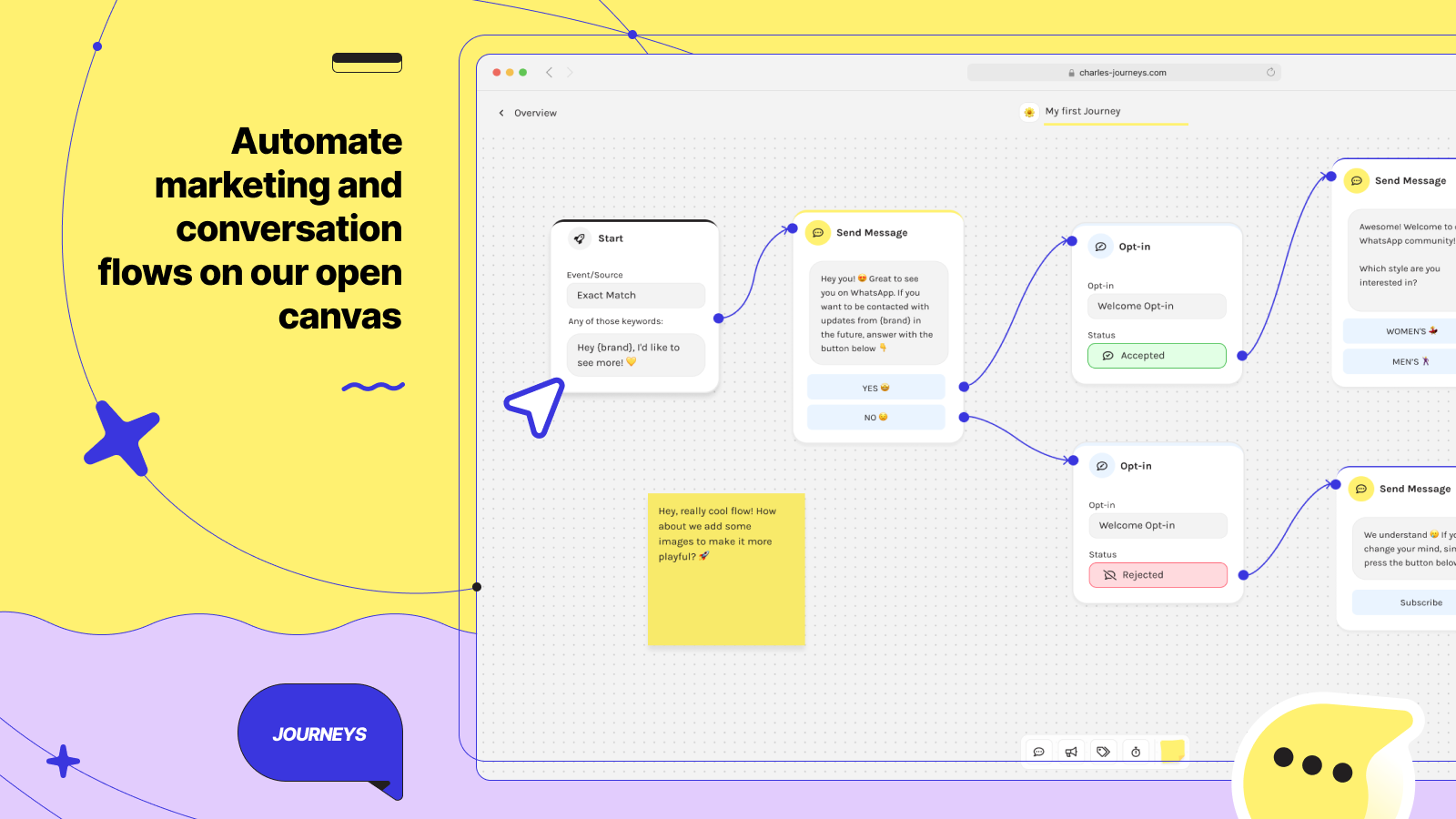 One of the WhatsApp Business API's key features is that it enables brands to automate entire WhatsApp conversations – to save time, improve data collection and improve the customer experience. In charles, you do this through our open canvas Journeys feature.
💰 Costs of WhatsApp compared to WhatsApp Business
This is how much it costs to use WhatsApp and the costs of WhatsApp Business:
What are the costs of WhatsApp?
WhatsApp (or WhatsApp Messenger) is completely free. It's free to download and free to send and receive messages.
The only costs you may incur are those relating to data use – it uses up data to send and receive messages. But this is between you and your data provider, not WhatsApp
What are the costs of WhatsApp Business?
This is a bigger question that needs a detailed answer (see our guide to WhatsApp Business costs here).
To summarize:
WhatsApp Business app users pay €0: it's free to download and use. In some countries, like India, WhatsApp offers an additional plan to the WhatsApp Business app users, called WhatsApp Business Premium. Businesses pay a small monthly fee to use this service and gain access to extra features like: add up to 10 users, assign agents and get a custom wa.me link. See more here.
WhatsApp Business API

users pay WhatsApp a small fee per conversation

they have with a customer. The cost per conversation (around 15c in Germany) depends on the type of conversation it is: whether marketing, authentication, utility or service. If a business didn't build a platform in-house, they will also pay a subscription to a WhatsApp platform like charles, plus an additional (smaller) fee per conversation to the software provider. See more on pricing here.
Differences between WhatsApp and WhatsApp Business at a glance
Clearly there's a lot to say about the difference between WhatsApp and WhatsApp Business. Here are the key differences summarized for you:
Differences between WhatsApp and WhatsApp Business
💬 WhatsApp
👔 WhatsApp Business
Private use
Commercial use
Used by individuals
Used by businesses – from single business owners to global enterprises
Connects friends and family
Connects businesses and customers
Accessed by downloading app on Google Play or App Store
Accessed by downloading app or using WhatsApp Business Platform (API) (through a user interface made by a WhatsApp BSP like charles or built in-house)
Completely free
App is free, API costs small fee per WhatsApp conversation
Limited functionality, simply for sending and receiving messages and seeing updates from friends and (new) organizations
API offers rich functionality for businesses to automate messages, track analytics and more
Countries with most app users [2023]:


India: 535.8M 🇮🇳
Brazil: 139.3M 🇧🇷
United States: 91.3M 🇺🇸
Indonesia: 86.9M 🇮🇩
Mexico: 69.7M 🇲🇽
Russia: 66.7M 🇷🇺
Pakistan: 52.3M 🇵🇰
Germany: 51.9M 🇩🇪
Italy: 35.5M 🇮🇹

Countries with most app users [2022]:

India: 291.6M 🇮🇳
Indonesia: 73.1M 🇮🇩
Brazil: 69.5M 🇧🇷
Pakistan: 48.2M 🇵🇰
Nigeria: 22.4M 🇳🇬
Egypt: 16.2M 🇪🇬
Russia: 15.5M 🇷🇺
Mexico: 14.9M 🇲🇽
US: 12.2M 🇺🇸
As you can see from the table above, India has both the most WhatsApp and WhatsApp Business users with 535.8 million and 291.6 million respectively. Indonesia and Brazil are also notable, with large markets for both WhatsApp and WhatsApp Business.
You can also see why there's a need for a WhatsApp Business platform like charles in Europe. Many Europeans use WhatsApp, but as yet not so many companies are using WhatsApp Business.
We're here to bridge that gap, bringing the successes from India, Brazil and Indonesia to Europe, but in a GDPR-compliant, revenue-focused way.
Why revenue focused? Because the costs of WhatsApp are higher than in other countries, so in the EU more than elsewhere, profitability is key to success.
Where does charles fit in all this?
charles doesn't have anything to do with the WhatsApp consumer app. We're a WhatsApp Business Solution Provider and Official Meta Partner.
We're a software as a service (SaaS) company that has built a WhatsApp marketing platform for businesses to use on their desktop.
We've taken the WhatsApp Business Platform (API) and built a user interface on top so businesses can easily and profitably connect and communicate with customers on WhatsApp.
WhatsApp Business offers 3 main use cases: marketing, sales and service. We focus on WhatsApp marketing (because it holds the most potential to generate revenue) and work mostly with marketing, digital and CRM teams at mid-sized companies to global enterprises.
Our software subscription also includes access to a Success team to make sure this platform remains profitable.
To sum up: the difference between WhatsApp and WhatsApp Business
WhatsApp is a free app for private use. WhatsApp Business is a free app or paid-for API for commercial use.
Where WhatsApp is used to stay in touch with family and friends, WhatsApp Business connects businesses (mostly eCommerce brands) with their customers.
WhatsApp was the first to be launched, whereas WhatsApp Business was
Right now, WhatsApp is hugely popular and well-known in Europe, but WhatsApp Business is little known. This is set to change as Meta invests heavily in the business side of WhatsApp in Europe, after huge successes in countries like Brazil and India.
WhatsApp user? Watch this space for more businesses appearing on your WhatsApp updates and messaging feeds (only if you've agreed to add them first).
WhatsApp Business app user? Get in touch with charles when your business grows and we'll transfer you to the API seamlessly and painlessly.
eCommerce brand who hasn't started with WhatsApp Business yet? It's a "blue ocean" right now – which makes it the perfect time to get started before your competitors do. Here are more reasons you need to start with WhatsApp now [2023].
If you have more questions about how WhatsApp Business works and the value charles offers, we'd love to hear from you. Get in touch and we'd be happy to tailor a 30-demo to your business – with use cases to suit your brand and industry.
That's what we're here for. Get in touch and we'd be happy to answer your questions for you.