By Maxine Hess
Writer | WhatsApp marketer | Creative
Updated on September 29, 2023
WhatsApp is a powerful way for eCommerce brands to boost their marketing mix. But what type of eCommerce businesses use it? And how do they make it a success?
In our key markets of Germany and Italy, more and more customer relationship management (CRM) teams are adding WhatsApp to their marketing mix.
It makes business sense.
With WhatsApp producing 90% open rates, clear increases in customer lifetime value (CLV) and excellent engagement, it promises many benefits when combined with email and others in an omnichannel marketing strategy.
In particular, WhatsApp is a powerful channel for eCommerce businesses.
What is WhatsApp eCommerce?
WhatsApp eCommerce is the selling of goods and services on WhatsApp. To do this, businesses use WhatsApp Business.
Definitions of terms:
eCommerce is "electronic" commerce, or selling goods and services over the internet through digital devices (rather than physical stores)

WhatsApp Business

is a platform where businesses can communicate and do business with customers over WhatsApp. Small businesses use the free WhatsApp Business app. Medium to large businesses and enterprises use the WhatsApp Business API to communicate with 100,000s of customers at a time, automate conversations, gather analytics and more. To use the API, businesses need to partner with a Business Solution Provider (BSP) like charles who provides a software user interface and support.
WhatsApp Business and eCommerce are the perfect match
Most of our clients are eCommerce companies. Specifically, European consumer eCommerce brands. These are the businesses we see opening WhatsApp channels at a growing rate, and earning huge revenue and brand loyalty.
With customer acquisition costs (CACs) going up all the time, eCommerce businesses are under increasing pressure to boost customer lifetime value (CLV). In other words (and fewer acronyms) they're now more focused on growing loyalty with existing customers than attracting new customers.
WhatsApp, as a direct, personal, always-on channel is perfectly placed to build the long-term relationships eCommerce brands crave.
At the same time, customers want more personalized experiences.
Buying online isn't as personal as it is in store. Who do you ask about sizes? Where's the shop assistant that knows you? Who's going to run over with a new shirt that would be perfect with your skin tone?
65% of those surveyed stated that personalized experiences are vital to their purchase intent
Source: Yahoo
WhatsApp is the perfect opportunity to bring a personal touch to digital shopping. With a WhatsApp channel, eCommerce brands can enjoy a direct line to customers on their phones.
With the WhatsApp Business API, they can enjoy rich segmentation and targeting capabilities to make messages and product recommendations highly personal.
64% of people surveyed said they expect brands to connect with consumers. Source: Sprout Social
And WhatsApp for eCommerce is already proven
In our key markets of Germany and Italy, WhatsApp is a relatively new channel for eCommerce brands.
But in other markets, like Brazil, India and Indonesia, WhatsApp is already a key revenue driver for eCommerce brands.
Consumers in these countries love the direct interaction they get with brands in WhatsApp. In fact, 77% of WhatsApp users in Brazil communicate with brands and companies through the app.
The WhatsApp Business functionality is more developed here too, with consumers able to order their weekly shop, pay and search for businesses directly in the app.
Most Brazilian consumers interact with brands through WhatsApp
All this is coming to eCommerce brands in Europe. Which is why we're here, encouraging European brands to grasp this opportunity and get a headstart over their competitors (talk with us to get started).
What kind of eCommerce brands use WhatsApp?
The eCommerce brands that we see enjoy the most success with WhatsApp have a few key things in common:
They sell products (not services)
They're business-to-consumer (B2C), although we have some B2B use cases too
They have a turnover of at least €1 million
They have 15k+ web visitors per month
They have a high average order value (AOV)
To see if your brand should invest in WhatsApp Business, see: Is your business right for WhatsApp?
What industries are they from?
We're seeing many fashion, food and beauty brands doing great things on WhatsApp. We also have health supplements, furniture, even life coaches.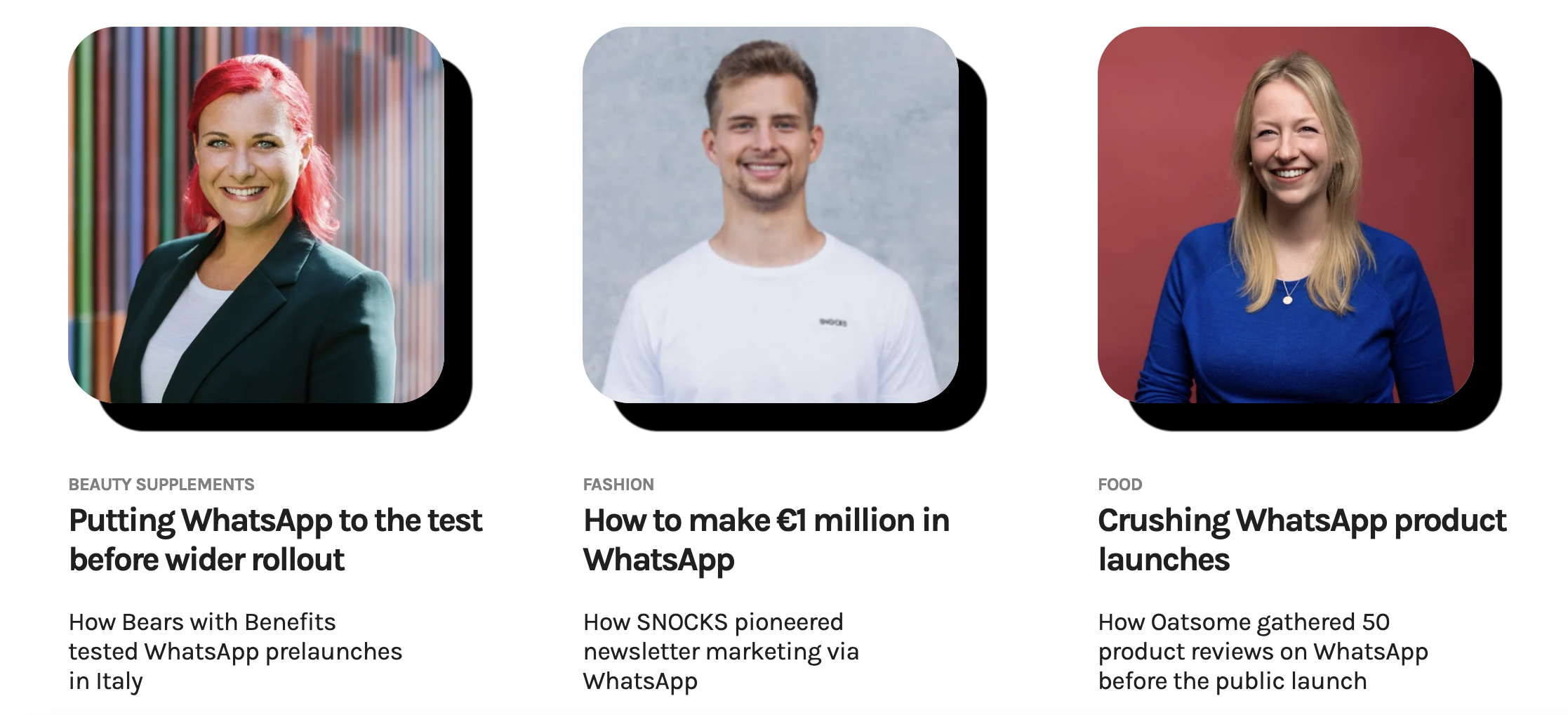 Our clients, among the most pioneering eCommerce brands in Europe,
are enjoying huge success with WhatsApp as part of their marketing mix
What are some examples of eCommerce brands using WhatsApp?
Here are some eCommerce brands that use WhatsApp. All are clients of charles who have added WhatsApp successfully to their marketing mix: Oatsome (health food) | Bears with Benefits (beauty supplements) | Pferdegold (animal supplements) | Kapten & Son (fashion) | Hey Marly (fashion) | Woodboom (furniture).
Why is WhatsApp good for eCommerce brands?
Until recently, eCommerce has mostly happened on websites. Customers buy from online stores with digital storefronts, product description pages (PDPs) and checkout pages.
In the last few years, eCommerce has spread to social media apps like Facebook and Instagram – even with the possibility to checkout without leaving the apps.
Now, eCommerce has fully arrived in WhatsApp. Most recently in Europe.
1,000s of brands in Germany, Italy, France, Spain the UK and beyond are now seeing the same benefits enjoyed already in established WhatsApp markets like Brazil, India and Indonesia:
✅ Benefits of WhatsApp Business for eCommerce brands
| | |
| --- | --- |
| Boost revenue | Shorten sales cycles by answering customer questions, sending discounts to close deals, sending short, high-impact seasonal campaigns, sending more targeted and relevant products to highly segmented audiences... there are many ways to sell more in WhatsApp. |
| Increase CLV | When brands have opt-ins on WhatsApp and email, they have more touchpoints with customers and can more easily grow brand loyalty. |
| Improve CX | Most people have WhatsApp on their phones and love the ease of chatting with a business on WhatsApp – getting quick answers to questions and keeping all conversations in one, easy-to-find thread. |
| Retarget more easily | Through WhatsApp, you can collect information and automatically add tags, so when you contact a customer again, you can send highly relevant products or content. |
| Get closer to customers | Customers feel very close to brands on WhatsApp, especially when the brand takes the time to reply personally to them and takes a casual, friendly tone. |
| Save time and effort | Far from being a drain on resources, a WhatsApp channel takes very little time and effort to manage. In particular because of the advanced automation capabilities of the API. |
| Reach a young audience | Younger generations expect to reach brands on platforms they already use, like Facebook and Instagram. WhatsApp should be part of any brand's toolkit. |
The next generation of consumers will expect a highly personalized shopping experience – where products find them instead of the other way around
What about WhatsApp for enterprise eCommerce brands?
Business of every size can reap the rewards of WhatsApp marketing. Especially enterprises. Large eCommerce companies are set to make the greatest revenue from WhatsApp, for reasons like:
They have a huge customer bases ready and waiting, who are looking for more personal ways to stay connected with the brands they love
WhatsApp is popular globally, so it's easy to roll out for international brands, without needing to localize apps or websites
They have the teams in place – smaller companies don't always have CRM, marketing, sales and customer services team
They have

agencies on hand

, or an internal creative who can turn their resources to creating innovative, award-winning campaigns in WhatsApp (like our WhatsApp role-play game for WWF Germany)
For enterprises, rolling WhatsApp out companywide at first can be complex. That's why our enterprise clients tend to start with a single use case, like a product finder or friend referrals. Or they zoom in to one locality, focusing on 1 country or portfolio brand to begin with.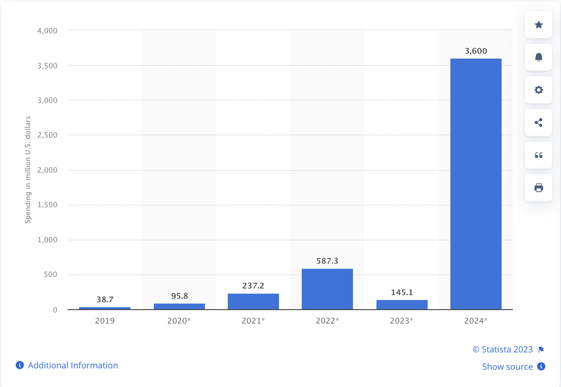 2024 is the year of WhatsApp enterprise –
which makes it wise to get started in 2023
But the potential is there and enterprises are waking up to this at a fast rate.
Spend on WhatsApp Business by medium to large businesses is due to hit €3.6 billion in 2024. This is an incredible jump when you consider the spend was €38.7 million in 2019. So 100x growth in just 1 year 🤩
Enterprise use of WhatsApp Business APIs forecast to increase 5,400% to 2024
See our wiki article on WhatsApp for enterprise to learn more about how WhatsApp works for larger companies' specific needs.
What is WhatsApp Business?
WhatsApp Business is a platform offered by WhatsApp (and its parent company Meta) through which businesses can interact with customers, send promotional campaigns and (in some countries) carry out entire transactions, all through WhatsApp.
There are 2 options for companies to use WhatsApp Business:
WhatsApp Business Platform (API):

an application program interface (API) for larger companies broadcasting WhatsApp messages to more than 256 contacts. The API is the technical capability – to use it, businesses need to use software from a WhatsApp Business Solution Provider (BSP | Meta partner) like charles
WhatsApp Business app:

free app for small businesses and individuals, with basic functionality to interact with customers and send bulk messages (to 256 contacts)
Why is the WhatsApp API a better option for eCommerce brands?
The WhatsApp Business Platform (API) is a better option for eCommerce brands because it offers greater functionality, automation possibilities and scalability. The free WhatsApp Business app is too limited for any business with more than 256 contacts.
In particular, there's far more eCommerce functionality available on the API compared to the app, including:
Advanced automation:

create automated conversational flows and chatbots (

like in charles Journeys)
Shop integration: you can integrate your online shop, like Shopify, into the API to see order history, build carts and more
Other integrations: you can connect all your other marketing and CRM platforms, like Messenger, Instagram and Klaviyo to the API
Abandoned carts: you can automatically remind people about an abandoned cart to boost sales at this critical moment
Multiple agents: you can use the API across multiple teams and customer agents
Unlimited recipients: you can send messages to as many people as you like
The business benefits of the WhatsApp API over the app include:
More scalable: unlimited agents and recipients so your WhatsApp channel grows as you grow
More sales opportunities: reactivate, remind about abandoned carts, send discounts, build tailored carts, segment audiences finely, create automated flows that work out of hours
Better retention: through automated flows that can automatically reengage customers, like email CRM flows
40% of marketers say that mobile-friendly website design and mobile messaging through SMS, Facebook Messenger, WhatsApp, and other platforms is the most effective trend they're currently leveraging
The downside is, the API is not free. You pay Meta (WhatsApp) per conversation. But this shouldn't stop you. The outgoing costs end up being minor compared to the return on investment (ROI) you can achieve.
To use the WhatsApp API, businesses will need to partner with a WhatsApp BSP like charles, who will also offer the necessary support to ensure success in this new channel.
See more on WhatsApp API pricing.
12 WhatsApp eCommerce use cases
Now you know what WhatsApp eCommerce is, which eCommerce businesses use WhatsApp and why the WhatsApp Business API is a better option than the app, let's dive deeper.
How can you actually use WhatsApp for your eCommerce business? What business problems does it solve? How can you sell a WhatsApp marketing channel to your company?
Here are 12 use cases of WhatsApp for eCommerce businesses (proven by our eCommerce clients):
1. Product launches
Instead of time-intensive email campaigns, you can send a simple WhatsApp message to announce your product launch – and expect 90% open rates so more people see your message.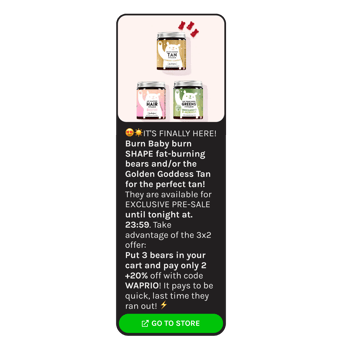 Our client, Bears with Benefits enjoys great success doing product launches in WhatsApp,
earning €100,000 in 3 months in Italy
2. Exclusive pre-access
It's easier to sell a product when you have reviews to back it up. Get early reviews and excitement around your product launches by offering exclusive pre-access on WhatsApp only.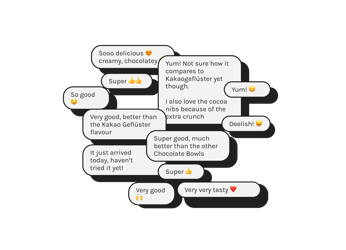 "So many people replied. It was super exciting to see such quick, enthusiastic responses."
Saskia Dörr, CRM Manager, Oatsome
This worked very well for Oatsome, who gathered 50 reviews of its new product Choco Crush – which it then used in social media to strengthen the public launch. See the inside story here.
3. Automated product finders
Customers love to be treated as unique individuals. Lead them to the perfect product for them by letting them tell you what they like and don't like:
Create an automated WhatsApp flow that asks your customers 5-10 questions about their preferences – like favorite color, size, skin type, favorite music...
Customers are led along the flow by tapping answers, receiving new messages, and are ultimately shown their perfect product
You then send a final product suggestion that automatically has a link to that product or even a cart with that product in it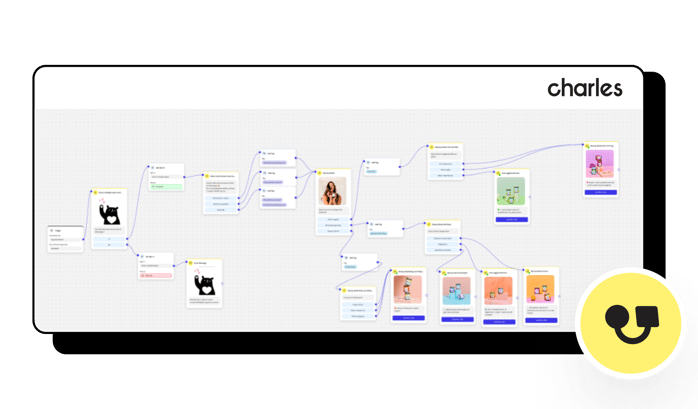 You can create automated product finders easily using charles Journeys feature.
Bears with Benefits cleverly suggests products during its Italian opt-in flow.
How to lead people to the product finder? Send your WhatsApp subscribers a "marketing" message, add popups on your website, use your opt-in flow like Bears with Benefits, put QR codes on in-store flyers, add the QR code on product description pages.
The bonus? All responses can be automatically stored as tags so you can target them with more relevant WhatsApp promotions and content in future.
5. Customer-led product development
What products do your customers want to see? Ask them in WhatsApp.
Our client, Italian "affordable luxury" watchmaker, Venezianico, does this successfully. It regularly sends WhatsApp messages from its CEO to its very engaged customer base of watch fans. He asks what they'd like to see in the next watch design. Venezianico then incorporates their feedback into the new design. See the full story.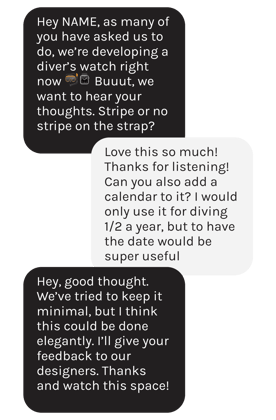 Venezianico uses WhatsApp to ask its customers what it wants to see in its new products –
then gives them what they asked for
The bonus? WhatsApp customers get early access to the new product, building loyalty even further.
6. Post-purchase retention
Add a message on the thank you page after a purchase to encourage people to join your WhatsApp channel.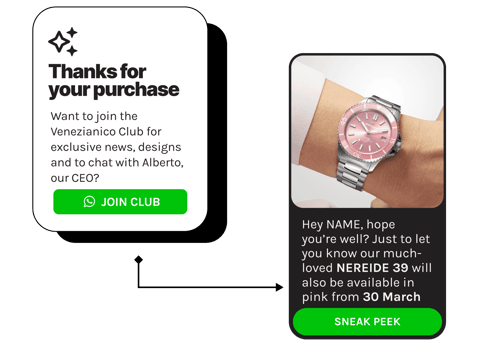 Most of our clients use thank you pages to stay connected with customers on WhatsApp, like Venezianico
7. Order updates
This is the perfect, non-invasive use case for WhatsApp eCommerce. After a purchase, customers want to know when their package will arrive. They appreciate getting WhatsApp messages to notify them.
Offer this possibility on the thank you page and expect a high percentage of people to sign up for your WhatsApp updates.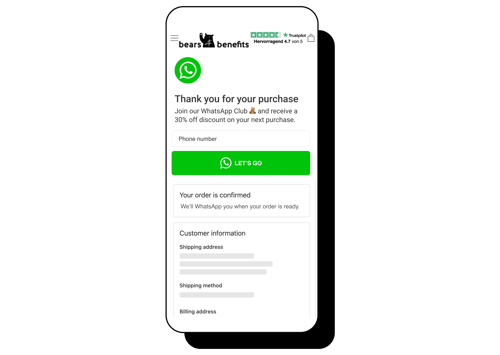 Bears with Benefits post-purchase page
The bonus? Not only do you help your customers, you get more opt-ins to your WhatsApp channel and stay connected with more customers.
8. Seasonal campaigns (like Black Friday)
WhatsApp is particularly powerful for seasonal campaigns and shopping events like Black Friday, the holiday season and any relevant day or event.
In particular, our clients do extremely well in WhatsApp on the world's biggest shopping day, Black Friday. Fashion eCommerce brand, SNOCKS, made €250,000 in Black Week alone in 2022.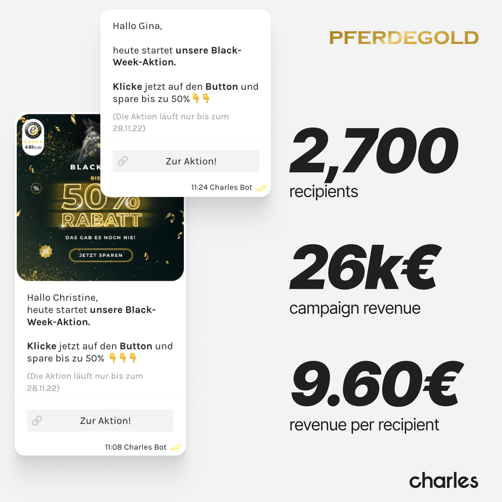 Our client Pferdegold had a very successful Black Friday in 2022,
earning a revenue per recipient (RPR) far above the benchmark of €2.26
9. Birthday greetings
(and other personal occasions)
Make a customer feel special by sending them a Happy Birthday message on WhatsApp – where it will sit nicely among the other birthday messages from friends and family. Give them a little gift too – a discount or free product.
Or send it on the first anniversary of them becoming a customer, their pet's birthday or other occasion unique to them, that you have stored in your customer profile – either on Shopify, Klaviyo or charles.
10. Competitions and quizzes
In WhatsApp, there's no limit to your creativity. And the more creative you get, the more engaged your customers will be. Our clients have done competitions, quizzes and more, but there's still so much scope to do new, engaging campaigns on WhatsApp.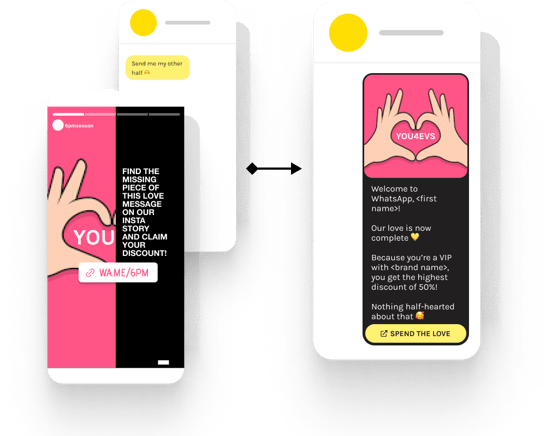 A WhatsApp competition idea we sent clients for Valentine's Day – in this case we combined it with social media to bring Instagram followers into WhatsApp, and WhatsApp subscribers into Instagram
11. Interactive games
Games are a great way of engaging your audience. They may not make you direct profit, but they'll keep you coming back for more. Here's one we made for WWF Germany. Even though it took 15 minutes to play, over 30% of people played the entire game.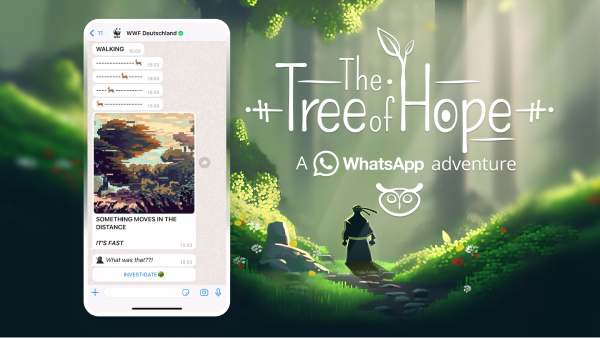 A fun WhatsApp game that raised awareness about protected areas in Germany that we made for WWF
Give the game a go here, or scan the QR code:
At the end, we gave players a free T-shirt as a reward when they bought from the WWF shop. The T-shirt sold out.
The bonus? You get people into your WhatsApp channel through the game. At the end of the WWF game, we asked if they wanted to hear from WWF again. Over 50% said yes, and were automatically assigned an opt-in tag in the charles platform – so they could be contacted again legally in future.
12. Abandoned cart reminders
If a customer leaves products in their cart on your website, you can check if they have a WhatsApp opt-in too (with Klaviyo and email integration).
Then you can send them a reminder to go ahead and purchase, or lead them to another product – or even send an extra discount to close the deal.
How to set up your WhatsApp eCommerce strategy with charles
charles is here to help European consumer eCommerce brands launch a WhatsApp Business channel and run it profitably and efficiently.
We provide the 2 key components you need:
An easy-to-use WhatsApp marketing platform: software so you can automate, chat with customers, add tags, view analytics and much more
Industry-leading support: we pride ourselves in our personal, direct, hands-on support, offering best practice advice and even proactive creative campaign ideas, with an eCommerce focus
And we focus on adding WhatsApp easily to your marketing mix, not disrupting your current operations.
charles is a leading European WhatsApp marketing platform for eCommerce businesses.
Here are some ways we set up consumer eCommerce brands for success in WhatsApp:
Automate common customer journeys in WhatsApp
We'll help you set up automated flows in Journeys – like product finders, out-of-office replies, answers to FAQs and games – that can run in the background, earning you money while you focus on other things.
Integrate with your existing platforms
We'll integrate our platform with your existing tools, like Shopify, Klaviyo, Messenger, Instagram and others. This way, you can keep using all your data and carry on as before, but with the added power of WhatsApp.
Plan your WhatsApp campaigns
We have over 2 years of practice sending seasonal campaigns in WhatsApp. We'll help you develop an annual strategy that incorporates all the key events, and your own ones, so you don't miss an opportunity to make sales. Our product enables campaign scheduling too, so you can set everything up in advance.
Build carts in WhatsApp
We'll integrate the charles platform with your online shop (whether Shopify, WooComerce or other) so you can boost your WhatsApp conversations with live knowledge about orders and availability. And you can build carts with readymade products and discounts for each customer – to shorten the customer journey and increase the chances of a sale.
Learn how to rock WhatsApp marketing in our OMR masterclass
(in German, turn on English subtitles in YouTube)
Grow your WhatsApp channel
The more you grow your business, the more we grow. We're very motivated to help you bring more customers into your WhatsApp channel and will proactively bring you ideas for Chat-ins like popups, post-purchase opt-in flows and social media campaigns.
Analyze results
We'll give you feedback on your campaign results, so you can understand the key WhatsApp KPIs and judge your success.
Optimize your strategy
We hold regular meetings with your team to look at results and work out how to improve your campaigns, your engagement, your revenue and the profitability of your WhatsApp channel.
Learn WhatsApp best practices
We're a team of WhatsApp and eCommerce experts, with over 3 years' experience in WhatsApp marketing – this is more than many providers who are newer on the market.
In fact, charles used to be an eCommerce clothing business before it switched to offering a WhatsApp platform, so eCommerce is in our DNA. This means we have a deep understanding of what works in WhatsApp for eCommerce's specific needs.
And we offer regular masterclasses at events, as well as online webinars and client workshops.
WhatsApp: the new superpower for your eCommerce business
WhatsApp is a powerful tool for eCommerce businesses. In challenging economic times, it's low-cost to run and yet yields high results in terms of revenue, CLV and engagement. And it responds perfectly to the increasing consumer demand for more personal interactions with brands.
To get the full power of WhatsApp Business, eCommerce businesses should use the WhatsApp API rather than the app. To do this, they will need to partner with a WhatsApp software provider like charles.
There are countless use cases for eCommerce brands in WhatsApp, 12 of which are listed above (like product finders, abandoned cart reminders and interactive games).
The best time to start with WhatsApp is now. Your competitors may already be on WhatsApp, or planning to add it to their marketing mix. And the momentum is growing, as more people wake up to the benefits of connecting with customers in this personal, direct, low-cost channel.
Get a free demo with charles and ask us anything you'd still like to know about WhatsApp for eCommerce businesses.
FAQs about WhatsApp eCommerce
Is WhatsApp an eCommerce platform?
Yes. eCommerce businesses are seeing the most success in WhatsApp. In particular, those who sell products and already have a large customer base.
How can I use WhatsApp for eCommerce business?
From product finders to competitions to abandoned cart reminders, there are many use cases of WhatsApp for eCommerce businesses. For more, please just get in touch.
What kind of eCommerce businesses use WhatsApp?
We see great successes in food, fashion and beauty. And eCommerce businesses that sell products (rather than services) with a high average order value (AOV).