Posted: October 31, 2023
Updated: December 09, 2023
Meta knows the value of WhatsApp Business to brands. So it charges per conversation you have with a customer. Here are some tricks to keep your cost down and increase your ROI.
Do you know what WhatsApp Marketing, Utility, Service or Authentication conversations are?
Or user- or business-initiated conversations? 😅
Do you know how much they cost?
Meta's cost structure for WhatsApp Business conversations is a science in itself (see our complete guide in "WhatsApp Business API costs").
The good news is that charles is here to sort all of this out for you.
But short: each conversation you have with a customer costs you a small sum of money (around 11c in Germany).
When you see the benefits of WhatsApp Business, it's no surprise. Open rates, click rates and ROI are better all around.
However, our mission at charles is to keep your ROI as high as it can be. Part of that is keeping your conversation costs down.
If you're smart, there are ways to spend less on your WhatsApp marketing. So here we share their top 7 tips to minimize the costs of WhatsApp marketing.
First, what are the costs of WhatsApp Business?
Before you can cut the costs of WhatsApp Business and WhatsApp marketing, you need to know what the costs are.
You can check out our full guide to WhatsApp Business costs, or read this quick summary:
What does WhatsApp Business cost?
As a larger business wanting to start with WhatsApp Business, you'll need to use the WhatsApp API. To use the WhatsApp API, you'll need software from a WhatsApp Business Solution Provider (BSP) (like charles).
With this in mind, the main costs are:
Cost per conversation to WhatsApp you have with a customer: around 11c per message in Germany
WhatsApp BSP fees: monthly software subscription fee plus additional, smaller cost per conversation

There may be more costs involved than with other channels like email, but the returns our clients are seeing are above those seen in other marketing channels.
Our average ROI for WhatsApp marketing campaigns is 10x return on campaign spend (ROCS).
See more on WhatsApp metrics and ROI here.
Focus on cutting your WhatsApp Business cost...
You pay WhatsApp per conversation you have with a customer within 24 hours.
It's here you can make the biggest savings. Cut these costs (we show you how below) and your ROI instantly goes up.
First, let's explain the difference between these conversation types (descriptions from WhatsApp Business' official website):
"Marketing conversations relate to your business, products, or services. These include offers and promos, related product suggestions, abandoned cart messages, or any conversation that doesn't qualify as authentication or utility."

These are usually the most expensive, because businesses can make the most profit with marketing conversations.
"U
tility conversations are directly related to a transaction, including post-purchase notifications and recurring billing statements
."
"Au
thentication conversations provide users one-time passcodes for authentication purposes. These can occur at any stage of the user journey — such as account registration, account recovery, or integrity challenge
."
These conversations are usually the cheapest, since they're essential for customers.
"Service conversations are initiated by users; these are typically about resolving customer enquiries. Businesses can respond within the 24-hour customer service window."
These are usually the second cheapest type of conversation since they offer value to customers, and WhatsApp wants to incentivize companies to answer queries. The first 1,000 Service conversations per month are free.
How much do WhatsApp conversations cost?
Find the current WhatsApp cost per conversation for your country here.
...not on saving WhatsApp platform costs
Of course we'd say this but we have good reason.
Some providers offer their software at a low price initially, but this is usually a false economy. Brands often end up losing money in the long run.
Why?
choose to cut platform costs ➡️ risk losing money on campaigns
choose a quality platform ➡️ ensure WhatsApp is profitable
We've been doing this for 4 years now. We've seen brands rise and fall, we've seen WhatsApp BSPs come and go.
What we've learned is that making ROI with WhatsApp Business is not about choosing cheap software.
It is about choosing:
Revenue-focused WhatsApp marketing platform: your software should have analytics built in. It should be easy to use. It should have good product guides that help you keep costs down and ROI high.
PLUS
Revenue-focused support: your Success team should be proactive and always there for you. They should help you understand how to run high ROI WhatsApp marketing campaigns, from wording to imagery to timing. They should continually offer best practice guides, advice, creative ideas and use case recommendations specific to your brand – these can differ depending on industry and market.
The upshot: trying to save pennies can cost you thousands of pounds. Make sure you invest in a WhatsApp BSP that will ensure you make WhatsApp a success for your brand. Even if it costs a little more per month.
Why your WhatsApp ROI is so important
Return on investment (ROI) is important in any marketing channel. In WhatsApp perhaps even more.
With marketing and CRM budgets being cut across the eCommerce world, a return is no longer nice to have, it's a requirement for many teams.
For a growing number of brands, WhatsApp marketing is the answer to this increasing pressure – helping brands get more from the customers they already have and avoiding rising customer acquisition costs (CACs).
Our clients show us time and again that a high ROI or ROCS [return on campaign spend] can be achieved with every single WhatsApp campaign.
To achieve the high ROI you need, you need to know some secrets of WhatsApp conversations. Here are our top 7, shared by our Success team, who work on the ground with clients and understand the WhatsApp marketing landscape deeply (particularly in Germany, Italy and the UK.
7 ways to save WhatsApp Business costs
If you remember one thing, it's this:
It's not about counting conversations. It's about making every conversation count.
Now on to our 7 cost-cutting tips:
1. Send very few WhatsApp campaigns
In WhatsApp more than other channels, less is more. We recommend you send no more than 2 marketing campaigns per month.

This way, you keep engagement high and conversation costs low.
2. Keep your WhatsApp messages relevant
In WhatsApp, the more relevant your WhatsApp message is, the more likely a customer is to engage. The more they engage, the more likely they are to buy from you. The more they buy, the higher the ROI.
Meaning? Only send messages to customers who you think will be interested in what you have to say.
This means selecting very targeted audiences and tailoring your message accordingly.
For example, you could send your WhatsApp campaign about a new sweater to people who bought a similar sweater from you last year. You could send information about a sale to someone who bought from you recently so you know they're warm to your brand.
How does segmenting your audience save you money?
You send fewer messages on average because you send content only to recipients who are potentially interested
Your content becomes more relevant to each individual subscriber, which leads to your ROCS increasing
You learn which WhatsApp subscribers want a higher frequency of updates and which want less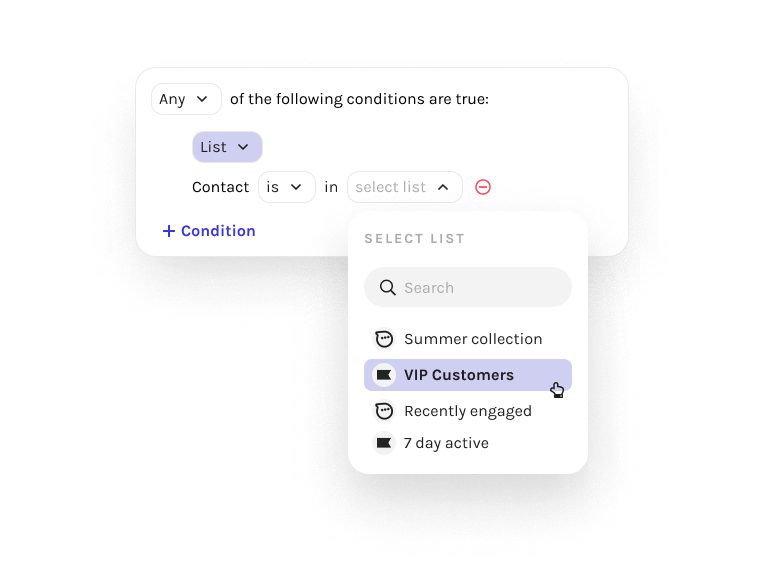 Segmenting audiences with conditions in the charles platform
If your messages are relevant to your recipients and they even get a discount or access to exclusive offers every now and then, they'll actually want to hear from you (music to a marketer's ears).

This way you a) save costs, b) avoid annoying customers and b) build close and personal customer relationships.
3. Use your 24h window to gather information
There are enough push channels in this world. A big benefit of WhatsApp Business is that you can have 2-way conversations with customers.
But this doesn't mean you have to actually use precious resources responding to conversations. You can automate all of this (with charles Journeys).

If you're sending out a WhatsApp marketing campaign anyway, the "Marketing conversation" you've already paid for covers anything you say in 24 hours. Take advantage of this 24-hour window.
We recommend using this time (or the campaign itself) to learn more about your customers. How? Ask questions using buttons as call to actions and automatically store answers.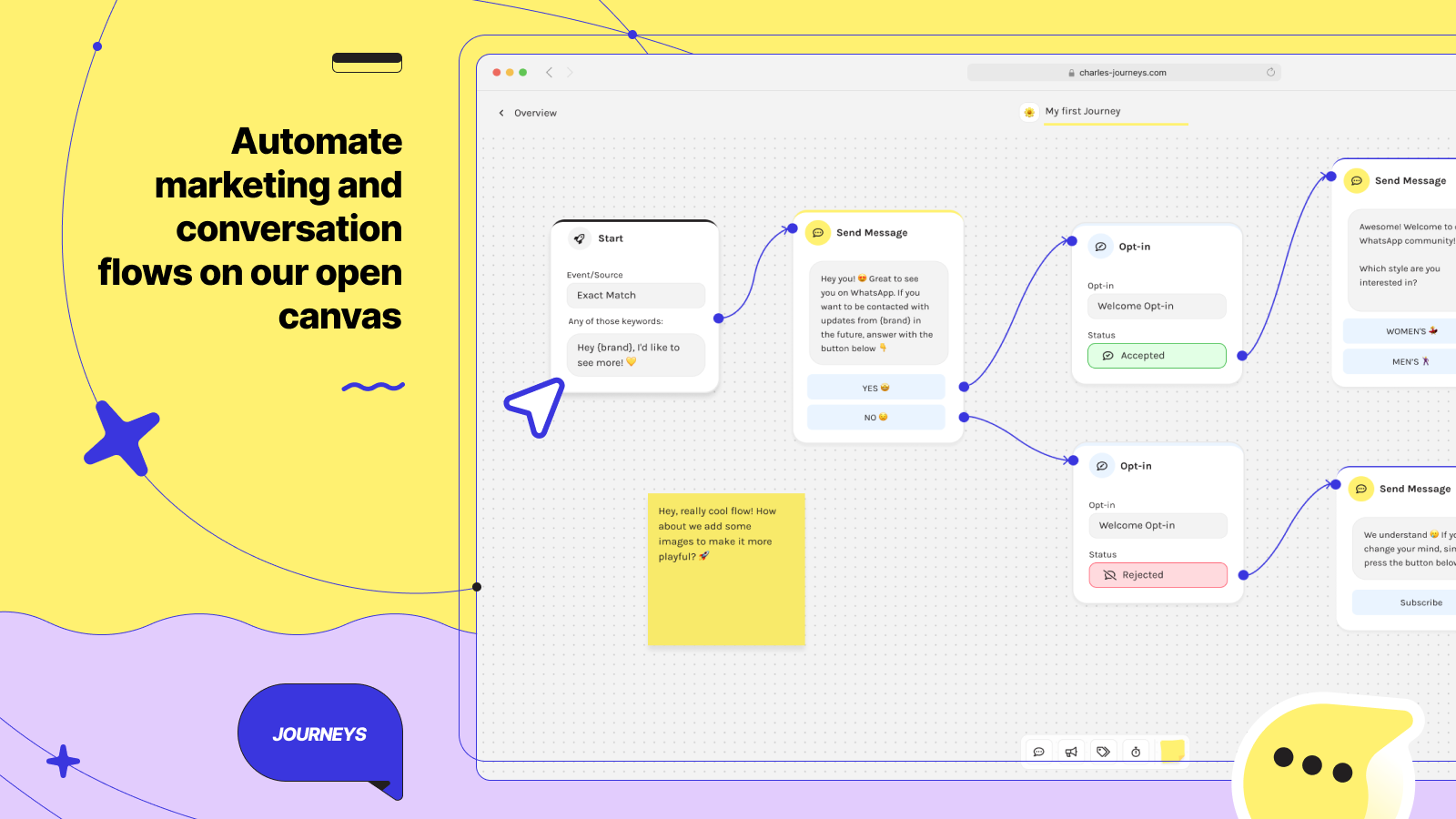 You can automate WhatsApp conversations and store answers in charles Journeys
In Journeys, you can set up automated conversational flows to learn about customers: ask interactive questions about preferences like favorite products, colors, flavors and styles.
Customers' responses are automatically saved in their user profile as tags. These tags will help you segment your campaigns more finely in future, boost ROI and save further costs.
4. Use your free Service conversations
The first 1,000 Service conversations (user-initiated conversations) are free for every WhatsApp Business account.

Take advantage of this by allowing your customers on your other channels to chat with you on WhatsApp.
When they start chatting with you, instead of you messaging them first, you pay less.
5. Use Click-to-chat ads (with care)
You can set up "Click-to-chat" ads on Instagram and Facebook that lead to WhatsApp. WhatsApp conversations started by these ads are free.

Proceed with caution for the moment however. These ads are still problematic technically and can be buggy.

We recommend trying it out at least. If it works, you have another great way to save costs.


6. Finish conversations within 24 hours
Every conversation on your WhatsApp business account opens a 24-hour window after your first message, where all further messages are included in the price.

We see that businesses sometimes miss this 24-hour window. If they want to reply after that, they need to set up a new WhatsApp message template, and pay for a new conversation.

The result: you pay twice.
Don't let this happen. Always make sure you have people on hand monitoring your WhatsApp conversation feed and answering questions in time. Or set up automated replies.
In the charles Conversations feed, we show an alert icon next to conversations that are nearing 24 hours so that you don't miss them.
7. Design more profitable campaigns
At charles, we are big fans of the maximum principle when it comes to WhatsApp marketing campaigns.

This means that we observe the best success when companies try to get the most out of the channel, rather than just trying to achieve acceptable results at the lowest cost.

Sure, you should save money too, especially if you only have to follow a few simple rules like above.

But try to create good campaigns that may cost you a little more, for example, because you re-engage over several days or week or ask for testimonials when an order has been delivered.

Delivery updates, order confirmations or similar status updates via WhatsApp also work very well because customers prefer to receive exactly this kind of information via WhatsApp than via email.

This leads to higher costs, but will ensure a higher ROCS in the long run and from campaign to campaign.
Check out our success stories
To understand the ROI you can make with WhatsApp, who better to ask than the brands who are making it work?

See our client stories to see which brands use WhatsApp marketing successfully, how they use it and the results they're achieving.
Keep an eye on KPIs
In your budgeting and cost-saving efforts, it's important to have a good view of your metrics.

Knowing how your campaigns are performing, which ones are doing well or not so well, and which ones are generating the most revenue will help you save or invest in the right places and learn how to design future campaigns.

Some business solution providers (BSPs) offer an analytics feature in their platforms, including charles.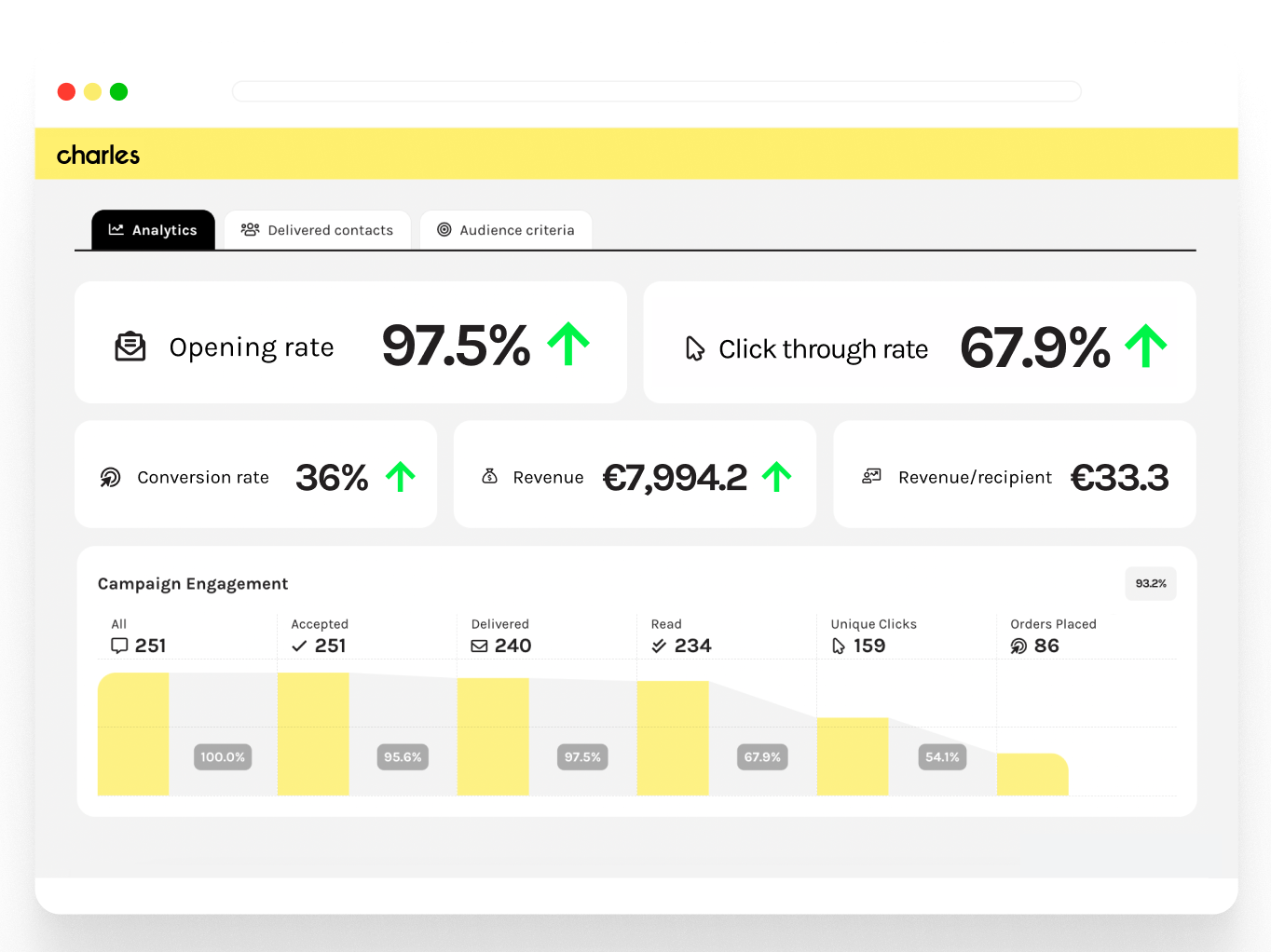 WhatsApp campaign analytics in the charles platform
In our WhatsApp Business KPIs article, we'll tell you which metrics are the most important and even give you benchmark values you can use as a guide.
Meta is banking on WhatsApp
The cost per message on WhatsApp is no accident. WhatsApp's USPs are too valuable for Meta, as no other channel can beat them:
Open rate
Click rate
Customer proximity and loyalty
Visibility
Two-way communication
Return on investment


This is also why Meta is building more and more on WhatsApp to become the platform of the future or the super app in Europe. The rollout of Channels was the last big step in this direction. In Brazil and India, a lot of shopping is already done via WhatsApp.
Our tip: find the campaign with the best RPC
So always design your WhatsApp campaigns with the idea in mind that the channel may get a lot more attention in the near future.

The question should not be "How do I spend the least?" but "How do I give my customers exactly what they want?"

Experiment with your channel and find the perfect way for your particular business to generate the most revenue per conversation.
Questions? Just ask.
We live and breathe WhatsApp. We have strong investors behind us. No other platform has as much experience with WhatsApp marketing as we do.

So get in touch and we'll set up an appointment to talk about your company's problems and find solutions together.