Posted: December 22, 2022
Updated: December 09, 2023
With a rise in unwanted WhatsApp messages being received by consumers in India, you may be wondering if this issue will also arrive here in Europe. It won't though. Here's why.
"Ok great, now I'm gonna be spammed in WhatsApp too?"
We sometimes see this comment on LinkedIn posts heralding WhatsApp as the new, must-have sales channel for European ecommerce brands.
And we get it.
WhatsApp is a sacred space where we chat to our friends, our yoga class and our mums. No one wants it to fill up with advertising, least of all us.
We use WhatsApp too and are committed to keeping it high quality, fun and friendly.
But there's no denying that WhatsApp is growing fast as a business channel. According to our founder, Addy, "Over 50% of WhatsApp users are buying on this channel in Brazil. It's now gone beyond the early-adopter stage: it's a megatrend."
With this huge money-making opportunity, and some news about spam happening in India, will European businesses with lesser morals see this as a chance to make a quick buck at the expense of consumers?
Will WhatsApp become like a more direct version of email, complete with offers of hot XXX dates, millions of $ from faraway dignitaries and "innocent" requests for your bank details?
Will WhatsApp spam arrive in Europe?
Our Sales Director, Christopher Schubert, says, categorically: no.

"One question customers often have before buying our software is: what about WhatsApp spam? What about privacy?" he says.
"I always say to them: WhatsApp spam can't arrive in Europe. Why? 1) GDPR, 2) The high cost of WhatsApp messages, 3) WhatsApp itself and 4) EU-built software like ours."
WhatsApp spam can't arrive in Europe. Why? 1) GDPR, 2) The high cost of WhatsApp messages, 3) WhatsApp itself and 4) EU-built software like ours.
Let's unpack those a bit.
1. GDPR: EU laws are more robust
In the EU, consumers are well protected by law from being sent unwanted marketing communication. Added to this, brands face heavy fines if they break the rules and so are fully focused on treating customers right.
The well-known General Data Protection Regulation (GDPR) ensures brands don't collect or store consumers' data without their consent. Its purpose is to ensure privacy and protect personal data of individuals. It states that companies should use these principles when creating their data privacy policy:
Be lawful, fair and transparent

– use data lawfully and be transparent with people and the businesses you work alongside

State a clear purpose

– be clear about how and why your business collects personal data

Minimize data

– only collect data if you intend to use it for a specific purpose

Be accurate

– ensure the data your business processes is accurate and stored appropriately

Limit storage

– don't keep data forever, set a period when it'll be deleted

Have integrity and confidentiality

– store data securely to prevent "accidental loss, destruction or damage"

Be accountable

– establish, record and communicate data protection policies



How does GDPR affect businesses on WhatsApp?
The GDPR states that companies in the EU can't send marketing messages to people unless they've opted in (said they want it) twice.
An example of a GDPR opt-in flow on WhatsApp is:
🔒 First opt-in: A customer taps a chat bubble on a website asking if they want to receive marketing communications in WhatsApp. The customer types in their phone number, taps and a prewritten message appears on their phone for them to send to the brand, like: "Hey [company], yes I want your marketing communications in WhatsApp."
🔒 Second opt-in: The company then sends a second message saying, "Are you sure?" with YES and NO buttons. Only when a customer has clicked "YES" is the company allowed to send them messages.
Keeping the exit door open
Companies also have to offer customers an easy way to opt out of communications. In WhatsApp, this means adding this to the first message a customer receives: "Don't want to hear from us anymore? Just send STOP"
Countries outside the EU aren't required to abide by the GDPR. They won't be fined if they break the law and so less scrupulous companies can (and sadly do) message people without getting their permission first.
Here's everything you need to know about GDPR from The Verge.
And there's more
On top of GDPR, unfair competition laws (UWG in Germany) add an extra layer of security in most EU countries. These laws prevent companies from having an unfair advantage over others. Part of this is preventing one company being able to communicate with customers more easily than another, and this further protects people from unwanted direct communication and advertising.
The upshot is that no one in the EU should receive unwanted messages, and in the rare case this happens, blocking and reporting any suspicious accounts will keep them in check.
What if you operate outside the EU?
We still recommend you follow GDPR and EU laws. They're some of the strongest in the world and if you follow these, it's likely you'll keep your customers on side and make sure they feel protected while in your care.
2. Costs: WhatsApp costs are higher
WhatsApp comes with additional costs over other channels like email. Every conversation has a cost. However small the cost and however large the ROI can be (we've seen as much as 155x ROI for marketing campaigns), this still incentivizes companies to spend their budgets wisely, without risking damage to their brand.
Businesses need to get it right if they want to succeed on this channel and gain the ROI they (and their shareholders) are demanding.
Spend more, care more
Added to this, in Europe, the stakes are higher, with costs per outbound message in the region of 12 cents each, compared to as little as 0.5 cents in India.
As Damian Minski, Success Director explains:

"WhatsApp costs in India are much cheaper – just a fraction of those in Germany. This means that from an economic perspective, it might be beneficial to take bigger risks and ignore ethics in India. Some people might buy and even if conversion rates aren't high, companies can still make a profit.
"In the EU, it's different. Higher per conversation costs mean brands are under more efficiency pressure. As we say to clients, messages must be relevant, high quality, anticipated and sent to the right audience. This will keep conversion rates high and ensure WhatsApp remains commercially beneficial.
"In the end, this attention to quality and audience keeps WhatsApp clean for consumers and highly profitable for companies."
Attention to quality and audience keeps WhatsApp clean for consumers and highly profitable for companies
Damian Minski, Success Director, charles
3. WhatsApp: it fights spam too
WhatsApp Business (owned by Meta) is a business too. It's in its interests to maintain the quality of its app so people continue to feel safe – and don't migrate to other messaging apps like Telegram and Signal.
Here are some of the measures it takes to fight spam:
Self regulation:

WhatsApp has a

strong privacy policy, offers end-to-end encryption (so no one else, not even WhatsApp, can read your messages) and is constantly rolling out new privacy features like disappearing messages

Permission: requiring businesses to ask for opt-ins

Approvals: approving every marketing message before it's sent

Ratings: giving each company a quality rating and penalizing it when it gets reported or blocked too many times

Restrictions: suspending or even banning those who abuse its service

Easy-to-access-information:

WhatsApp keeps consumers informed about how to chat with businesses
You can see the full list of messaging rules you need to comply with if you use WhatsApp Business here. Every business has to agree to these before even opening an account.
Security that grows with you
WhatsApp listens to companies like us too. As a Meta Business Partner, we have close connections with WhatsApp and Meta and speak to them regularly to ensure its platform is being used in a positive way.
We pass on client comments and concerns and WhatsApp incorporates our suggestions where possible.
Here's what Meta says about WhatsApp privacy:
"Our rule is that people always need to request to receive updates before a business can message them, and we empower people with easy ways to block a business or report a problem at any time.
"We constantly work with businesses to ensure messages are helpful and expected, and we have limits on the number of messages they can send per day. Getting this right is important for us as well as the businesses and most importantly the people who use our platform."
In fact, WhatsApp has such strong security measures that it feels confident enough to spend big money advertising this to consumers, and is a big reason people feel more comfortable chatting to business on WhatsApp in Europe (over WeChat in China for example, which doesn't offer end-to-end encryption).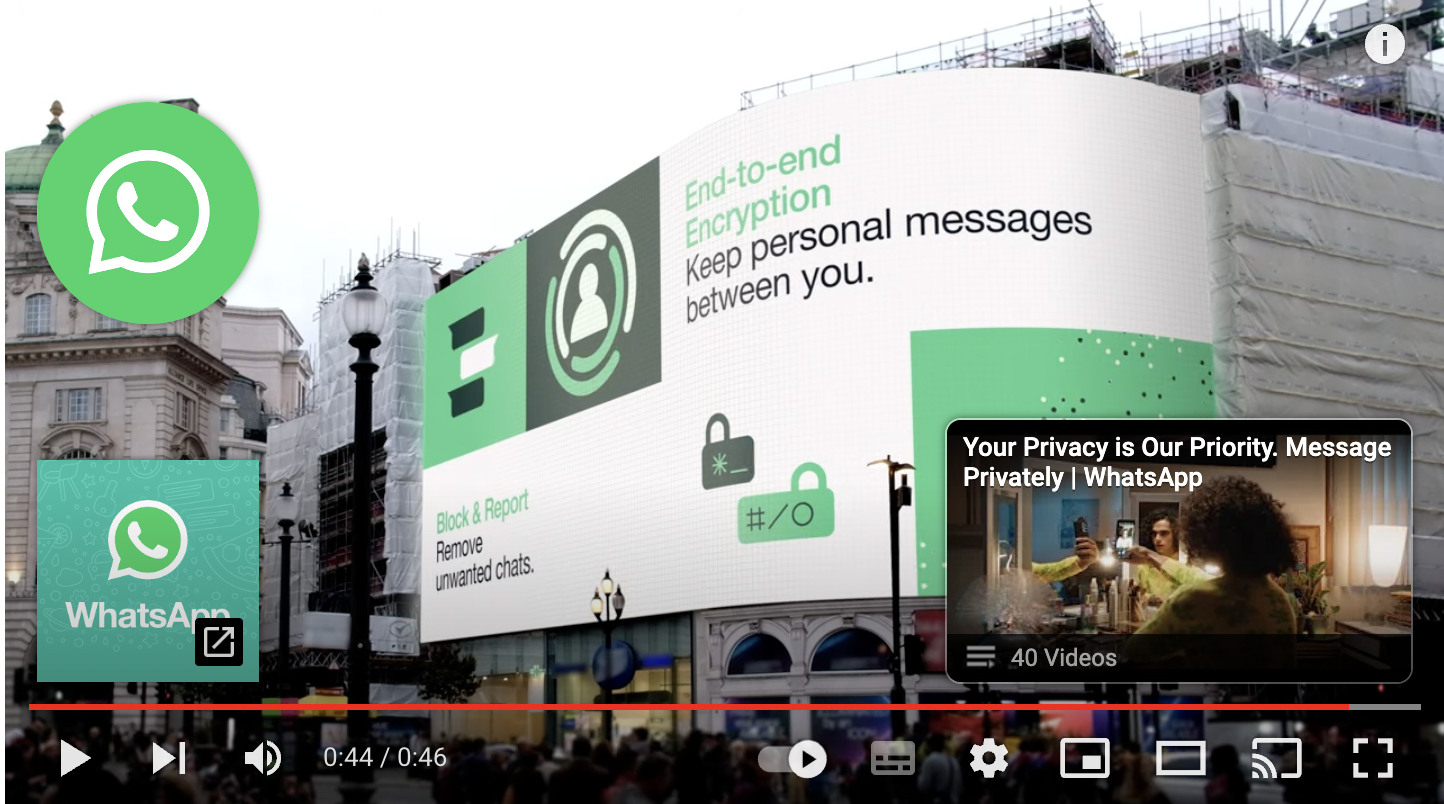 WhatsApp states loud and proud: "your privacy is our priority"
4. EU software: likely to have EU laws built in
Bringing all this together is companies like us: software providers that make WhatsApp Business easier to use and add extra functionality that helps larger businesses scale.
Any WhatsApp software provider born in the EU is going to have laws like GDPR and UWG built in. It wouldn't make business sense not to.
You need to ensure that any WhatsApp tools your company buys should be closely aligned with WhatsApp's spam-protection procedures, notifying you when templates are approved or paused and of any change to quality status.
See more on how to choose WhatsApp Business software here
How does charles keep WhatsApp safe?
Sending unsolicited messages is against our ethics and would work against our business.
Secure software
We have strong measures in our software platform to keep clients on the right path:
WhatsApp focus: our platform is built with WhatsApp's rules as a foundation, with information and notifications about template approvals and quality ratings.

Built-in opt-in: we make it easy for brands to make opt ins GDPR compliant. It takes just a tap or two to add double opt-ins to our chat bubbles. And our Success team strongly encourages clients to do this.

Automated opt-outs: automated flows ensure that when a customer types "Stop" (or other word of your choosing) they are opted out right away.
"Global opt-out" footer: we've just added the functionality for companies to add a permanent opt-out message in every message – like an email unsubscribe.
Audience segmentation based on opt-ins: You can segment campaigns based on where a customer opted in and for what type of communications, making sure a customer only gets what they signed up for.
EU-based servers: all customer data is held in the EU, which is also important for GDPR compliance.
Education: we advise users with text and tooltips on our platform about how to do the right thing for GDPR and customers.
Solid support
And we offer ongoing consultancy to help companies know the right thing to do:
Client support: not all WhatsApp Business software platforms offer support to their clients, or advise them how to use this channel in a measured way. We view this as essential for both our clients' success and our success.
Regular quality reviews: as well as day-to-day Slack chats with our Success Managers, clients get quarterly business reviews where we check the quality of messages and suggest improvements where necessary.
A focus on restraint: Our motto is "low frequency, high relevance" and as any of our clients will tell you, this is a mantra we drill into them from the get-go. Taking things slow is not just the right way to treat people, it guarantees far greater success in WhatsApp.
A strict door policy
We're selective in who we accept into our platform, to ensure only companies with an ethical approach to marketing and sales are able to start a WhatsApp Business channel with us.
So, while WhatsApp Business is established in countries like India and Brazil, it's early days in Europe. This makes now a critical time to lay the right foundation.
We're proud to be one of the companies laying this foundation with a mindful mindset, a GDPR-compliant platform and solid customer support. We're confident that these, together with WhatsApp's own measures, will ensure a bright, spam-free future.
Questions about how our platform keeps your customers safe?