By Maxine Hess
Writer | WhatsApp marketer | Creative
Updated on September 29, 2023
At OMR 2023, we went big, and our clients went bigger. They were the WhatsApp Marketing Rockstars with a real-life awards show. Who won? Who partied on the Reeperbahn until 7am*? Read on.
Our clients are everything. They are our inspiration, our sounding boards, our testers, even our friends.
These are the innovative brands, and people, who entrust us with their WhatsApp channels – a critical space in which they need to ensure smooth, personal and profitable conversations with customers. In return, these companies continue to show us how to push the boundaries of WhatsApp marketing, and our software platform. Often beyond even what we had dreamed possible.
So this year at Hamburg's massive online marketing festival, OMR, we wanted to say thank you to our clients. We put them at the heart of our presence at this incredible, high energy event, celebrating them as the pioneers they are: WhatsApp Marketing Rockstars.
Read on to relive this memorable OMR with us. The highs, the even highers, the parties, the talks, the photos, the merch, the conversations. And we share some key learnings you can take away with you to finally convince your boss to buy you a WhatsApp marketing channel (remember, Black Friday's coming up again soon 😉 ).


The clients
Status-quo-defying brands that are rocking WhatsApp marketing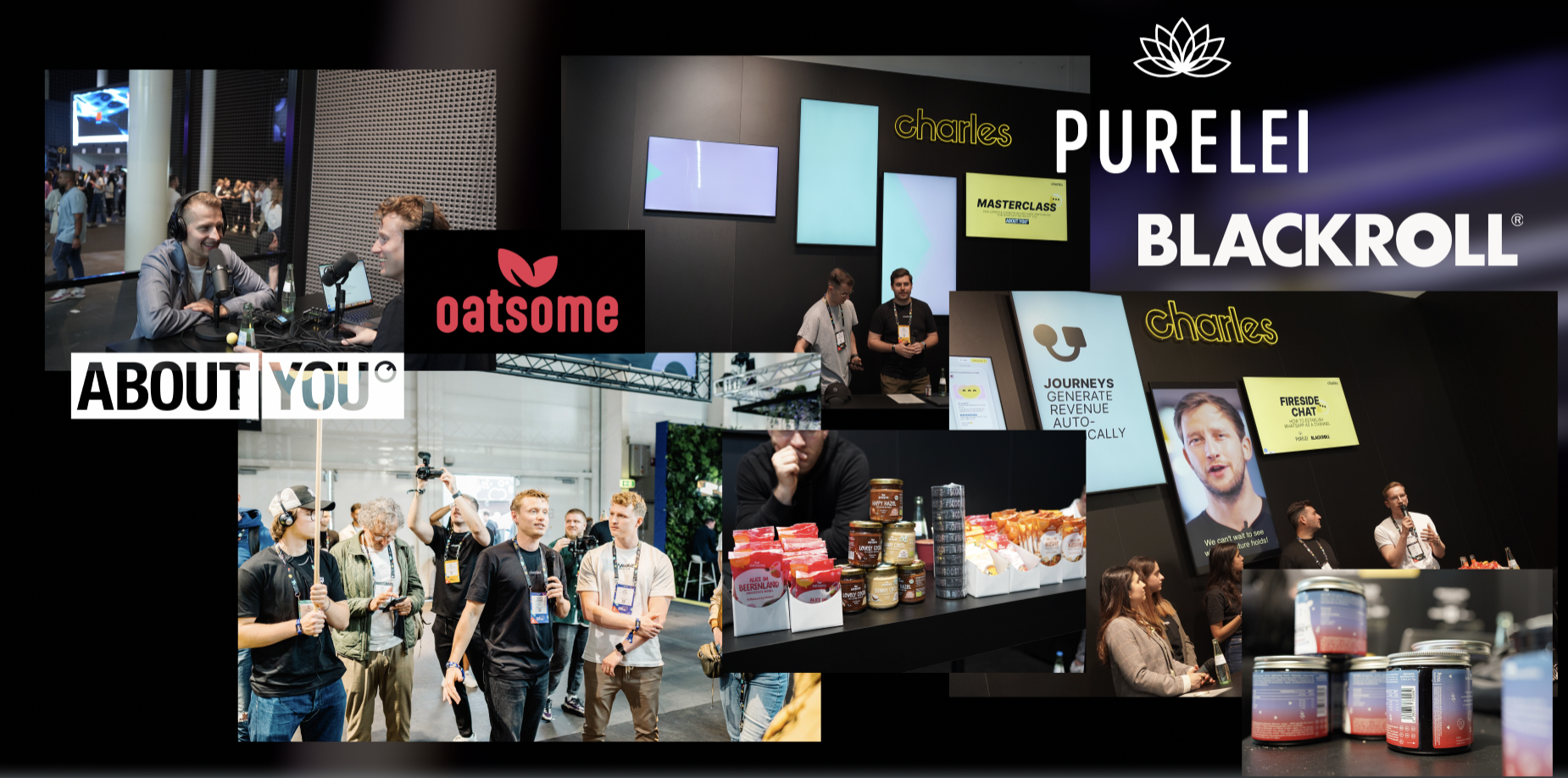 Thank you to our clients and partners for being with us on this crazy journey
Our clients and partners did the talking at OMR 23. Clients WWF Deutschland, ABOUT YOU, SNOCKS, Oatsome, PURELEI, BLACKROLL and partners Meta, Mawave, More Conversions and Chatmarks took the stage with us, hosted guided tours and chatted to booth visitors. They showed how to get the most from WhatsApp as a marketing channel, and how they use charles to manage it successfully.
We had ginger shots for hangovers, podcasts with clients/friends, an afterparty with SNOCKS, fireside chats with clients and a WhatsApp masterclass for some good, old fashioned practical advice. See the full events program here.
We had Fireside Chats with clients PURELEI, Oatsome, BLACKROLL and agency partner, Chatmarks plus a guided tour with partner, Mawave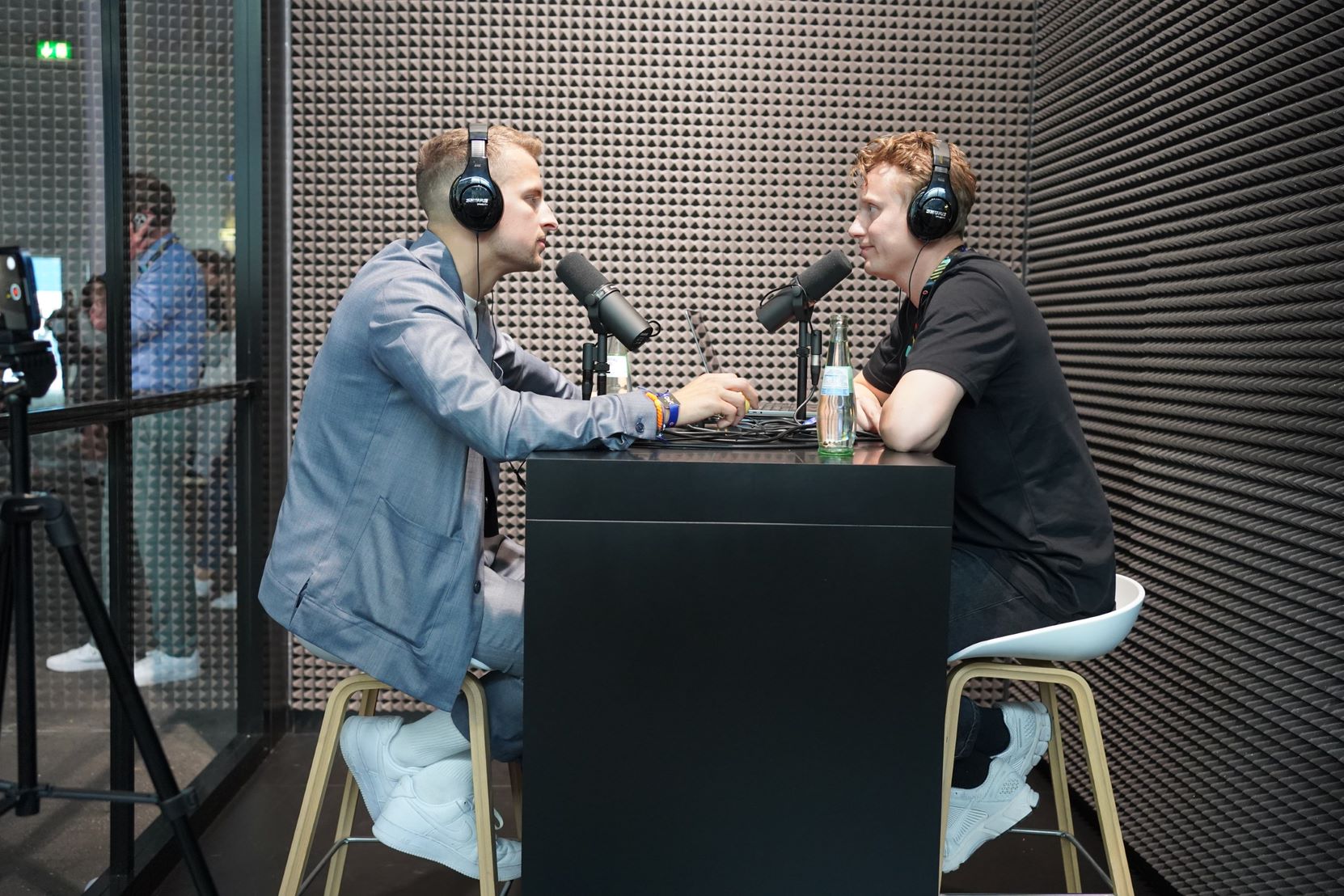 At OMR 2023, if you weren't wearing white sneakers, you didn't get in. Here's charles founder, Addy, speaking with Johannes Kliesch from SNOCKS for our new podcast series.
The keynote
"How brands unlock the power of WhatsApp marketing in 2023"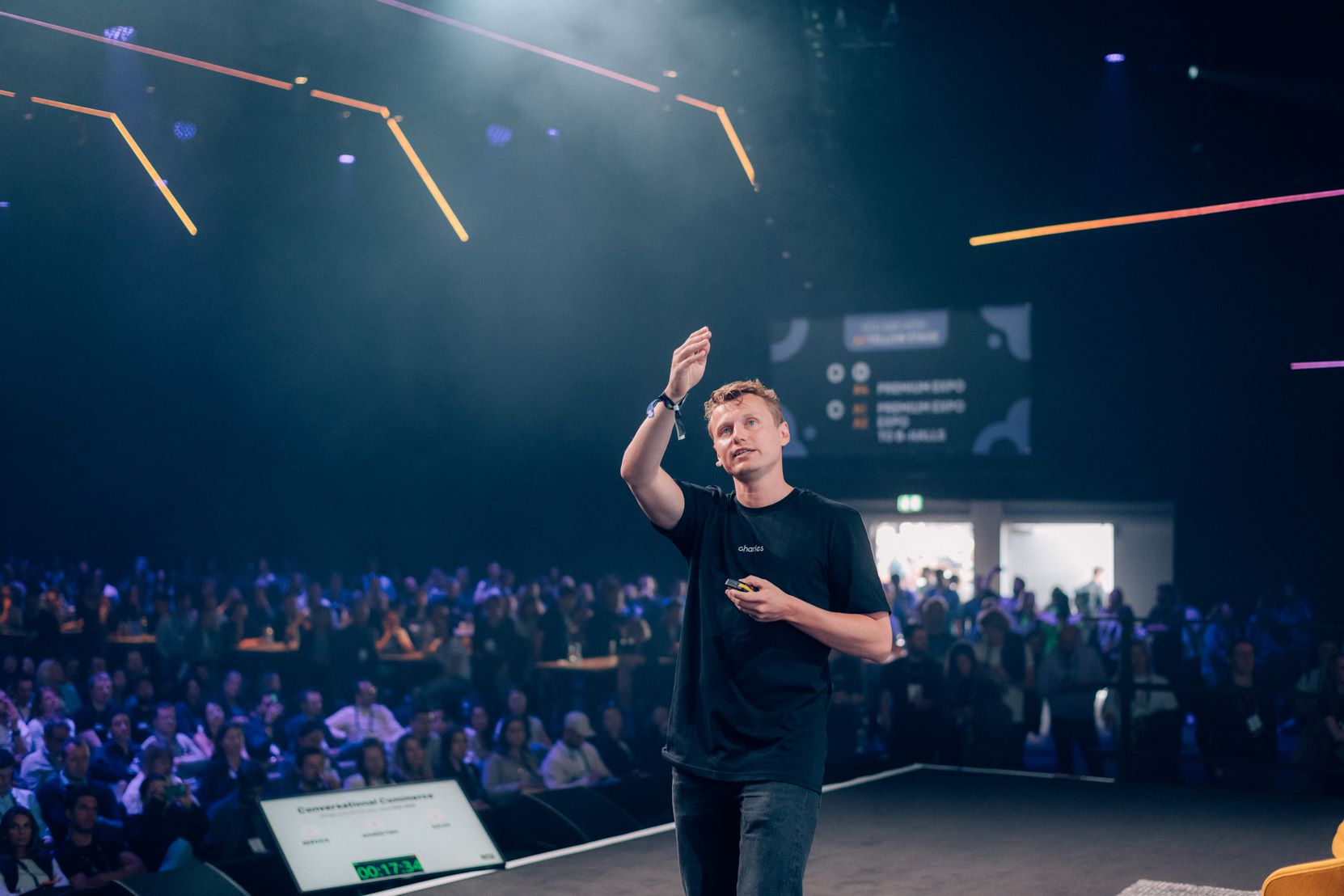 Addy on stage
Our co-founder, Addy, took to the Yellow Stage to give his insights into what you can do with WhatsApp and why now is the time for brands to get started.

Our special guest, Karl Nowak, from WWF Deutschland revealed numbers from the game we made with the conservation charity (Tree of Hope). He talked about just how creative you can (and should) get in WhatsApp and the charles platform.
See the full keynote here (in English)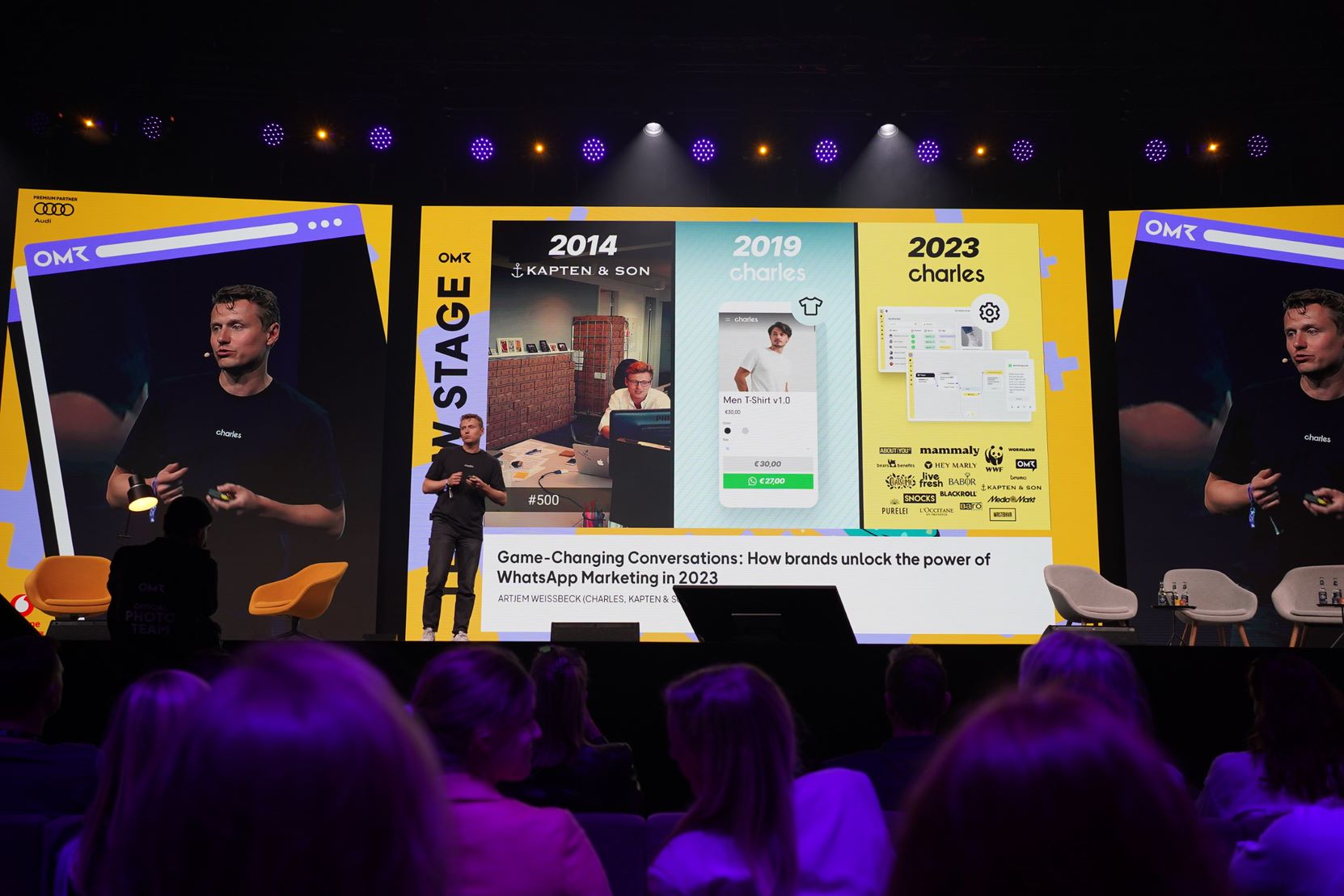 Once upon a charles: from online fashion, to WhatsApp fashion to WhatsApp software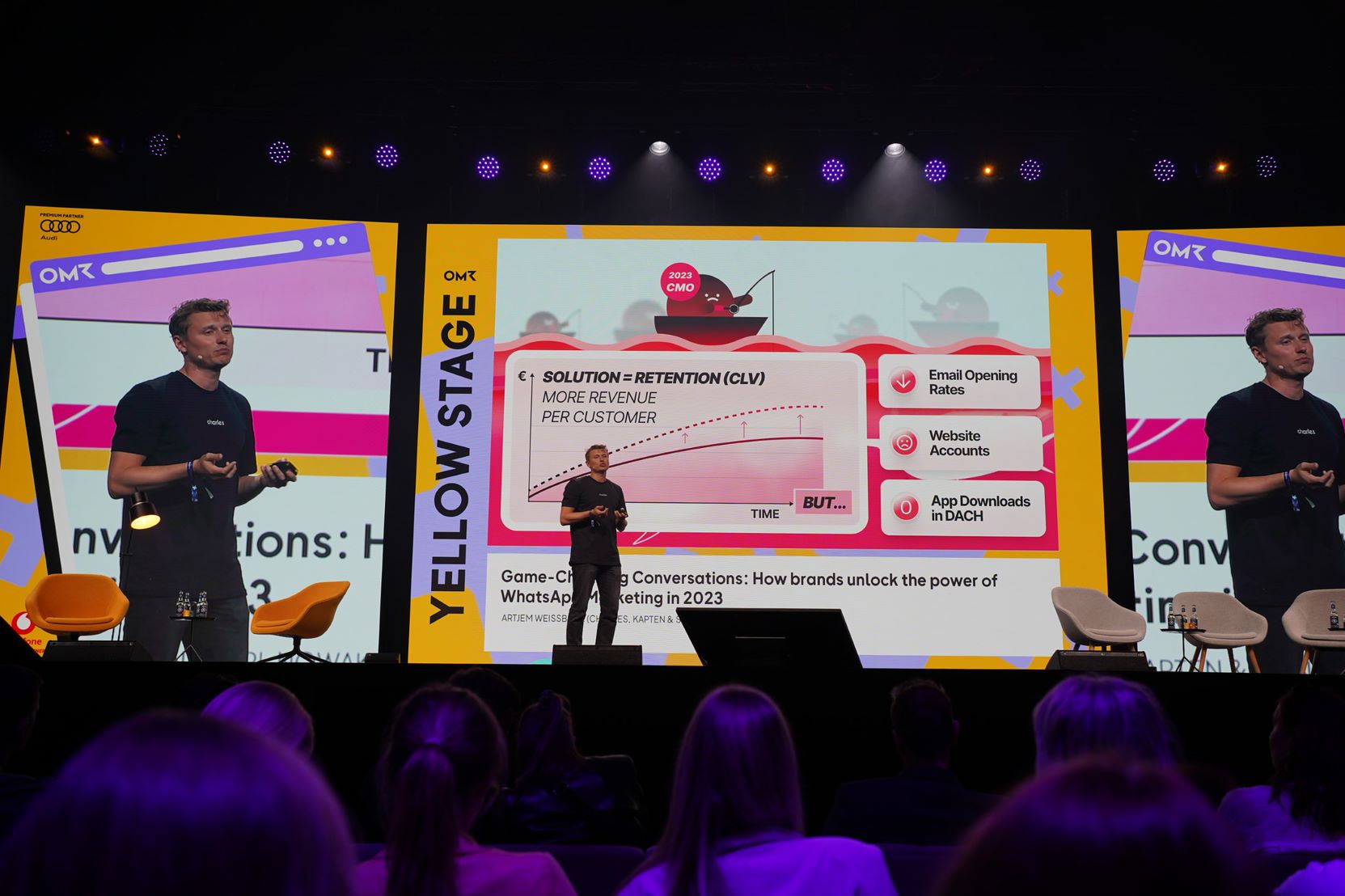 Addy spoke about how most brands are fishing in the same ocean as everyone else...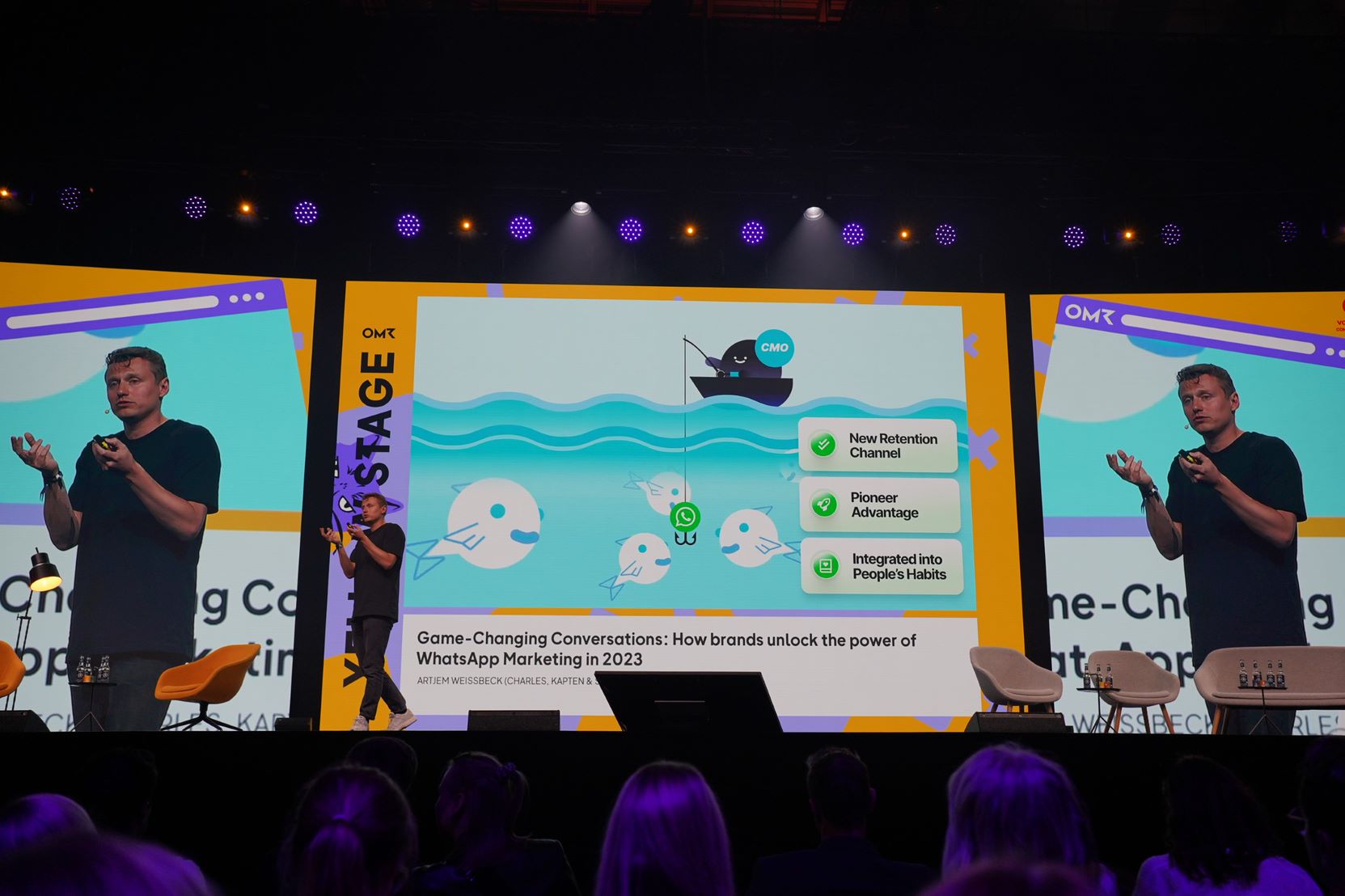 ...and how with WhatsApp marketing, you enjoy greater success in the clear waters of the blue ocean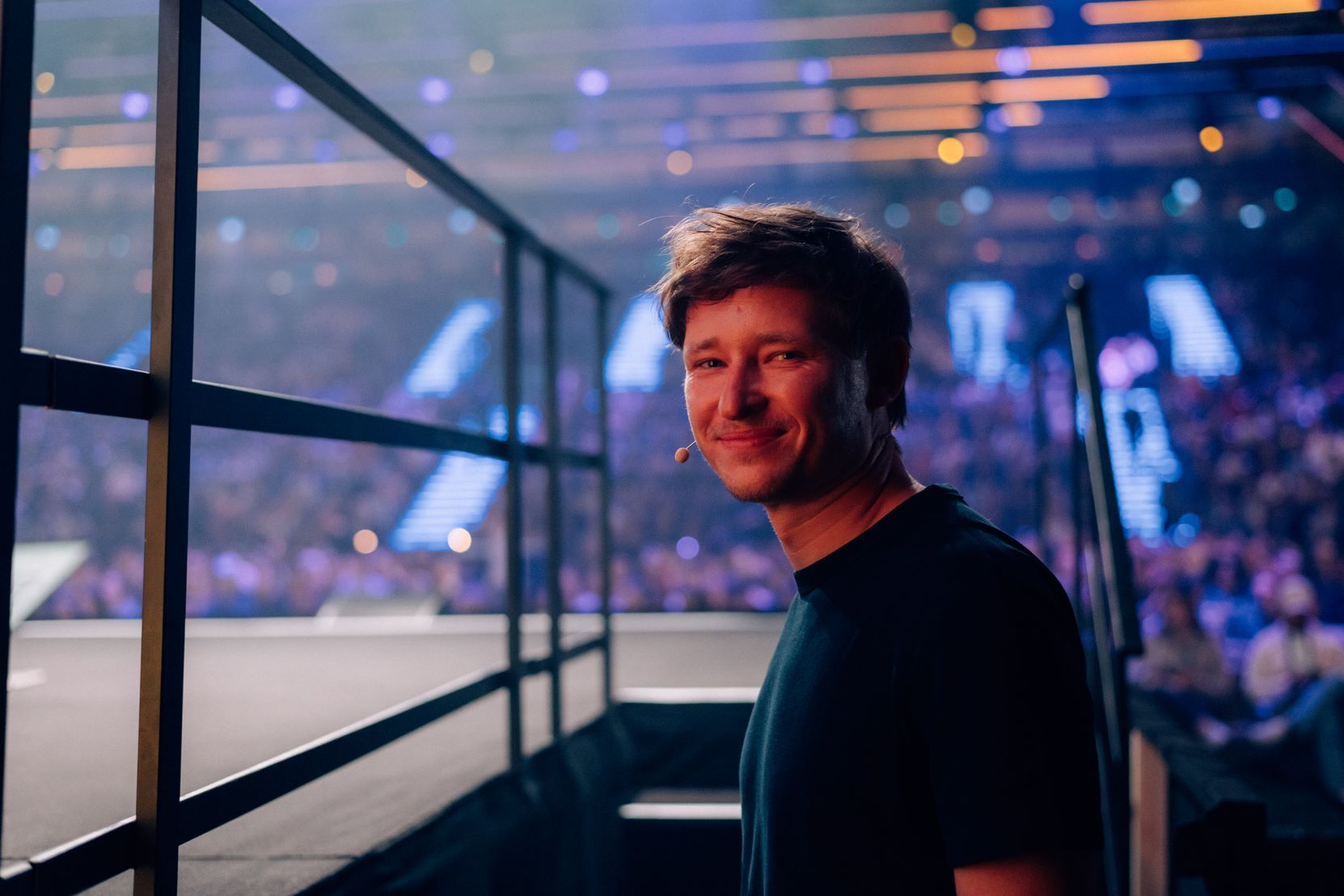 Karl Nowak, WWF, about to go on stage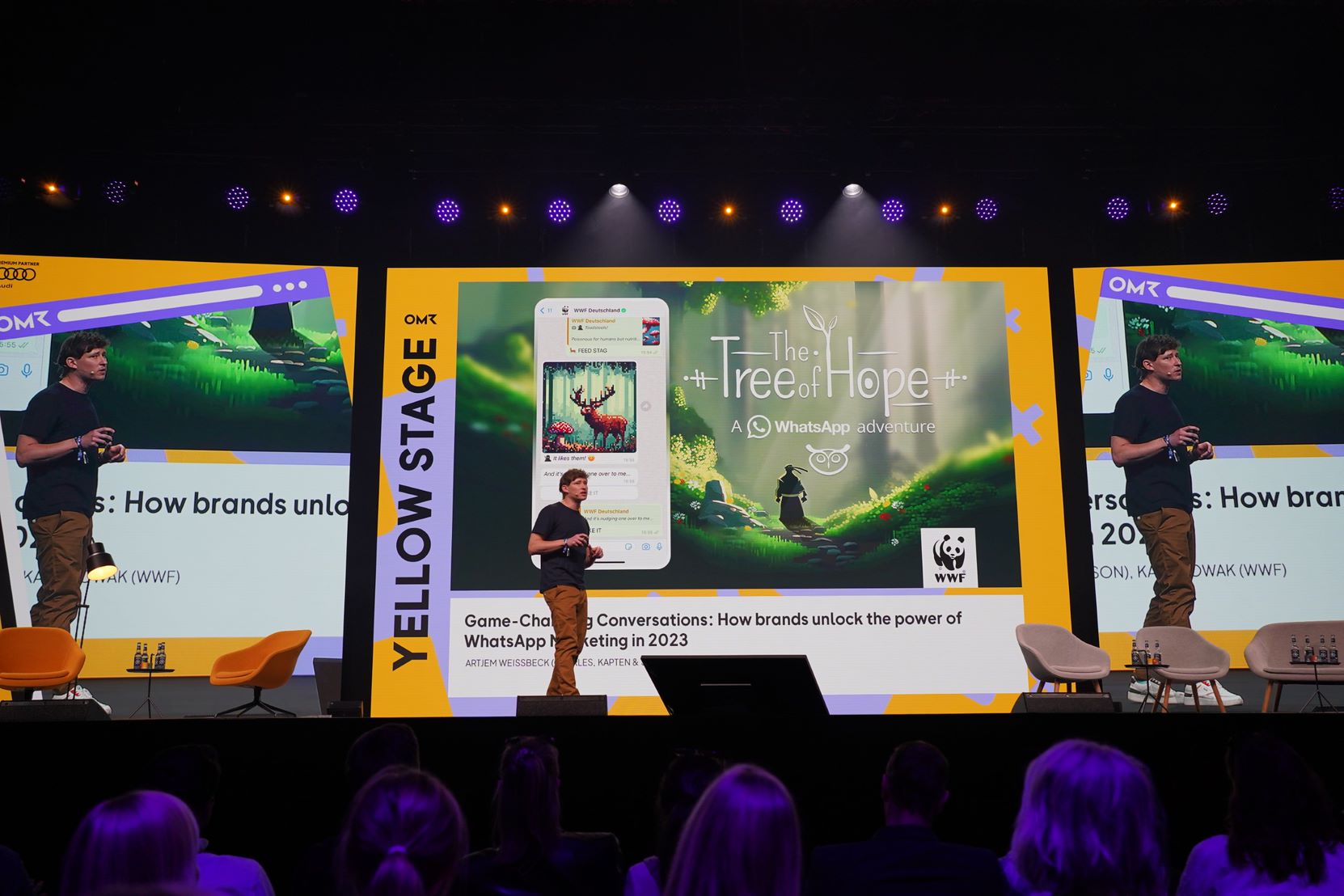 Karl presenting the interactive roleplay game, Tree of Hope, made by our creative team, Studios, using our Journeys tool – it brought many people to our booth asking how they could make one too ☺️🐼
The masterclass
"How to rock WhatsApp marketing"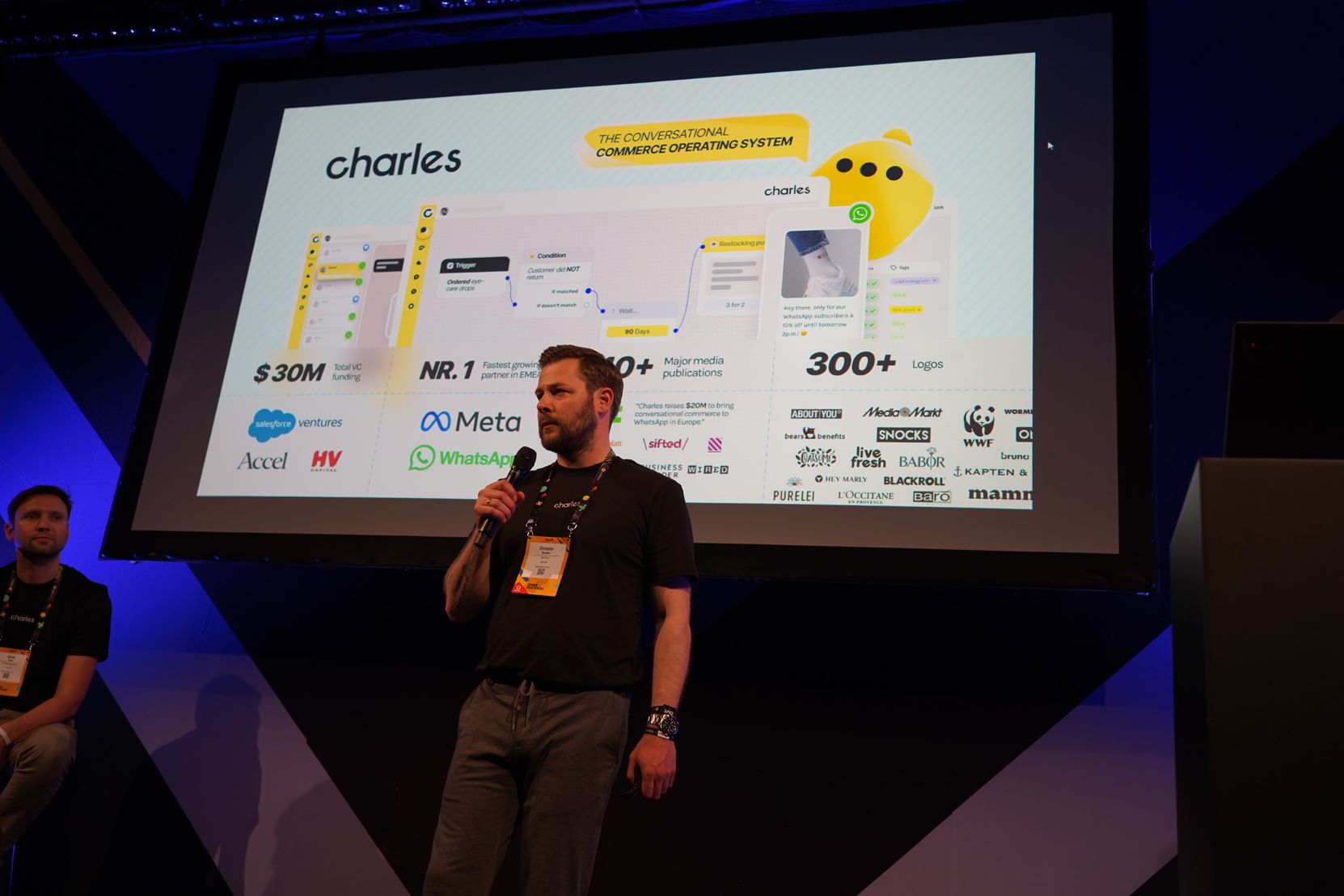 Sales Director, Christopher, telling people "How to Rock WhatsApp Marketing"
Keynotes are the glitz and glamour, but behind it all, digital marketing people need to know the realities of how to operate a WhatsApp channel – and turn a software investment into profit.
Sales Director, Christopher and Success Manager, Damian, gave a masterclass on the practical ways to rock WhatsApp Marketing. They were joined by our partners Meta and MoreConversions. Watch it all here (get pen and pencil ready, there are charts, tips and actionable strategy advice)...
(It's in German but you can turn on English subtitles in YouTube)
The booth
Queues! Talks! Signings! Conversations! Party! Free stuff!

Bigger, better, brighter, bolder... beautiful 🤩
Last year our booth was 5m2. This year it was 50m2. We took a little moment to feel proud of how far we've come in a short time, even in challenging economic times.
This year our booth was rockstar themed. Mostly black with yellow accents. We had an awards wall, couches, a giant mobile phone and a podcast room, where Addy interviewed 7 of our clients. (Watch this space, coming soon.)
Here are some booth highlights:
👯‍♂️ Queues: people were queueing to speak with us for the full two days
🍬 Goodies: we gave away goodies from our clients LiveFresh, BEARS WITH BENEFITS, Oatsome and SCOOPER Energy
🤝 Deals: some brands decided to become the next WhatsApp Marketing Rockstars by signing up to the charles platform from our booth
🗣 Talks: so much talking. There's nothing better than meeting real people to learn what questions, concerns and dreams you have
The party
And... releeeeease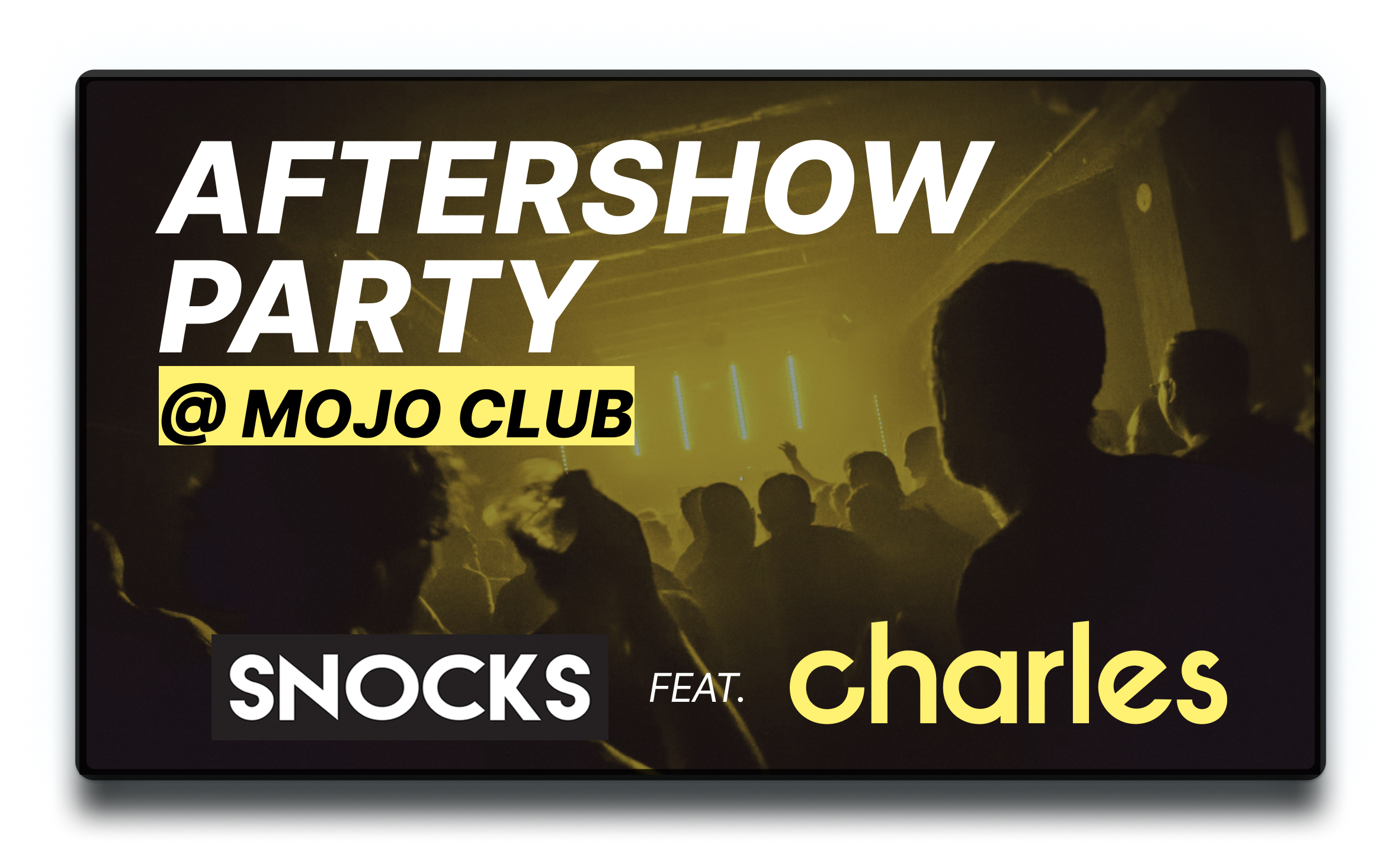 We hosted a sold-out night with our friends from SNOCKS
Live tattoo artist, music from DJ David Puentez, delicious drinks... this was a welcome chance for all of us to let our hair down and enjoy the moment.
The new brand
The German premiere of Typie

Typie: cCom coach, WhatsApp assistant, explainer, helper, motivator
This was the first German event attended by our new conversational commerce companion, Typie. Typie showed up on on books, bags, caps, pens, presentations... everywhere.

Typie has 3 eyes –
to celebrate that warm feeling when you see someone is replying to you in WhatsApp
We even made an augmented reality (AR) filter on Instagram so Typie would move when you hovered your phone over it.
Spot the Typie
The winners
Announcing the WhatsApp Marketing Rockstars, 2023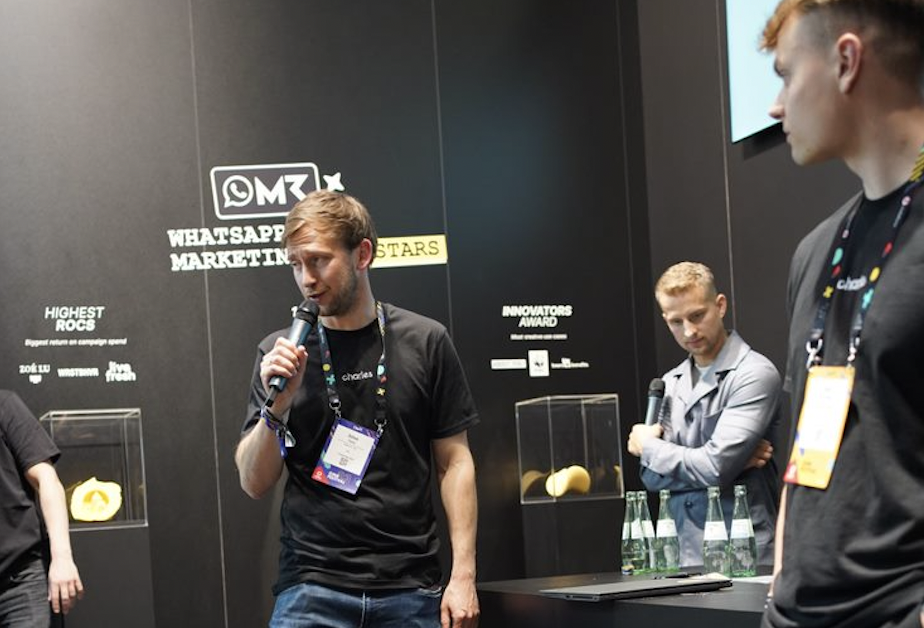 charles co-founder, Andreas, presented the WhatsApp Marketing Rockstars awards
We held a WhatsApp Marketing Rockstars awards ceremony to highlight clients making the biggest moves in WhatsApp in Germany and Italy.
And the winners were...
🏆 HIGHEST ROCS AWARD 🏆
Biggest return on campaign spend (ROCS) in WhatsApp
Winners: ZOÉ LU, WRSTBHVR, LiveFresh
🏆

€1,000,000 REVENUE AWARD

🏆
First to make over €1 million revenue in WhatsApp
Winners: SNOCKS, PURELEI, Baro Cosmetics
🏆
INNOVATORS AWARD

🏆

Most creative WhatsApp use case

Winners: ABOUT YOU, WWF Deutschland, BEARS WITH BENEFITS

Congratulations to the winners and all of our amazing clients who continue to inspire and motivate us every day 🙏
The learnings
DON'T SLEEP ON WHATSAPP. (Do get more merch.)
The thirst for WhatsApp as a marketing channel is growing
People are most excited about creative use cases, not just discounts and news
There's a growing sense of urgency
Enterprise is ready for WhatsApp channels and less hesitant – our new enterprise team had some great conversations and even signed new clients live at the booth
Our clients are doing incredible things and are as excited about the potential of WhatsApp as us, they were a powerful force in sharing the capabilities of our platform
Our giant phone screen worked a treat to show people what we actually do, as we learned in DMEXCO
Those who mentioned our activities on LinkedIn were excited about the possibilities of WhatsApp and felt a sense of urgency about it, including one who said: "DON'T SLEEP ON WHATSAPP." We couldn't agree more
Our clients are actual rockstars
Next year we need more charles people
And more goodies
More merch

More
The aftermath
Using the post-show glow to burn brighter
OMR was a big investment for us but it was worth every minute. We may have needed a tiny rest afterwards 😅 but luckily we bounce back fast.
Now we're busy following up leads and pushing things forward: new features on our platform, planning for DMEXCO 2023 and Black Friday, creating content to educate people about WhatsApp marketing, creating new ideas for WhatsApp... the work never stops (thankfully 🙏).
And as always, we'll continue celebrating and listening to our excellent clients.
The recap video
A last word from Addy
The coverage
We've since been featured in a WhatsApp marketing article by OMR, popped up across LinkedIn, TikTok and Instagram. The WWF game featured at OMR has been picked up by creative magazine The Drum in the UK. And "charles OMR" is now a great SEO search term for us 🔎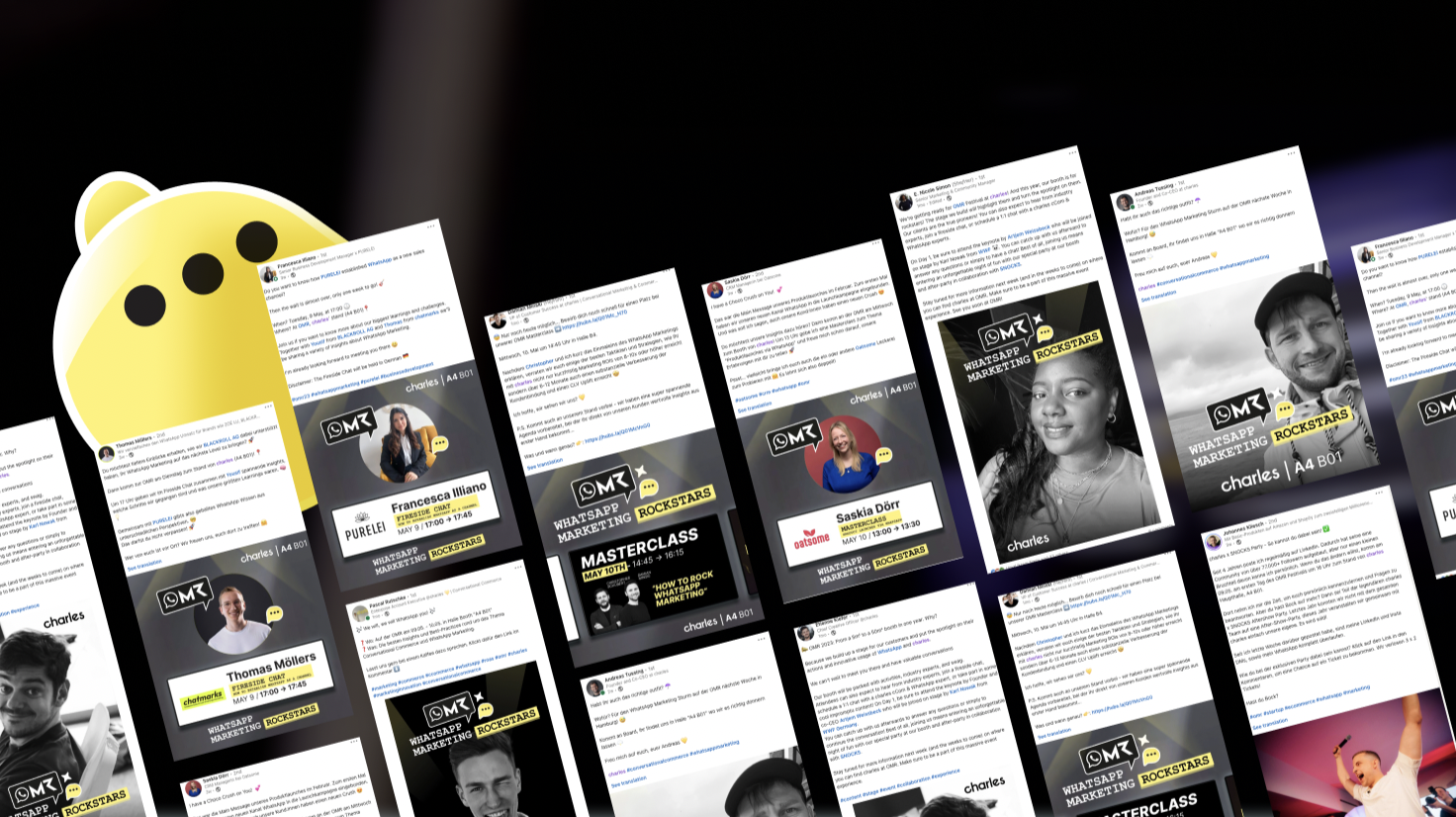 LinkedIn was a great source of engagement for us around OMR 2023
The team
It really is better to have a conversation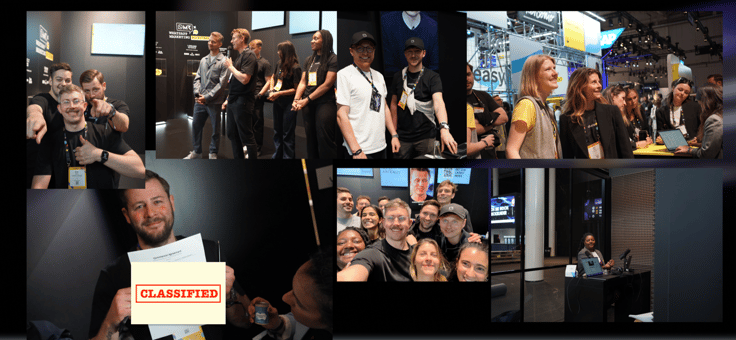 Our dedicated, passionate dream team
A magic blend of creative, success, sales, social, field marketing, leadership and community experts made OMR possible – and awesome. Thanks to the teams back in Berlin who held down the fort while our OMR team was rocking it in Hamburg.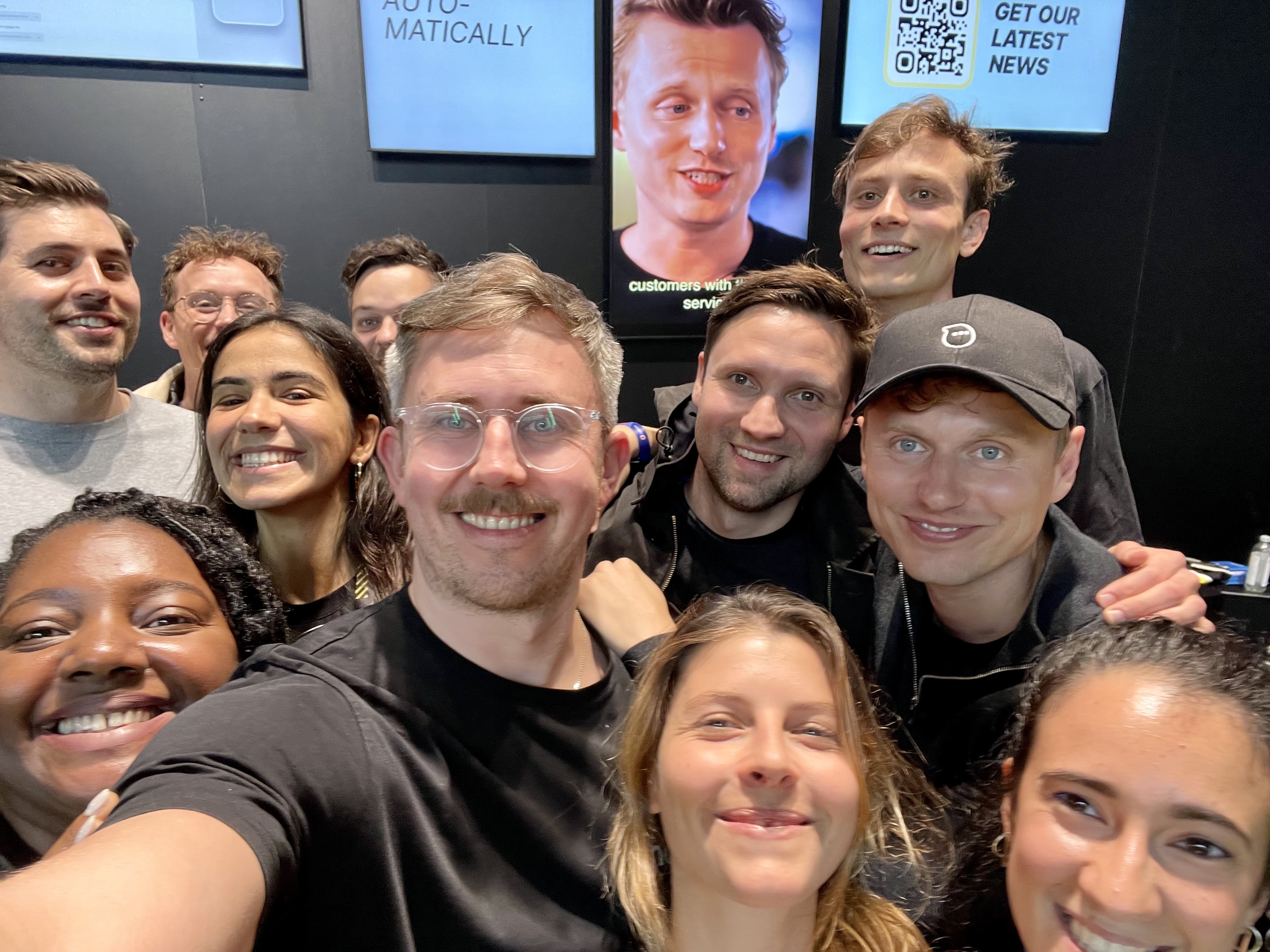 👏 Ciao from Team OMRARRR 👏
At the front: Ebony, Michel, Olivia, Addy, Carolina
At the back: Maurizio, Daniel, Ilke, Etienne, Damian, Julian
Missing: Blessing, Andreas, Christopher, Malte, Matthias, Pascal, Fatih
The call to action
See you next year. Let's keep in touch.
Missed us at OMR...? Where were you??? Make sure you drop into our booth next year. Will we make it to 500m2 in 2024? This optimistic market prediction says we might. We hope to see you there.
Make sure to keep up with our news, feature updates and events in the charles WhatsApp Newschat.
In the meantime, get to know our clients and see how they rock WhatsApp in our client stories.
* Sorry, what went on in Hamburg stays in Hamburg 😉