By Maxine Hess
Writer | WhatsApp marketer | Creative
Updated on September 29, 2023
Losing customers on the way to the checkout? With WhatsApp integration for online shops like Shopify and WooCommerce, you keep the full customer journey in chat: from question to credit card. Here's how it works it and how much it costs.
You're WhatsApping with a customer. They're asking about fit and style. You're able to answer questions and make a human connection. They decide they want to buy👖🙌
What now?
With most WhatsApp chat software, you send them to the product page on your website and hope they'll end up buying.
You could send them a link, but first you'll have to go find it on your shop system. They either get tired of waiting for you and leave the chat, or they click on your link, go to their browser and get distracted by other shiny websites – or even other products on your own site – and you've lost them.
Now you can

bring the shop to them

What if you could put your shop in WhatsApp, so you can stay in chat and send them straight to the checkout?

With software like charles, you can. If customers are having a conversation with you, maybe asking about sizes, colors, sustainability, when they decide to buy, you send them straight to the checkout.

In as little as one tap, the purchase is made.
And turn

marketing campaigns into sales

Many businesses are now sending out WhatsApp marketing campaigns (WhatsApp newsletters), especially in the Middle East, but not many have the functionality to close the deal there and then.

With shop integration, you can, and this is where we add real value to your business. When you send out a flash deal, a holiday message or birthday greeting, the link you send can take people straight to checkout with a full cart. And of course you're there to answer any final questions to seal the deal.

When you think about it, it doesn't matter how creative your campaign is, WhatsApp marketing can't ever be at its most powerful if you have to send them away from chat to go buy something.

What's the good of having a fancy shop window if there's no cash register?
And see

customer buying behavior

Continuing with the analogy, what's the point of your shop window getting everyone in town into your store if they ain't buyin'. When you integrate Shopify into WhatsApp, you can create highly segmented campaigns to customers you know will engage with you. Only to them. No wasting your breath.

The other side of this is that if you send irrelevant campaigns to too many uninterested people, it's likely you'll a) get blocked and b) lose your quality WhatsApp rating.

Right now, the charles software shows you a customer's "Last order date" and "Order count" from your shop system. Soon we'll be adding "Product category" (sweaters, lamps...) and "Specific product" (blue sweater, black desk lamp) and Shopify tags like "VIP" and "Returning customer."

This becomes very powerful when combined with charles tags (that you've built through customer questions and interactions). You can narrow down audiences to the highest relevance for marketing actions. And higher relevance means leaner (cheaper) campaigns, greater scope for creativity and more success (sales).
So how do you

integrate your online shop

with WhatsApp?

It's easier than you may think.

You first connect your online shop system with WhatsApp Business. You can't do this with the WhatsApp Business API alone, you'll need software on top (like charles). Right now, we offer integrations with Shopify, WooCommerce and Shopware, with Prestashop coming soon. We can also help to integrate your in-house shop system and we are adding more integrations all the time, so just ask.

Your customer agents can then send WhatsApp messages and view your products on one desktop interface. In the charles software, they see your online shop on the right, and WhatsApp chats on the left, and can easily drag and drop products into chat. And we've brought all the functionality from Shopify into our intuitive interface.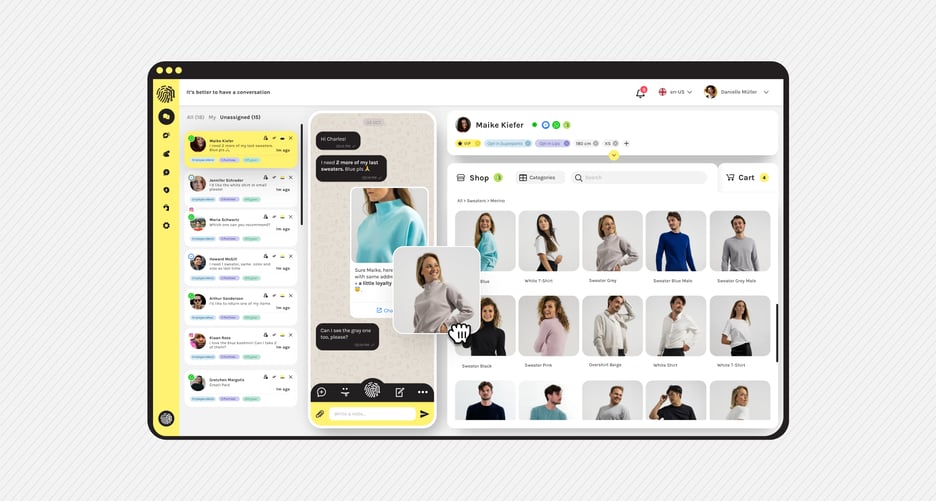 Your customer agents can easily drag and drop products into chat
Shopify syncs automatically in the background, so you can always be sure you're seeing what's in stock.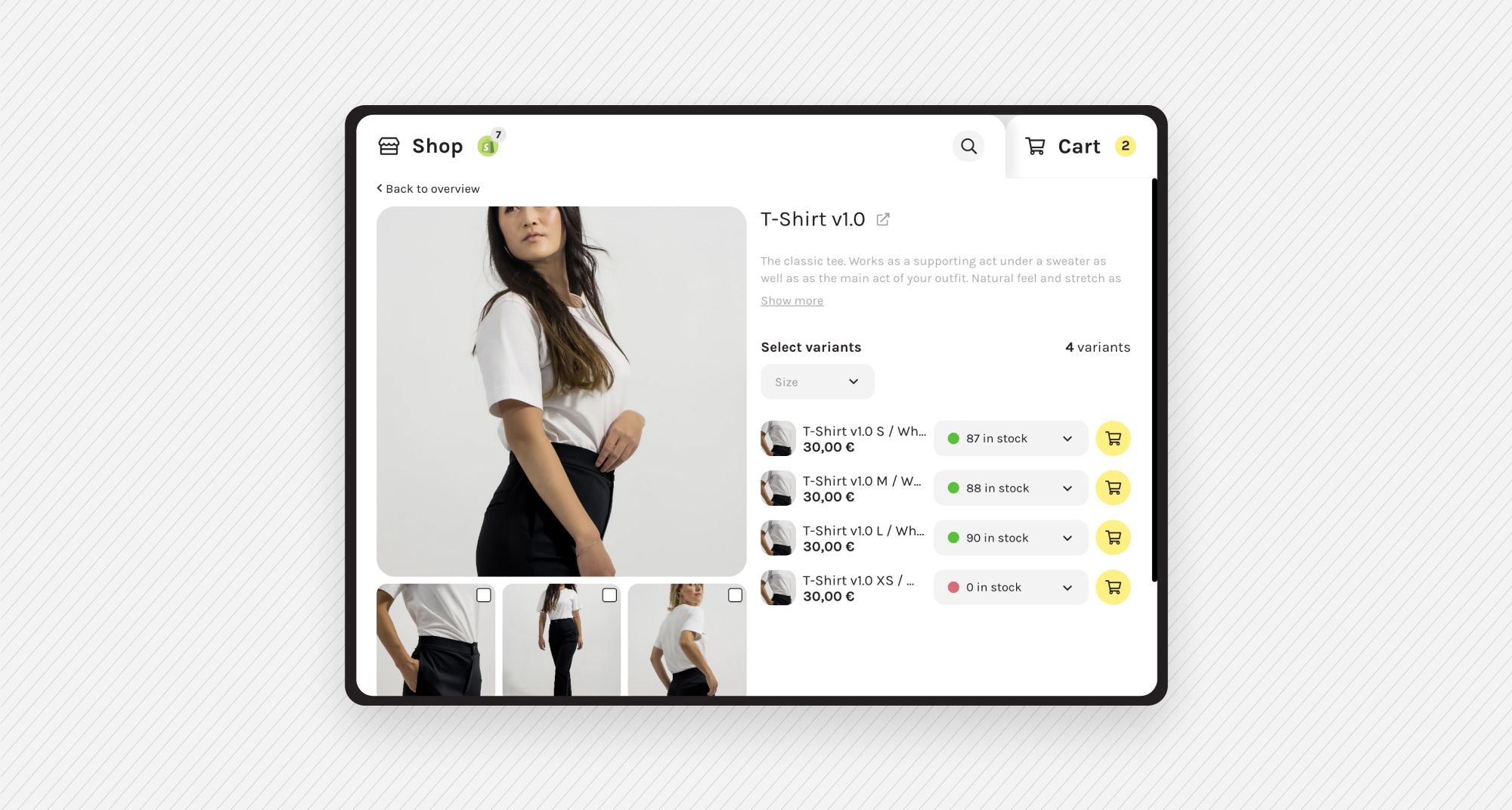 You always know what's available because the information comes directly from Shopify
How it works:

5 steps to sold

This is how customer agents guide customers from chat to checkout (in our case, "Chatout"):
Show products: drag and drop products into the chat box so a customer can view it.
Fill a cart: add products (size, color, style...) to a shopping cart.
Send Chatout link: copy and paste a checkout link containing all the products (in the charles software, this is called a "Chatout").
Buy now button: customers see a button with "Buy now" or "To checkout" or "Let's go!" or whatever you want to say.
Done! Your customer arrives at your website with a full cart. They tap "Pay now" and if they're logged in, address and payment info will already be filled in and purchase is complete.
Agents can also:
Add a discount: to make the customer feel special. For example if they're a VIP customer or if they've had a problem you can discount a style or product or add a general % off.
Target a very specific audience: avoid annoying people and choose an audience you know will respond to campaigns by looking at order history, favorite color, men's/women's styles and other tags.
Check order history: during a chat, agents can check what a customer has ordered before and offer personalized support. So for example: "Hey, I want the same shirt as last time" "Sure, I've just put it in the cart for you."
Send delivery updates: this works very well in chat – it's immediate, no emails needed, and you show them the value of being in your WhatsApp channel.
How much
does WhatsApp Business software cost?
The two main costs are:
You pay monthly to use the software (charles costs from €349-999/month, depending how many agents/messages)
Plus cost per message sent (this varies, but we believe we offer the lowest price per message)
Of course ROI matters, and we're seeing some amazing numbers. Email may be free, but WhatsApp has far better engagement rates, so the cost is more than worth it. As well as 100% delivery rates (that's WhatsApp for you) and 90% open rates, in recent marketing campaigns three of our fashion brand customers saw these figures: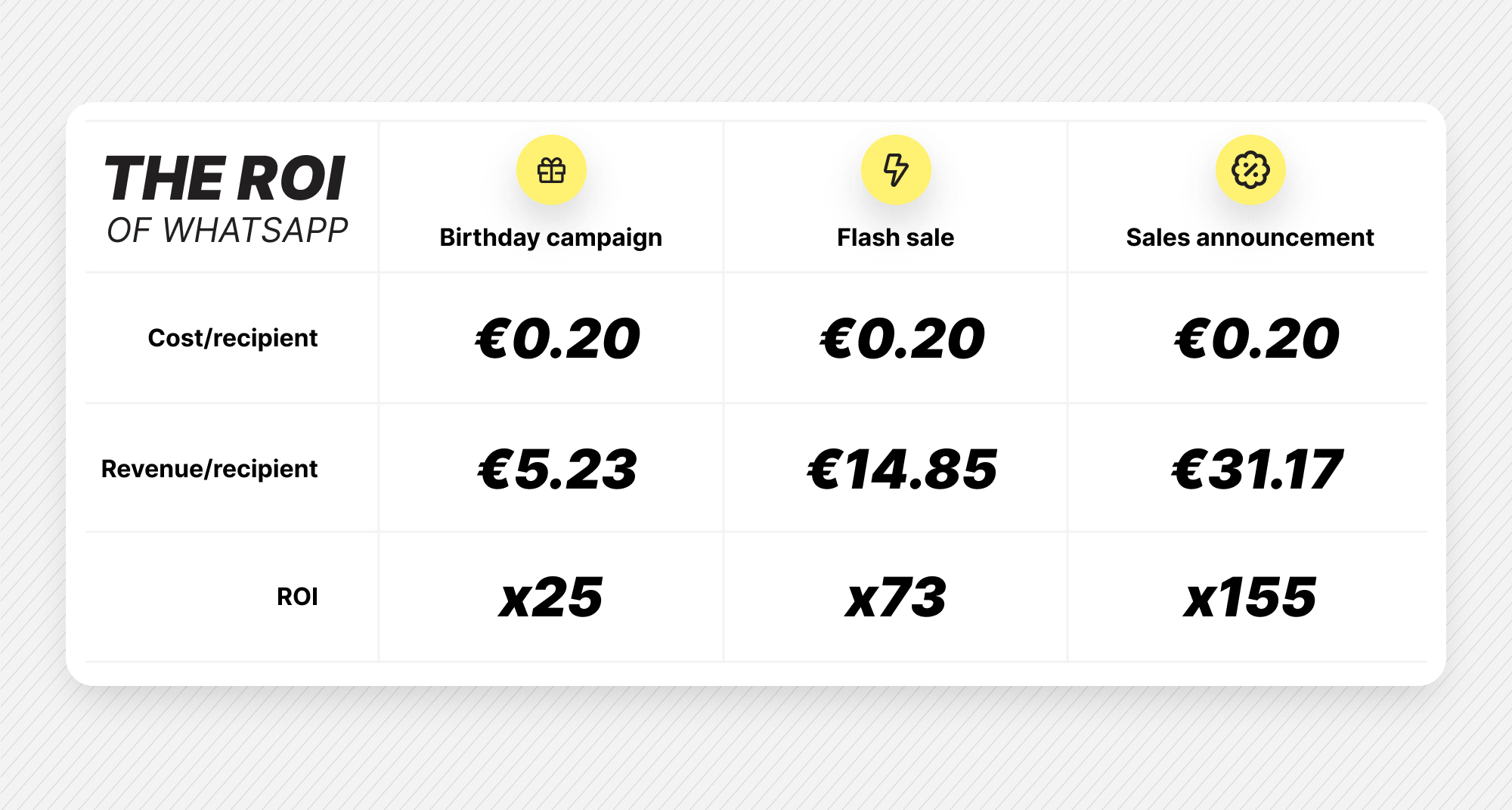 ROI figures from recent WhatsApp campaigns run by customers. We think not bad.
But we're about the human too. Here are some softer KPIs:
You make the buying process smoother for customers
You save your agents' time by putting chats and products all in the same interface
You get to stay in WhatsApp for longer

and keep conversations going
Wanna see how brands use WhatsApp? See what our customers SNOCKS, Woodboom and others are doing
Why open a
WhatsApp shop with charles?
Here's the sales bit. We pride ourselves in offering more than other WhatsApp software providers. As well as offering a full commerce suite and being super friendly 💛:
We're one of the only providers that offers shop integration: in fact we're the only one we know of in Europe
We're a Meta Business Partner: we have the official stamp of approval to work with the WhatsApp Business API
We're motivated: we recently got €20 million in our Series A funding and are fired up to make your WhatsApp shop a success
You get started quickly: it takes as little as 3 weeks from signing to first message sendouts
The software is easy to use: our interface looks good and takes no time to learn
We help you get customers into WhatsApp: through website widgets, in-store QR codes, incentives, thank you pages and will offer ideas through our in-house creative studio
We listen: we have great client relationships and care deeply about growing your business - we develop our software with you, for you
We offer advice: you get the support of a dedicated Success team who will share their learnings with you to minimize risk and maximize success
You can speak to all your customers: send messages in multiple languages
We like you ☺️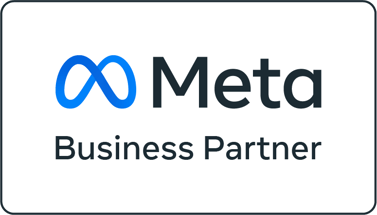 We're a Meta Business Partner and have a close relationship with WhatsApp
Still got

questions?
What if I already have a chat bubble on my website?
It's time to move on. In most cases, your chat bubble could be working harder for you. If you use a chatbot, automation can only get you so far. Get a WhatsApp bubble and get people into chat. They're logged in already and chatting is easier and more personal in WhatsApp. And with software like charles, you can automate anyway (coming soon), so you write the messages and have greater control over your brand and your answers.
What if I don't have a chat button yet?
That's even better! You have an advantage over other companies because you can skip SMS and clunky chatbots and move straight into the best space there is: WhatsApp. Plus, many chat bubbles only do customer support, we let your customers go shopping.
What if the shop functionality I need isn't there?
You can tell us and we'll try to add it. If it helps, we're currently adding these features, requested by clients:
Product bought: see what a customer has bought before and notify them when a new version or similar product is released.
Automation: you can design conversational flows that happen by themselves, to help customers after hours, run campaigns, learn about customers and answer common queries.
Out of stock: ping someone instead of emailing when the style/size they love is back.
Want to give it a try?
Get a demo
tailored to your business.
It's easy to get started with WhatsApp and Shopify, but first you probably want to see how it would work for your business. We'll make you a presentation with use cases we think would generate revenue and help build relationships with your customers, based on your business goals. This keeps your risk low and gets you started on the right path for business growth. At charles this is super important to us.
Book a slot with our friendly sales team and we'll take you through a demo.
Or want to try it out first?
Let's WhatsApp:


On your desktop?
Scan this with your phone: