By Ilaria Carofiglio
Italy Account Executive, charles
Updated on September 29, 2023
So, 2023 is the year you start intermittent fasting, stop checking Instagram in bed and open a WhatsApp shop. Can you do it alone or do you need software like charles? Ilaria Carofiglio checks if you're a match.
We passionately believe that conversational commerce is the future for all eCommerce brands. Many of our clients are now prioritising their WhatsApp channel over email, and some brands are even running their entire business in WhatsApp.
But when starting out with WhatsApp, do you need the WhatsApp Business Platform (API) or can you just do it on your phone?
This is especially relevant for Italy 🇮🇹
In Italy, WhatsApp Business is booming. Consumers are comfortable chatting with businesses on WhatsApp – possibly more-so than here in Germany, though this is changing fast.
Many small Italian businesses use the basic version of WhatsApp Business on their phones. This allows them to set up a business profile and chat individually with customers. It's a manual process but worth it for small businesses with manageable volumes of WhatsApp messages.
But there comes a point where these WhatsApp channels grow and businesses ask: would the API with software help me manage my WhatsApp channel more smoothly? Would extra personalisation and segmentation help me sell more? Can I scale more easily with automation and more chat agents?
Should I get software to manage my WhatsApp channel?
We're all for businesses subscribing to our software, but contrary to what you might think, we don't want everyone to invest in charles.
You need software to scale
We've heard of brands that have grown fast and need to stick 20 iPhones to the walls of the office.
As fun as this sounds, continuing to use the free WhatsApp Business app at this size is difficult to manage and gives no overview of the channel or analytics. These brands would miss out on extra functionality like online shop integration and targeted marketing campaigns (which yield better results).
Is conversational commerce/chat software really what you need. Or do you need to put something in place first?
Does this describe your business?
I did my university thesis on this topic. When is a business ready for WhatsApp Business software? After all, there are more costs involved than with email, so it needs more consideration.
I spoke to many Italian businesses, large and small, and there were clear threads that ran through my research. The companies that had most success with WhatsApp software all had these 5 characteristics. If you see yourself here, you're ready (and should give us a call):
1. Do you have €1 million+ turnover?
We used to accept almost anyone onto our platform. We were excited about helping all companies get into WhatsApp and didn't want to put up barriers.
Now, we've learned that companies should have at least €1 million annual turnover for an investment in our software to be worth it.
Also, in general, we don't recommend software like ours when you're just starting out.
Answered "no"? It may be worth sticking with the basic WhatsApp Business app as you start out, then investing in software as your business starts to take off. (It's easy to import contacts into a WhatsApp platform.)
2. Do you have 15k+ web visitors/month?
WhatsApp platforms don't tend to generate traffic (yet). They're best used to convert web traffic – we do this through Chat-ins. like popups, bubbles and links/QR codes you can add to emails or place in store. You may have a primarily bricks-and-mortar business, or you may be just starting out, in which case software is probably not worth it for you yet.
In future, WhatsApp will have business directories where you can be found by name, location or industry. Then, you won't need the web traffic to get you seen in the app.
Answered "no"? If you're not getting many visitors to your site, we'd recommend investing in boosting your web traffic first. See some great tips on increasing website traffic from our friends at Hubspot. Use a WhatsApp platform as a support channel for starters maybe, but for real sales and marketing return on investment (ROI), wait until you have good web traffic.
3. Do your customers use WhatsApp?
This is not a question of age. Older people use WhatsApp just as much (sometimes more) than younger people.
This is mostly about your location. Maybe you're in a country that doesn't use WhatsApp yet.
Answered "no"? You could still use WhatsApp for ease of answering support questions, but you need to think whether or it's worth it to your business as a sales and marketing channel. As even support messages carry a cost, you may not make your return on investment (ROI). If you're a global business, invest only in markets where WhatsApp is ubiquitous, like Germany, Italy, Brazil, Indonesia, Mexico and India. See more on WhatsApp users per country.
4. Will you answer people?
As we say, "It's better to have a conversation." In WhatsApp, even more than email, Messenger and Instagram, you need to be able to keep up your side of the conversation.
Sending messages to customers is easy. But do you have someone there to reply? Someone who understands customer needs, your products, your brand and your business?
If you're a small business, you may just need one person, even you as a founder or marketing manager, to manage chats. This has worked well for our first client, Mischa from Woodboom, who chats personally with customers and managed to cut his sales cycle from 4 weeks to 4 days. Florian from Pferdegold says he spends only 1-2 hours on the marketing side of WhatsApp a month, and two full-time chat agents manage the support messages, as well as email and other channels – for his sister brand, Hundepur, too.
Then, as you grow, you'll need more people dedicated to chat. Our client Barò Cosmetics now has 30 full-time customer agents working on WhatsApp.
Answered "no"? Don't want to hire full time people? Just bring in extra people for a short time when you run a WhatsApp marketing campaign and volume of messages will be higher.
5. Does WhatsApp solve a business problem?
Email is free to send. With WhatsApp Business, you pay per conversation you have with a customer (unless they contact you and you're within the 24-hour window). Plus you'll have to pay a monthly fee for the software. For charles, that's €349-€999 a month.
This means you need to be sure that WhatsApp will make its money back.
These are the kinds of ecommerce challenges WhatsApp Business software can solve:
I'm finding it difficult to convert traffic from my website
I'm finding it difficult to engage with customers
I have an innovative product and don't want to use the same old channels
My email campaigns aren't working anymore
I don't really know who my customers are or what they want
I can't see detailed analytics with WhatsApp Business
Customers are interested in new products but I don't know an easy way to let them know
Customers have last-minute questions before purchase but I'm not answering them quickly enough
Answered "no"? If your problem is that you don't have enough traffic on your website, it's unlikely a WhatsApp channel is right for you (yet).
Said "yes" to all? The ROI is real.
Once you've figured out your business is ready to chat on WhatsApp, you can expect some very impressive figures. Here are some ROI figures from recent marketing campaigns our clients sent out: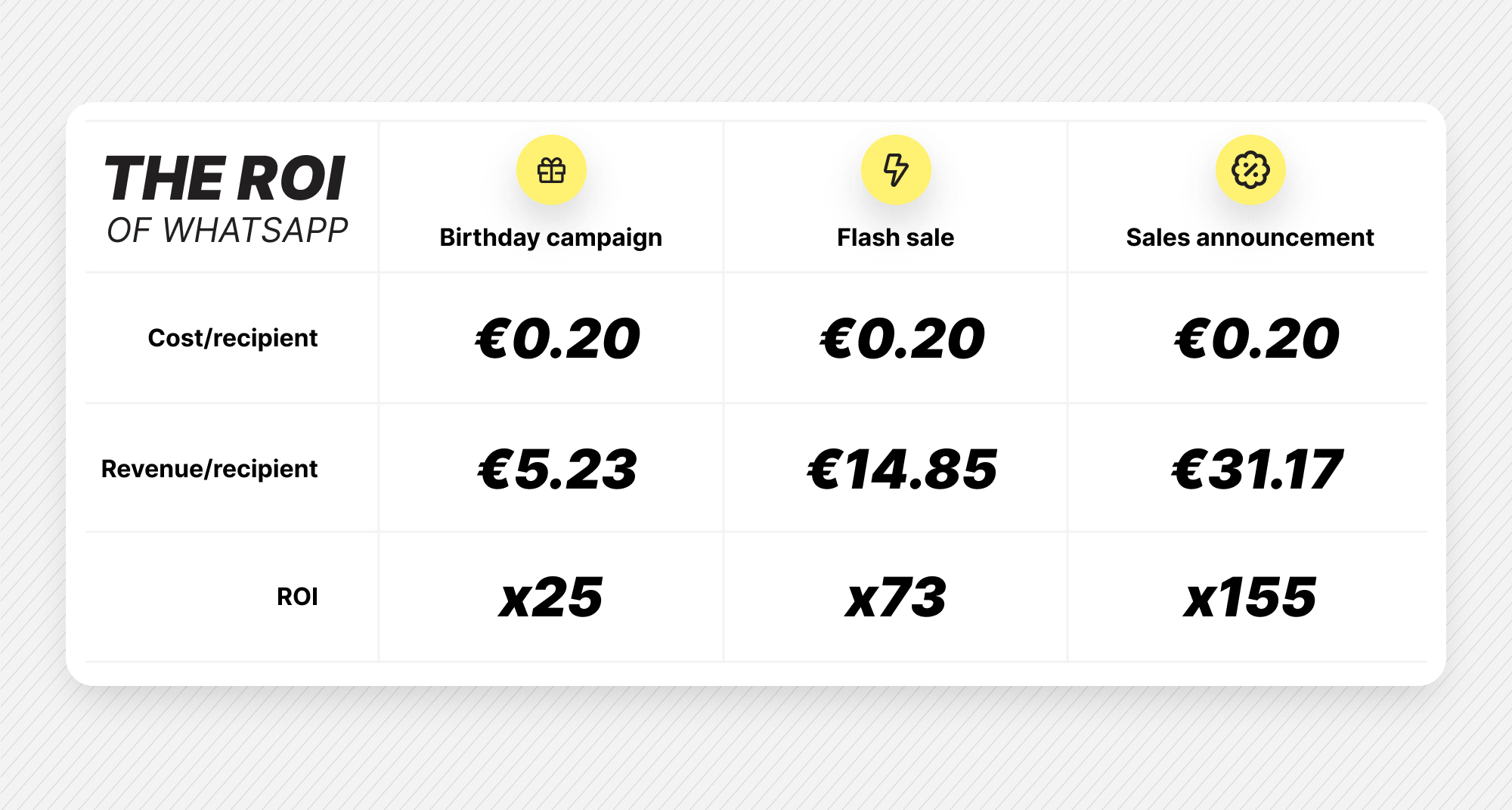 See more on WhatsApp KPIs and metrics here, plus WhatsApp marketing benchmarks.
So what do you need in WhatsApp software?
Decided you're right for a WhatsApp Business platform?
Now you need to choose which provider to go for. Here's what you should look for:
Sales, marketing and support
Advanced audience segmentation
GDPR compliance
Automation
Easy integrations
Chat bubbles
No focus on chatbots
Easy-to-use interface
Fair pricing
Stability
Ongoing support
For more on these, read: 11 non-negotiables you should look for in your WhatsApp Business Solution Provider.
Take your time, we're always here
We naturally don't want to put you off buying software or growing your business with the exciting opportunity that is WhatsApp.
We just want to make sure you only invest when it's going to further your business needs.
Clients who don't benefit from WhatsApp also don't make business sense for us. Our aim is to have happy clients with delighted customers, and to keep growing your business along with ours for the long term.
Ready? Let's talk.
Book a slot with our sales team and we'll tailor a demo to you and talk you through pricing.
Not ready? Let's talk anyway.
It's usually just a question of time. We'll help you create a roadmap towards readiness for a WhatsApp Business platform.