By Maxine Hess
Writer | WhatsApp marketer | Creative
Updated on September 29, 2023
We're in this for the clients, not the accolades. But the odd accolade doesn't hurt 😉 Especially when it's being one of Sifted's B2B SaaS Rising 100 in Europe and Israel.
We're delighted to share the news that we were listed in Sifted's B2B SaaS Rising 100 list, 2023.
Released in June, 2023, by Sifted (a Financial Times backed company that shares European startup news), this list recognizes companies that are "soonicorns" – just a few steps away from becoming unicorns.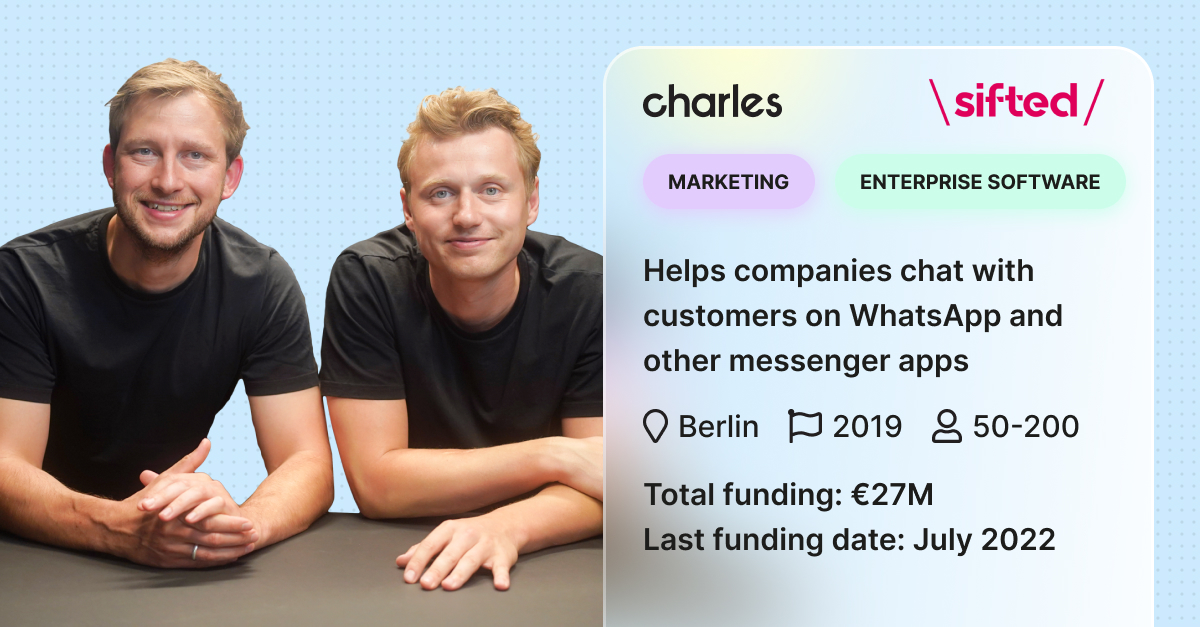 charles stats, with founders Andreas and Addy, in Sifted's B2B SaaS Rising 100 list
"It's an honor to be on this list among so many other software innovators. The opportunity for WhatsApp marketing in Europe is huge. It's exciting to be leading the charge – helping our clients through challenging times by enabling them to connect with customers in a more meaningful, profitable and fun way."
charles founders, Artjem Weissbeck and Andreas Tussing
Berlin is in business
12 Berlin companies made the list, including the amazing Pitch (#10), Hive, Billie and Leapsome (who we use for our performance reviews 🤩). This makes our beloved home city the 3rd biggest startup powerhouse in Europe and Israel, after London and Tel Aviv (and joint with Paris).
...a clear-eyed look at which software startups are showing resilience and promise in a hard economy
The quote above makes us especially happy, since we exist to help European consumer eCommerce brands through these difficult times – by enabling them to make their marketing more efficient and profitable using WhatsApp.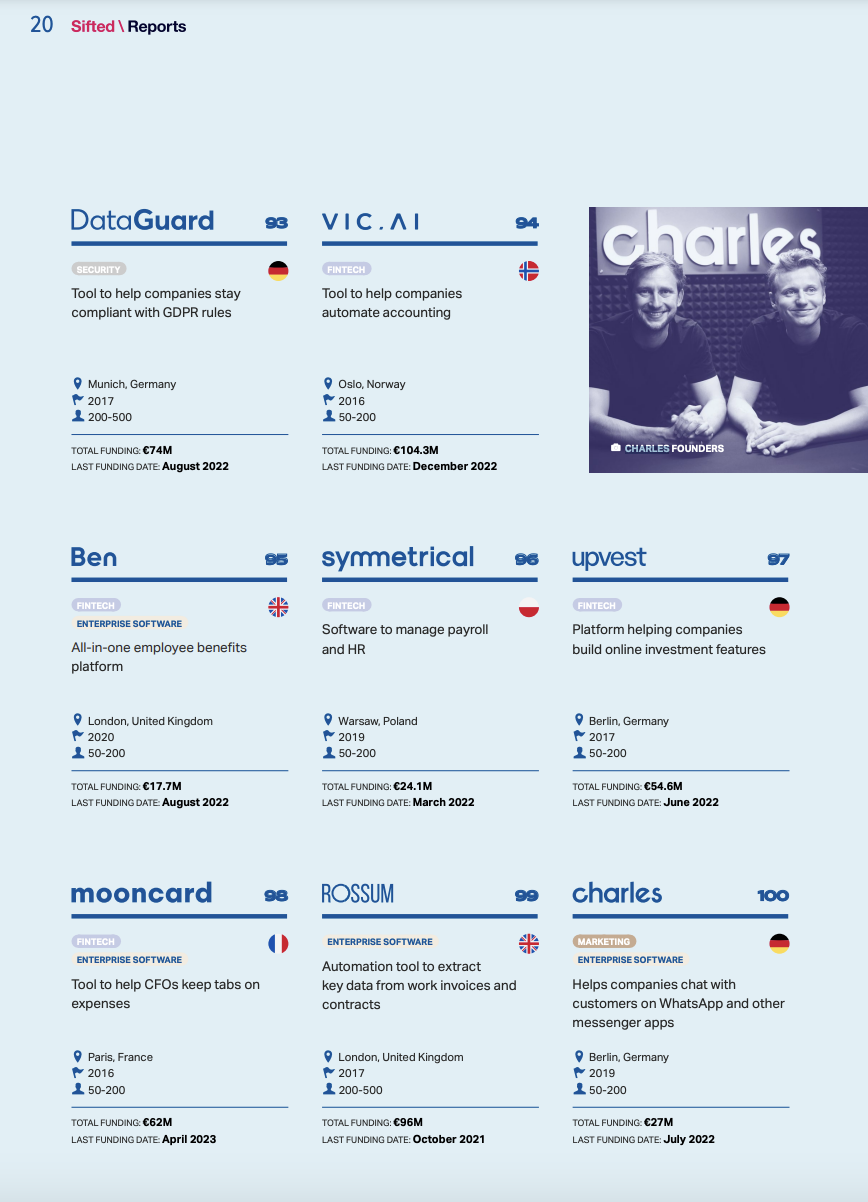 Our profile in the Sifted B2B SaaS Rising 100 list
This year we're listed #100. We're grateful to Synthesia who made unicorn status in June, and had to be removed from the list 😅 This is fine with us, we have plenty of motivation to fight our way up the list for next year.
We're also grateful to Sifted and Sapphire Ventures for recognizing us and giving us more fire in our belly to continue creating value for our clients – Europe's most innovative eCommerce brands who are continuing to impress even us by blazing a trail for WhatsApp marketing.
See the full list and download the report here.
Want to see how our WhatsApp platform enables eCommerce brands slot WhatsApp easily in to their marketing mix? Book a demo.
FAQs about the B2B SaaS Rising 100 list
Who created the B2B SaaS Rising 100 list?
Sifted. A company that shares latest startup news, analysis and in-depth reporting on Europe's founders, investors and operators. Backed by the Financial Times.
Which countries does the B2B SaaS Rising 100 list cover?
Europe and Israel. Most companies listed are from London (26), followed by Tel Aviv (14), Berlin (12) 🙌 and Paris (12).
How do you get on the B2B SaaS Rising 100 list?
The intitial criteria were to find companies from 32 countries in Europe plus Israel:
- Launched in 2016 or later
- Estimated minimum valuation of $100m
- Maximum valuation of $999m
- Fundraised in or after 2017
- Could include any funding round
- Independent, business-focused company (which is not a subsidiary or branch office of any kind)
The first list was narrowed down according to more financial-focused criteria, like quality of investors.
200 companies then went to a 3-person judging panel who looked at market opportunity, market differentiation and opportunity.