By Maxine Hess
Writer | WhatsApp marketer | Creative
Updated on September 29, 2023
Meet our next round of new recruits! 10 new joiners did 3 days of onboarding last week, and we spoke with 2 of them: Marthe, Client Success Manager, and Pascal, Enterprise Account Executive.
Marthe

Client Success Manager
About you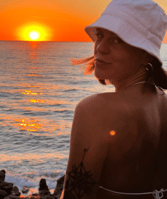 What's 1 conversation that changed your life?
Phew – there are many. One topic that fascinates me is how or physical and mental capacities are correlated. Whenever in a conversation I can find another example that proves this fact I get goosebumps.

How does our body react as a response to our environment and the other way around? How do words, thoughts and actions affect our mood and mental state?

Those kinds of conversations have a calming and grounding effect on me as they remind me of my own core values. Not that I would easily forget them, but I believe it's easy to get caught up in everyday life and as a result not always take the healthiest decisions 😅

Is there a conversation you wish you never had?
That's a no. A good friend once said: "Marthe, you know, every person on this planet knows something that you do not know. You better give everyone the opportunity to surprise you."
This totally resonates with me. I think there is a learning or realization in every conversation – even if some of them seem to be annoying, unnecessary, or even triggering in the first place.
Proudest achievement in career?
I really do not like this question, and I also do not like the fact that I do not like this question.
As a woman it is sometimes hard to realize that you are not aware of your successes, you do not celebrate them, and you are not willing to share because for the longest time you have been told to step back. In the past, sharing successes felt like taking the stage and asking for attention where nobody asked for it.

Obviously, that is entirely wrong. Especially in my last job I learned how important it is to share and celebrate successes. Even though sometimes (not always!) it still feels artificial, this is one of my proudest achievements. Being able to share how cool I think I am and how great I am doing my job – hehe 😜
In life?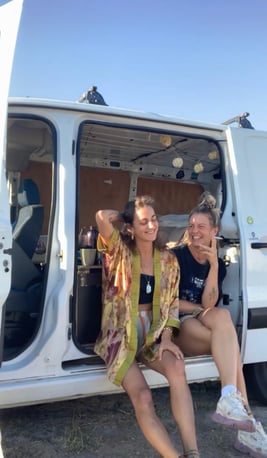 What a deep question. I'm not sure if that is my proudest achievement but one thing that I am very proud of are the friends that I have and the relationships I'm building around myself. Always, when I spent time with the people that I love I'm proud to have them in my life. Those are the connections that inspire and motivate me.
What do you do when you're not here?
Yoga, fitness, dancing and clubbing, I read a lot (only non-fiction) and I love to cook 😋

Favorite Berlin restaurants?
Ryong, Weng Cheng, 1990 vegan living, BBI, Kotti Dang, Hallesches Haus, Two Trick Pony
You x charles
Why did you want to join charles?
Eva contacted me on LinkedIn, just when I decided that I needed to go through an interview process to basically check my market value. By that time, I did not know what charles is about to be totally honest.
The reasons I joined eventually were the super cool interview process, amazing people and the product 🙌
What was the onboarding like?
Every conversation I had was cool and fun. Actually, it was very cool that every interview was a conversation, right? I think it is not usual to go into a dialogue rather than being bombarded with standard interview questions.
If I would have to mention one interview that stuck out (sorry to everyone else but you know you could have tried harder 🤪) was the one with Ilke. Somehow it almost felt as if I was talking to a friend. I remember that after the interview I was boosted with positive energy.
Every interview has been interactive and appreciative 💛
How do you feel after your first week here? Same/different/first impressions?
As I am writing this, it is day 4 for me, so there is not that much to share. I am liking the energy and the dynamics of the team. People are being proactive and inclusive 😊
3 bits of advice for someone doing the same job as you?
For client conversations: ask questions and dive deep – stay as curious as possible!
Be authentic. In client relations it is crucial to bult trust and the only way towards long-lasting and happy relationships with clients is the same way you would go in your private live.
Constructive feedback from clients about the product or their performance with us do not define your performance as a CSM. We work in a startup. Things will go wrong. Take those opportunities to learn and improve your workflow or professional toolkit 😉
What's your personal mission for your role in the next year?
To begin: lots of listening and learning 🤓

Eventually finding the right spot for me to operate in my new team to be able to let my personal strength shine 🪩🕺
I want to create value for the team not only as a professional but also as person 💛

Connect with Marthe on LinkedIn
Pascal

Enterprise Account Executive
About you
What's 1 conversation that changed your life?
Probably my first interview for my first sales job. I planned to stay in a hotel but due to a bar conversation I got into sales.
Is there a conversation you wish you never had?
Accomplishing a high education degree (university etc.). In my point of view, if you want to be good at something and you are passionate about it, success will come no matter which education level you have. (Maybe not when it comes to lawyers, doctors, police etc.)
Proudest achievement in career?
Closing a big German hotel group as customers who work globally with over 900 hotels. From staying behind the front desk to seeing the own product that you've sold at the front desk was a cool experience.
In life?
Hard to say. Probably moving into my first own flat and being completely independent was a great feeling!

What do you do when you're not here?
Meeting friends, playing darts, bouldering and drinking wine.
Favourite Berlin restaurants?
Night kitchen, Blackbeards, Glory Duck
You x charles
Why did you want to join charles?
I previously worked for a company which provides a customer experience platform for ecommerce, energy and fintech businesses which helps them to collect insights on customer churn and retain their customers. In the last 4 years I realized that one of the main challenges that eCom companies face is that retention email marketing is just overused and not efficient anymore since it's used by everyone.

Since charles is solving exactly this problem by enabling ecommerce companies unlock the power of whatsapp as a marketing, service and sales channel it was clear to me that I want to be part of this innovation!
How was the interview process?
To keep it short: AMAZING! In detail: from the first interview until signing I felt very welcomed by the hiring managers and my future colleagues. Due to the fact that a big part of the interview process was onsite I had the pleasure of meeting my potential future colleagues upfront and get a first impression of the charles culture 💛

I really valued honesty during the interview process in regards to what is already working great and also about current or future challenges.
👈 Holidays at a spa hotel in Austria
What was the onboarding like? What sticks in your mind?
Intense but extremely helpful and fun! I really appreciated that the first 3 days where planned out perfectly (thanks Ryan and Theresa!) and together with all newbies from different departments. Due to the initial onboarding meetings it was easy to deep dive into charles and cCom as well as meet my new colleagues while having pizza on the first day and an amazing dinner with the new team! 😋
How do you feel after your first week here? Same/different/first impressions?
Tbh a bit exhausted but extremely motivated for everything that's coming! Next to all the knowledge of the colleagues, the most important part is that I felt very welcomed by everyone and already had many great moments and experiences so I'm looking very forward to collecting more of them! Big kudos to all colleagues for this!
3 bits of advice for someone doing the same job as you?
Don't give up - especially in the beginning of your career/journey. Sales is always a rollercoaster and you have to enjoy the ups and also overcome the downs! If you're passionate about what you do, success will come – no matter what!
Be humble and always try to observe as much knowledge from your colleagues and network to continuously grow and develop yourself. If you think you are already perfect in what you do you've already lost!
Don't only focus on your product but on the market and on the daily life of your customers and prospects! Understanding those two points make the difference between just trying to sell something or really working on delivering value and success stories for all businesses out there 🚀

And a fourth one which shouldn't be forgotten: ABC - Always be closing! And coffee is for closers! 😉
What's your personal mission for your role in the next year?
Delivering my piece to the success journey of charles by: making great and innovative companies out there aware of the power of cCommerce and creating amazing experiences for them and their customers!

Connect with Pascal on LinkedIn
Thanks both! Think you might fit into the charles team too? See our latest jobs here.