By Typie
WhatsApp marketing assistant
Posted: October 21, 2022
Updated: December 08, 2023
The way people buy things is drastically different than it was just a few years ago. Chalk it up to the pandemic, our seemingly endless enthusiasm for 24/7 online shopping, or the novelty of 15-minute delivery. Any way we slice it, customers are telling us that times are changing, and marketing must keep up.
For most people, shopping doesn't necessarily mean going to the store, or even leaving their house bed. For many, the shopping process looks more like this:
📱+ 🤤 + 📦 + 🚛 + 🏠 + 🙏 = 😁
What is conversational marketing?
People are using their phone to look for everything from home furnishings to pets to rare collectibles. They love shopping online because it's immediate. And they love using their phones to send instant messages and chat for the same reason – it's fast just like a face-to-face conversation.
This is where 'conversational marketing' gets its name. Conversational marketing is a dialogue-driven tool that uses chatbots, live chat, social media, and messaging apps to engage customers in quick, real-time conversations. Chatbots, specifically, have made conversational marketing more user-friendly and accessible, with instant messaging on apps like WhatsApp and WhatsApp Business the most popular way to contact customers. In a nutshell, conversational marketing tools create a more sincere buying experience that helps build long-lasting relationships for greater customer satisfaction.
Is conversational marketing changing the buying process?
Buyers and customers no longer have the time or interest in a long sales cycle. Last year, 27% more B2B buyers expressed dissatisfaction with 'old school forms' than in 2020, with the demand for immediacy increasing year-on-year by 64%. Now people are comfortable with, and even expect, direct messages making the old model seem cold and impersonal.
Conversational marketing makes it simpler for people to connect with your brand, which will help you convert more of the best leads, more often, leading to increased brand loyalty.
Good to know ✅
You're probably familiar with the term, 'inbound marketing'. Conversational marketing is often a part of an inbound marketing: attracting customers through channels they already use. Conversational marketing differs in that the customer can

choose when, how, and where they communicate with your brand.

Both methods are customer-driven.
How does conversational marketing work?
Implementing a conversational marketing strategy doesn't mean you have to start from scratch. 😣 It's more like adding a new channel to your paid streaming service, one that complements and expands your current viewing schedule – your already existing marketing campaign. 😮‍💨 Below, we've addressed a few common questions about conversational marketing strategies to help you get started:
🧑‍💻 Where will our conversations take place? Start by choosing pages that you want your conversational chatbot to appear in and engage with your visitors. Maximize the number of interactions by selecting the most highly trafficked pages.



💬 How will our dialogue flow?

Using your conversational commerce strategy, and the customer journey process, decipher what you need to ask, and how many questions it will take. A positive customer experience usually means simply worded conversation flows using 1-2 sentences at a time. People expect a certain speed and to get their questions answered quickly.


🔄 When? In 'customer-time'. Conversations between you and your customers will happen when the customer prefers: in real-time after they take their kids to school, during a boring meeting, or late in the evening after the dishes are done. It's important that brands can finish conversations at the pace the customer needs.


🙋‍♀️ How many people will we chat with? Because conversations happen on 'customer-time', they need to be scalable. You could be chatting mostly on a one-to-one basis, or one-to-500. Either way brands shouldn't fail their customers due to lack of resources. Chatbots make 24/7 support possible. Bots can answer questions to common questions using "quick reply" features or data that already exists.


ℹ️ How will we track customer details? Your conversations should get more helpful, as you collect information about your customers' needs. This is what they expect and this is what makes conversational marketing convenient. Make CRM part of your conversational marketing strategy ­– gather, store, and access customer data from recent orders, visits, pricing, and job titles. The more you know about your customer, the more helpful your chat will be.


🧭 Where will we find the customers? Like inbound marketing, conversational marketing will happen on the channels that your customers prefer, that might be Facebook Messenger, WhatsApp, on the phone, or with a human or a chatbot. Rather than call a service number, people want to send a quick message, get info, and even learn more through a shared link.
Success stories: conversational marketing examples at its finest 🏆
Looking for inspiration from conversational commerce examples? 🥴 See how these brands are making conversational marketing work for them, and their customers.
woodboom 🪵 🛌 🪑 Conversation–centric sales
woodboom uses sustainable materials to construct simple and classic, premium wood furniture. They wanted to answer their customers' questions faster, to prevent them from abandoning their best selling product – a 1.500€ bed. woodboom prides themselves on being a customer-centric, family-owned business, and so email and website visits were not effective marketing strategies.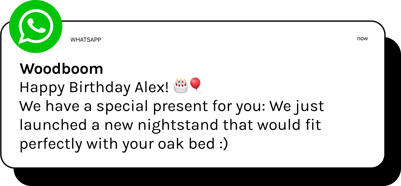 How'd they do it?
Using Website "chat-ins", buttons, bubbles, and articles, woodboom led customers into a chat
Customers were then engaged in a WhatsApp conversation (using WhatsApp Business), where woodboom agents promoted products and answered questions on an individual basis
After a successful "Chatout", order confirmations, tracking links, and additional product info was sent to customers as a helpful follow up.
Using WhatsApp marketing, woodboom increased their sales by 70%.
Every 🥦 🫑 🥬 : WhatsApp newsletter campaigns
Every offers ready to eat, frozen plant-based bowls. They wanted to make vegan cooking as effortless as possible. To do this, their goal was to attract new customers, while retaining the current, with valuable resources on vegan lifestyles and promote product launches.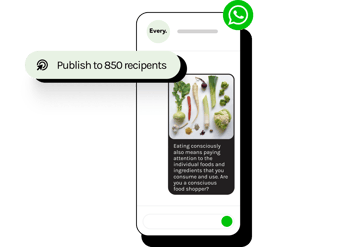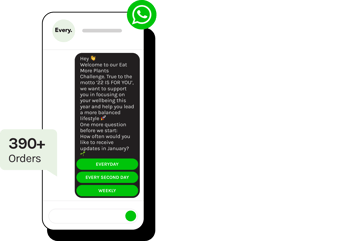 How'd they do it?
Using their WhatsApp marketing channel, Every set up a Veganuary ad campaign and promoted it across Instagram, mobile website, and also via QR code on paper post-cards.
Using personalized and interactive WhatsApp send outs, Every customers could select their preferred language as well as quantity of send outs. Content was updated via "quick reply" buttons to reflect their preferences.
Then, Every created a WhatsApp newsletter, and sent it to more than 850 recipients. By the end of Veganuary, more than 15.000 WhatsApp messages were sent
Every's last move was to send out a customer survey via Chat to gather feedback and re-engage with their community
Using the above WhatsApp advertising strategies, Every discovered that 91% of their customers were interested in participating in another conversational marketing campaign.
Concrete Jungle 💍💎 : Inbound marketing strategy
Concrete Jungle (CJ) offers hand-made, innovative jewellery using a specially developed, lightweight form of concrete.
Committed to maintaining a personal connection with customers, the brand's goal was to increase customer retention and build community.
How'd they do it?
CJ used their WhatsApp channel to show subscribers "Exit Intent Popups", which led customers directly to the chat from their website. They were then automatically given a discount code.
After making a purchase, customers were prompted to track their order
Then, CJ created WhatsApp newsletters with a focus on "nativeness" and "interactivity"
CJ earned strong customer relationships by making WhatsApp newsletters relevant and personal to each recipient by gathering data on gender, purchase history, and other factors
With WhatsApp marketing channels, in particular WhatsApp newsletters, Concrete Jungle earned a 300% return on ad spend (ROAS).
Conversational marketing pays off
It's clear from the examples above that conversational marketing is achieving positive results for brands in a variety of sectors.
But if you're still having doubts, here's a few more benefits you can expect from incorporating a chat-based marketing strategy:
Faster, more enjoyable buyer journey
Increased lead conversions
Clearer customer insights and stronger relationships
More personalized customer recommendations
Shorter, more personal sales cycle

Want to learn more about how conversations can improve your marketing strategy? Get a demo!