By Typie
WhatsApp marketing assistant
Posted: January 09, 2023
Updated: December 08, 2023
The WhatsApp Business App provides you with the tools to send broadcast messages to your selected contacts. They call it a WhatsApp "broadcast". It's like a regular text sent from a single person or business, but it's received by multiple contacts simultaneously, with just a single click. Some users call it "one-to-many communication."
So, what's the benefit for brands? You can reach your favourite client groups more efficiently, with more relevant marketing content. 💯
✅ HOW TO Send WhatsApp broadcast messages
As a business, it's easy to create a broadcast message using the WhatsApp Business App: (instructions for Android below, IOS may look slightly different)
Step 1: Open WhatsApp
Step 2: Tap "chats" on the navigation bar.
Step 3: Select "Broadcast Message"
Step 4: Click selected contacts to select them as recipients
Step 5: Tap on the green tick icon to create your WhatsApp broadcast
Step 6: Create your message with text, photo, and/or video
Step 7: Hit send
As a small business, you may have a limited number of customers you interact with each month via messages. Broadcasting with the WhatsApp Business app is a good choice for you. Comparatively, if you're a larger company with thousands of clients and messages to manage, you'll probably want to invest in the WhatsApp business API. (Don't worry, we'll get into these details a little later.)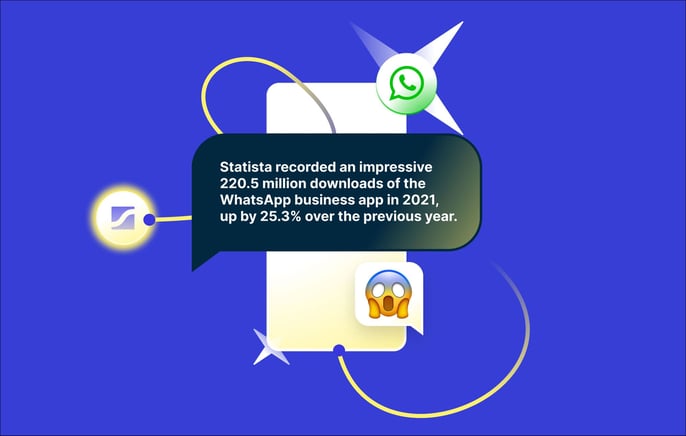 Statista recorded an impressive 220.5 million downloads of the WhatsApp business app in 2021, up by 25.3% over the previous year. 😱
What is the difference between WhatsApp broadcasts and group messages?
A WhatsApp group is like a chat room. The people in the group can chat with each other, and any messages sent to the group are seen by everyone. WhatsApp groups are great for sharing images, videos, gifs, stickers, locations, and other info. This feature, and others, is available for free in the WhatsApp business app.
Businesses use WhatsApp groups for:
Invitations to special events
Keeping up to date with a certain group of customers
Communicating about special topics
On the other hand, a WhatsApp broadcast allows you to send private messages to a preselected list of recipients. As with WhatsApp groups, you can send out multimedia messages, share your location, etc.
The main difference is: a WhatsApp broadcast message is sent as a private message to each individual contact on your list, and will appear in each associated private chat you have with each of your contacts. 🤯 Even though the list is a group, the recipients cannot see each other's messages and they respond individually.
When you send a broadcast to multiple people, this is what you'll see:
How to create a WhatsApp broadcast list?🤔
Are you still with us? If so, you might be wondering about another feature called a WhatsApp broadcast list.
A broadcast list is a saved collection of recipients that you can send broadcast (bulk) messages to directly, repeatedly, and without having to select each one individually every time you want to contact them. (It's like an email group…) Recipients receive your broadcast message like a regular message – directly in an individual chat. In keeping with the email analogy, it's like the BCC (blind carbon copy) function in an email. Broadcast lists are currently limited to 256 contacts each, but you can create an unlimited number of lists. 🤑


✅ HOW TO: Import a contact list to WhatsApp business API
If you're a large business with thousands (or more) contacts and are using the WhatsApp business API, you can import a contact list to save you time and energy. Follow these steps:
Upload a contact list using a CSV file or other accepted format (this is only possible with a WhatsApp business solution partner)
Assign a tag to the contact list in the contacts file to help you organize them later
Double check that all phone numbers have a country and area code
This will create a new list of broadcast recipients who will receive the message like a normal WhatsApp text message. When they reply, it will not be sent to other recipients in the broadcast list.
Note: Make sure you're selecting the contacts who have added you to their address book. They are the only ones who will receive your broadcasts. If you want to lead a group conversation, create a WhatsApp group chat.
✅ HOW TO: Edit a WhatsApp broadcast list
Open your broadcast list
Tap the menu button and then broadcast list info
In the broadcast list info screen, you can:
Change the name of your broadcast list by tapping the pencil icon
Add recipients to the list by tapping on the add recipient button
Remove recipients by tapping, holding, and selecting remove from the broadcast list
✅ HOW TO: Delete a WhatsApp broadcast list
Tap and hold on the broadcast list you want to delete in the chats menu
Tap delete broadcast list.
Then tap delete again

What are the pros and cons of WhatsApp broadcasts?
PROS: 👍👍
Besides saving you time and money, (you don't have to send messages to hundreds of customers one-by-one), when you send a broadcast (bulk) message using the WhatsApp business app you benefit from:
Keeping it speedy: send unlimited broadcasts to all your contacts in a list, simultaneously
Keeping it organized: add up to 256 contacts to each WhatsApp broadcast list, and organize according to your brand's marketing needs
Keeping it private: offer your customers the privacy of personal communication. Each recipient will receive the message as a regular private text
Keeping it real: avoid "sales talk" by sending authentic messages without a label. Recipients won't know that the message is part of a broadcast
CONS: 👎👎
To prevent other less sophisticated brands from spamming people's inboxes with promotional messages, the WhatsApp business app only sends broadcast messages to users who have already saved your number as their contact.
Also, there is a limited number of people you can add to each list: 256 to be precise. If you are a medium to large business, this may be a hindrance and you should sign up for the WhatsApp business API.
In the free version of the WhatsApp business app, there are currently no APIs or integration available. In other words, businesses can't automate by themselves using their own APIs and CRMs. And, it's not possible to import a contact list because WhatsApp assumes you are a small business with limited numbers of clients – you need to add each number one-by-one. Also, you can only use two devices with the WhatsApp business app – only one can be a mobile phone.
And finally, WhatsApp does not 100% guarantee that broadcasts will reach their recipients.
WhatsApp broadcast at its best 🏆🏆🏆
If you're looking for some inspiration for your first or next round of WhatsApp broadcast messages, check out these big-name brands. They're using WhatsApp broadcast messaging in surprising ways.
The BBC (British Broadcasting Corporation)
In 2014, BBC used WhatsApp broadcasts to share news about the general elections in India and the Ebola crisis in West Africa. Because WhatsApp doesn't allow companies (even the BBC) to have their own broadcast channels, the BBC used their own platforms to promote their mobile number. BBC followers were asked to text the word "JOIN" to the BBC's mobile number. Subscribers were also offered the option to remove themselves from the WhatsApp broadcast list by texting the word "STOP".
German TV Broadcasters
To increase the number of news watchers at the German television station RTL , they made the WhatsApp broadcast service available as part of their "RTL NEXT" campaign. Subscribers received important news on their mobile phones every day between 8a.m. and 8p.m.
Newspapers in Brazil
TV and radio stations in the EU aren't the only ones using WhatsApp.
In Brazil, newspapers use WhatsApp broadcasts to receive content from their readers.
Images, audio, and videos can be sent from subscribers via the app to the newspaper who in return publish it in print, on TV and on the Internet. As a result, they create a more engaging, personal way to communicate with their followers.
🥜 NUTSHELL: I'm a small business
We've covered a lot of territory, so let's review some key details and how to send WhatsApp broadcast messages using the WhatsApp business app.
Broadcasting with WhatsApp Business App is free, you can add up to 256 recipients to each broadcast list, and you can send as many broadcasts as you like. But remember, contacts can block or report you if get spammy.
You can use WhatsApp Business App on a maximum of two devices at the same time, only one can be a phone.
✅ How do I send WhatsApp broadcast messages?
Step 1:

Open WhatsApp

Step 2:

Tap on the three vertical dots in the top right corner

Step 3:

Tap

New broadcast

from the menu that opens up

Step 4:

Select recipients from your address book

Step 5:

Tap on the "green tick" to create your WhatsApp broadcast list

Step 6:

Write/create your message

Step 7

: Hit

send
🥜 NUTSHELL: I'm a large business
If you're a medium or large business, you'll want to use the WhatsApp business API to send broadcast messages. First, you'll need two things: a messaging inbox and a WhatsApp API account.
If you don't have a WhatsApp API account yet, you can choose between WhatsApp Cloud API and the WhatsApp Business API. Make sure you understand the differences between them to get the most from the platform.
Note: the WhatsApp Broadcast API has benefits not available in the WhatsApp business app:
You can use the API with multiple users (employees)
You can send broadcasts to users that have not added your number
You'll can message a larger WhatsApp broadcast list
You can import contacts (see above)
✅ How do I send WhatsApp broadcast messages using the WhatsApp business API?
Upload a contact list using a CSV file or other accepted format
Assign a tag to the contact list in the file to help you organize them later
Double- check that all phone numbers have a country and area code
Create a messaging template and submit for approval
Click on broadcast module
Click add broadcast
Name your broadcast, choose the channel, and add a broadcast list
Choose between contacts with ALL of these tags, contacts with ANY of these tags, and ALL Contacts in this channel
*Remember to select only send to contacts who interacted with this channel before to comply with WhatsApp regulations
Select the relevant message template and create your broadcast
Schedule it for a specific date/time or test it by sending it to a friend
💪 Good to know:
Remember, when you send a WhatsApp broadcast message to a large recipient list, they will NOT arrive at the same time. Don't freak out and message WhatsApp when you realize some of your list hasn't received your message. Your broadcasts will be delivered according to the country codes with lower numbers first. 😮‍💨

charles is here to help. Find out how.