At charles, we believe the core requirement to building a WhatsApp marketing strategy is having a team that is dedicated to delivering quality guidance - helping you (the marketer) remain innovative, tactical and competitive.
When it comes to creating a successful WhatsApp newsletter strategy, our customer success and in-house creative team sit at the heart of our clients' success. They work around the clock to ensure they have the tools they need to win their customers' trust on one of the top (and most competitive!) marketing channels today.

In addition to believing in the success of our clients, we also believe that sharing is caring. So we put together a list of our top 7 lessons - including do's, don'ts and some 'aha!' moments that every marketer should keep in mind when building a WhatsApp marketing strategy.
The 'Do's' of successful WhatsApp marketing strategies
What are the best practices when it comes to WhatsApp Marketing and the Power of Conversational Commerce? Read about what to certainly include in your direct marketing campaign below!
1. Do create a personal connection with your customers
Some marketers may have you believe that winning a customer comes down to who can offer the biggest discount. Yes, discounts are a plus and often the nature of the game during holidays like Black Friday, but it's only a small part of a long-term connection between brand and consumer.

Consumers value community— in fact, 64% of consumers want brands to connect with them, while 76% of them would buy from a brand they feel connected to over a competitor. When framing out your Whatsapp campaign, think of ways to foster connection through conversation, such as:


Asking for product feedback

Checking in on a customer post-purchase

Offering an exclusive perk (like special access to brand content or an early bird view of a new product drop also creates a sense of 'FOMO' with the customer)
2. Do use an interactive approach to reach customers online and offline
The customer journey zig zags through multiple touchpoints both on-and-offline, which means there's opportunity to drive more value with your Whatsapp campaign long after a customer has interacted with your brand via the messaging app.
For example, a well-known fashion retailer and fellow charles client launched a newsletter campaign on WhatsApp to communicate a secret sale happening on Black Friday weekend. Their initial campaign message included a CTA button that would 'unlock' the surprise: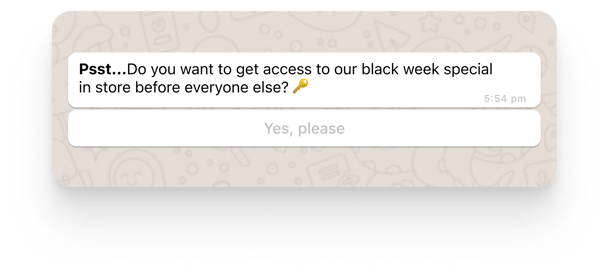 When the customer clicked on the button, they were led to a second message where the brand offered them a 30% discount if they presented the WhatsApp message at the store during checkout: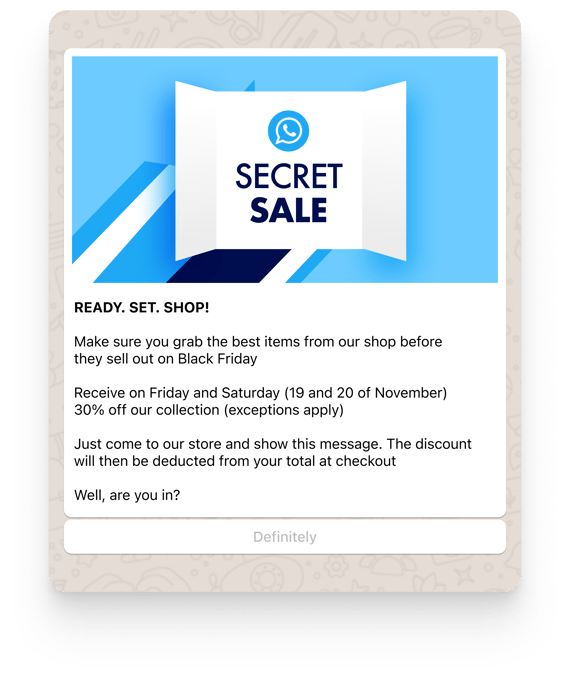 While the brand offered the traditional Black Friday discount, they did so in a clever way by linking their WhatsApp campaign to the in-store experience, getting customers to visit a physical location. The brand's strategy to kick off the campaign with a CTA button to 'unlock' the discount also creates a sense of urgency with the customer rather than simply presenting the discount in their initial message. And this actually resonated with customers; as a result, >50% of the newsletter recipients clicked the CTA button to 'open' the surprise discount, while 5% of them went on to visit the store.
3. DO use 'Thank You' page widgets to drive opt-in collection.
In the age of GDPR, it is critical that you have explicit opt-in from customers in order to communicate with them via any channel, and WhatsApp is no exception.
One strategy we've found particularly valuable is using your 'Thank You' pages as a means of collecting opt-ins. With charles, this can be done by simply inserting a widget on the page that enables the customers to connect with you via WhatsApp easily: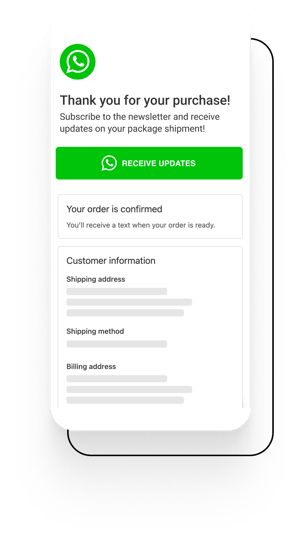 Keep in mind: a good conversational commerce tool will also help you build an automated flow to easily collect opt-ins/double opt-ins from customers once they sign up for WhatsApp messages.
4. DO set up a campaign 'war room' to test, monitor and debug your campaigns.
Sending out a Whatsapp newsletter campaign is more than just a 'set it and forget it' process. Your team should be ready to troubleshoot any issues pre-launch and monitor progress post-launch to maximize performance.
When building your campaign war room, don't forget to A/B test your newsletter strategy to yield the best possible results. This is especially useful during peak season holidays (such as Black Friday) when site traffic is at its highest. Use that momentum to identify which experiences (such as messaging, design and timing) your customers are most likely to engage with and optimize your strategy as you see results.
5. DO leverage Customer Success resources to learn effective Whatsapp marketing.
If you're using a tool like Charles to jumpstart your Whatsapp newsletter campaign, you'll have a dedicated Customer Success team member who will act as your 'coach' along the way. This person's primary job is to ensure you have the tools you need to maximize your campaign results. This means everything from brainstorming the right format for your campaign, identifying which days will lead to higher open/click-through rate, and how often you should send out your Whatsapp newsletters to develop an effective cadence. Not only are they an excellent source of support, but they're a valuable source of knowledge to help you and your team learn more about the benefits and strategies behind a winning Whatsapp campaign.
Which leads us to our next lesson…
6. DO leverage A/B tests to drive the best possible strategy.
Speaking of tests: when launching a Whatsapp newsletter campaign, did you know that you can also create A/B tests to determine which campaign yields the strongest results? Check out our case study with fashion company Snocks where the brand A/B tested exit intent popups to prove the value of Whatsapp vs traditional email (and achieved a 2.5x higher open rate in the process…)

What NOT To Do When Launching a WhatsApp Marketing Campaign
We've talked about the 'do's' - now it's time for one critical 'don't' when it comes to setting up your Whatsapp newsletter. And it's a lesson that can cost you customers and budget if ignored…
DON'T duplicate your email newsletter formats on Whatsapp
Whatsapp newsletters and traditional email newsletters each serve their own purpose; the former is meant for lower frequency, highly relevant communication while the latter is more typically used for high frequency communication. While it's possible for the two to live in perfect harmony in your marketing strategy, it does not mean their formats are interchangeable.
Simply put: avoid using an email newsletter format for your Whatsapp newsletters. By nature, a Whatsapp newsletter is shorter in content and meant to capture a customer's attention much faster than a traditional email newsletter would. Trying to fit email newsletter content into a Whatsapp newsletter can lead to lower conversion rates and an overall lower quality rating.
Ready to Kickstart Your Whatsapp Marketing Strategy?
Our teams at charles have hit the ground running to make sure our clients drive success via Whatsapp in 2022. If you're a customer and want to brainstorm new ideas for your next Whatsapp newsletter, reach out to your CSM today!

Not a Charles customer? Get in touch and we'll help you create a Whatsapp newsletter strategy that helps you reach your customers exactly where they are.