Posted: December 14, 2022
Updated: December 09, 2023
Cyber Week's a wrap, and what a week! 🚀🚀🚀 🥂 Here are our top 8 insights from our clients' campaigns to help you do WhatsApp right for Black Friday 2023.
Record purchases, customer engagement and revenue: Black Friday 2022 was hard proof that consumers now fully trust WhatsApp as a business channel. (Especially in Germany 🇩🇪 and Italy 🇮🇹)
With a slight tear in our eye, we can say: WhatsApp is all GrownUp.
And we think it's fair to say: so is charles. Our platform is stable and performing well and offers greater functionality (automation 🙌). We have many happy clients and are achieving our mission of helping businesses grow through conversations.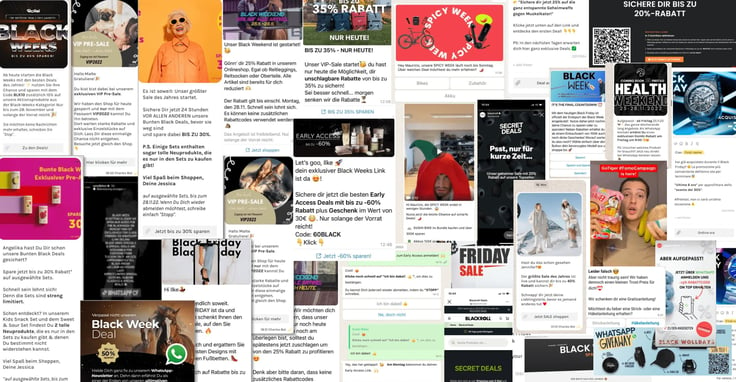 A beautiful sight: some of the many WhatsApp marketing campaigns sent with charles for Cyber Week 2022
Last year, WhatsApp was an emerging sales and marketing channel. Now, it's established. We know what does and doesn't work and love to pass on this knowledge.

Damian, Customer Success Director
9 Black Friday hacks for your WhatsApp marketing campaigns
To help you plan your WhatsApp campaigns for the holiday season, here are our main takeaways from Black Friday that will help boost your success:
Give early access:

campaigns that go out 2-3 weeks beforehand

perform much better than last day or final call reminders and are pretty much essential these days.

Use low stock to your advantage: when products run out, this is a good thing! It's the perfect chance to draw people into your WhatsApp channel for a genuinely useful reason. Customers keen on a product want to hear from you when the product is back in stock. And they generally appreciate you sending a simple WhatsApp message instead of an email.
Take the chance to build your channel:

Black Friday deals are a powerful draw to get people into WhatsApp, especially with exclusive offers.

Message new subscribers quickly:

clients who messaged people who had just signed up for WhatsApp saw 3x as much spend.

Use holiday-themed Chat-ins:

snowflake bubbles, Christmas tree popups, Santa-shaped QR codes... whatever your concept, be event-specific and get many more opt-ins.

Segment your audience: segment using tags and custom properties and tailor content for much higher engagement.
Show a range of products: we found that images showing many products got more engagement than a single product.

Personalize: for example pet name, dog breed, favorite color. Customers appreciate a personal touch and results will be higher. Especially true for high emotion brands.

👇 TAKE NOTE OF THIS ONE: IT'S GONNA MAKE YOUR LIFE A LOT EASIER 👇

Don't bother with final reminders

:

interestingly, we found that sending "last call" campaigns added few marginal sales and mostly reduced overall efficiency. This means you can save yourself the effort of planning final reminder messages, while reducing your risk of people blocking you for sending too many messages.





Why is this? Because open rates are so high to begin with (90% or so), people have already read your message. It's not like email where open rates are as low as 10%, very few people ignore a WhatsApp message, so if your offer is good, they'll go for it straight away.





It goes to show (once again) that you don't need to approach WhatsApp marketing with an email brain. Life on WhatsApp is a lot simpler 🙌



Black Friday trends and observations
Some things we noticed about how this shopping day has changed in the last year:
Black Friday lasts much longer now: it's become more like a "Black Month." Many clients started sending campaigns 2-3 weeks before Black Friday.

Consumers start early too:

people anticipate and actively search for deals, with high subscriber growth starting 2-3 weeks before Black Friday.
Many clients put WhatsApp first for the first time: even over email and other channels, with some even closing their online shops to funnel people into WhatsApp.

There's still some reluctance around phone numbers:

we observed that for some clients, people still often hand over an email address rather than a phone number. (But for other clients, it was the opposite.)
WhatsApp usually beats email: WhatsApp tended to outperform email campaigns – as much as 2.5x. Email is still a complementary channel for many clients, but increasingly they're putting more resource into WhatsApp.
With a growing number of larger brands on WhatsApp, trust has grown.
Rip-roaring RPR results
We have one number that's a clear indicator of WhatsApp's growing maturity. (Also a useful proof-point to convince your company to start with WhatsApp 😉 )
Average revenue per recipient (RPR) is how we measure the success of a WhatsApp sales campaign. There are extra costs per message with WhatsApp (compared to email) so a solid RPR helps maintain a profitable, sustainable channel. We say in the region of €1.50 RPR, but of course this varies depending on what you use your channel for.
Incredibly, we discovered that in hundreds of Black Friday campaigns, our clients' average RPR has risen hugely:
For Black Friday 2021, RPR was €1.70.
In 2022, it was €3.64.
On average, clients are getting 2x the return on their spend twice as this time last year.
Many clients put WhatsApp first for the first time: even over email
How did RPR double in just a year?
Damian Minski, charles Customer Success Director explains:
First,

consumers are getting used to hearing from brands on WhatsApp, particularly in our key markets of Germany and Italy. With a growing number of larger brands on WhatsApp, trust has grown. We've seen that open and engagement rates remain high, while conversion rates have increased.
Second, many

clients have spent the last year building relationships

with these customers. Throughout the year, they send non-promotional campaigns too – to educate, entertain and give real value. These customers became loyal fans.
Third,

we've learned which type of companies and products are more likely to profit from WhatsApp

and were increasingly selective in who we signed and supported this year.
Fourth, we have

strongly improved our tool capabilities and functionalities

to help brands build, manage and segment their audience based on preferences and previous shopping behavior.
"Also, our team was much better equipped this year and we started a lot earlier. We planned our approach months ahead and started reaching out to clients 2 months before Black Friday.
"Last year, WhatsApp was an emerging sales and marketing channel. Now, it's established. We've done so much testing and have much more experience. We know what does and doesn't work and love to pass on this knowledge."
You don't need to approach WhatsApp marketing with an email brain. Life on WhatsApp is a lot simpler 🙌
How did we get clients ready for Black Friday?
Of course, as a business, we had a Black Friday strategy too.
We shared blog posts with tips on how to set up a WhatsApp channel, how to ensure success and how to create a stand-out campaign. Plus a Black Friday landing page with more about how our WhatsApp Business platform works for big shopping events like this.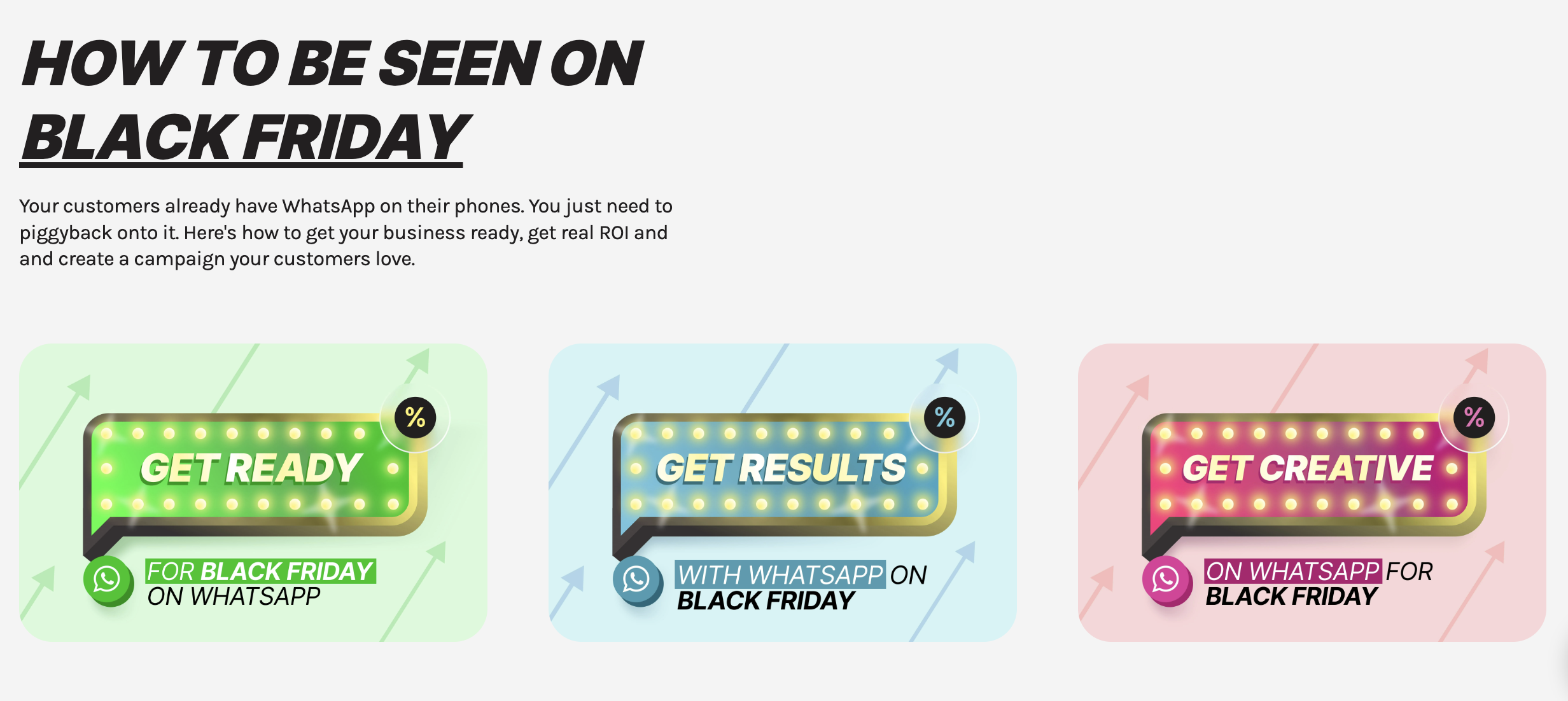 A series of blog posts helped prospects get into WhatsApp and make it a success
We also accelerated our onboarding process to help businesses start early and grow their WhatsApp channels in time.
But the biggest kudos has to go to our Success and Tech teams who worked super hard on the frontline, preparing clients for Cyber Week and supporting them on these days.
Here's how we prepared clients for success:
1. Early preparation 🎨
Shared a "Be seen on Black Friday" discussion document including a preparation timeline, best practices and creative ideas

Offered a webinar with SNOCKS to increase motivation and engagement

Ran structured outreach to every relevant client with several follow-ups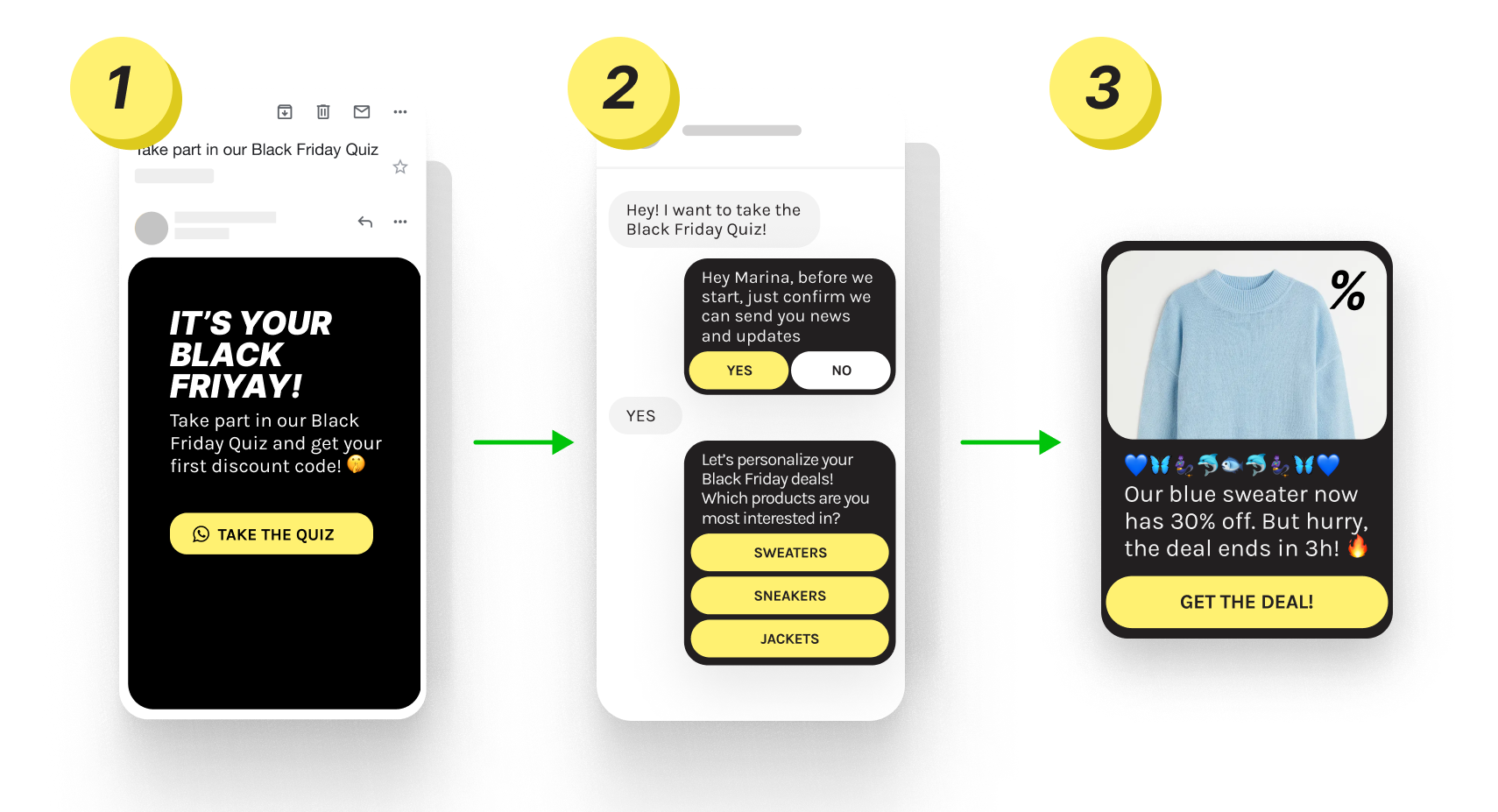 We gave clients Black Friday campaign ideas – with an eye on GDPR compliant opt-ins
2. Ongoing guidance 🚸
Helped clients to accelerate subscriber collection




Conducted weekly progress tracking of client discussions

Entered known plans into a joint calendar to create one overarching campaign plan and anticipate load

We helped clients create a Black Friday strategy, tailored to their business
3. Risk mitigation 👩‍🔬
Analyzed previously failed or stopped campaigns

Focused investigations to fix identified technical issues (most common sources of incidents)

Set up a shared risk mitigation plan with run books and workarounds
4. Live support 🚦
Developed and introduced an on-call model and shifts to increase service levels

Closely monitored client activities leveraging several automations into Slack

Quickly reacted and jointly intervened in case of campaigns stopped by WhatsApp or other smaller incidents
Clients have spent the last year building relationships with customers – educating, entertaining and giving real value. These customers became loyal fans.
A big thank you to those clients who trusted us to make Black Friday 2022 a success for them. To know that our baby is all grown up and looking after itself makes us very proud parents.
Get started with WhatsApp marketing for Black Friday 2023
There's still time, but be fast. Book a 30-min demo and we'll show you how our WhatsApp platform can help your business build stronger relationships, talk more directly with customers and grow revenue. And we'll help you grow your audience so you can use this sales day to your advantage.
If you have any more questions about WhatsApp and Black Friday/BFCM, we've made a handy guide to using WhatsApp successfully for Black Friday here.