By Maxine Hess
Writer | WhatsApp marketer | Creative
Updated on September 29, 2023
Events
,
WhatsApp Marketing
Even marketers need a break sometimes. But with targets still to meet, how can you keep customers interested, even when you're on vacation? 🌴 WhatsApp automation is a powerful solution.
In our recent webinar, 5 WhatsApp summer secrets, our Success team spoke about how to turn a lead into an advocate in 5 simple steps – all in WhatsApp, all automated.
You can watch the full webinar here:
How to use convert more customers using WhatsApp automation
Why is WhatsApp the best channel to build loyal relationships?
It's a 1-to-1 channel where people connect with family and friends. Customers view WhatsApp as a personal space. To connect with customers, you have to be invited in in the first place.
This is a privilege for brands and makes it a relationship based on trust. Treat your customers right – be friendly and relevant, don't overdo the messages and offer personality as well as value – and people will be very loyal, usually more so than in email or social media channels.
How to convert leads into loyal customers using WhatsApp automation
If you're short on time, here are the key points summarized for you, with a transcript of the Q&A at the end.
(It's more "steps" than "secrets" – but we've shared many WhatsApp tips and tricks we've learned from working with our clients.)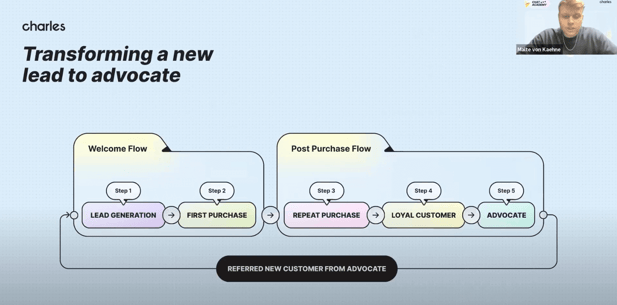 5 steps to turn a new WhatsApp lead into a brand advocate

Lead generation:
set up a high-converting WhatsApp welcome flow
To start the customer journey you need to get people into your WhatsApp channel in a converting, GDPR-compliant way.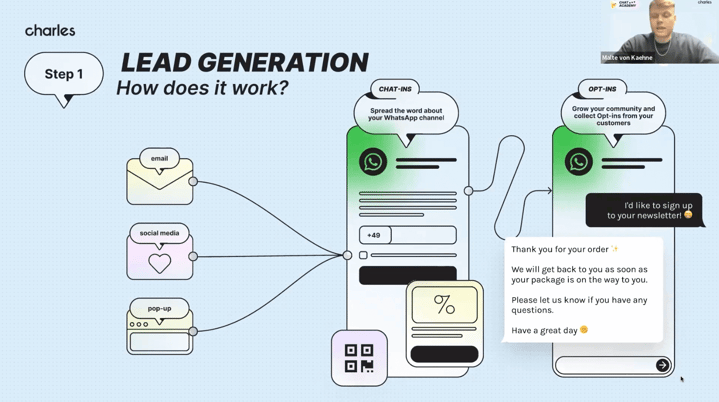 Lead generation in WhatsApp is similar to email marketing, but often a bit easier
For this you use "Chat-ins," or entry points to get people into your WhatsApp chat, like website popups, social media posts like Insta stories, email sendouts.
These all link to your WhatsApp channel. When the customer clicks or taps, they go to a "wa.me link" that opens WhatsApp with a prefilled message they send you to trigger the opt-in welcome flow.
You then:
Get consent to send WhatsApp communications

(double opt-in and a clear way to unsubscribe for GDPR compliance)
Find out customer preferences and store responses for future targeting (in charles WhatsApp API solution, we add automatic "tags" to customers)
Optimize with A/B testing: do random splits to test customer behavior (all possible in charles)
Top tips when asking preferences in WhatsApp
When asking questions during your automated WhatsApp welcome flow:
Don't ask more than 3 questions while a customer is opting in: this may cause people to drop off, or even block you
Make your questions highly relevant: ask things like what they want to hear from you on WhatsApp and their favorite clothing styles, not what they had for dinner :)
Always add an "I WANT IT ALL" option when asking about what customers want to hear from you: for example our client, Caballo, asks customers, "Which brands are you interested in?" They then offer a few brand names and one "ALL" option. You can then send very targeted messages to customers, with no surprises.
Some of our clients bring in €1 million a year with automated WhatsApp welcome flows

Malte, Customer Success

First purchase:
get the first order in WhatsApp
Now your customer is warmed up, it's the perfect time to trigger a first purchase.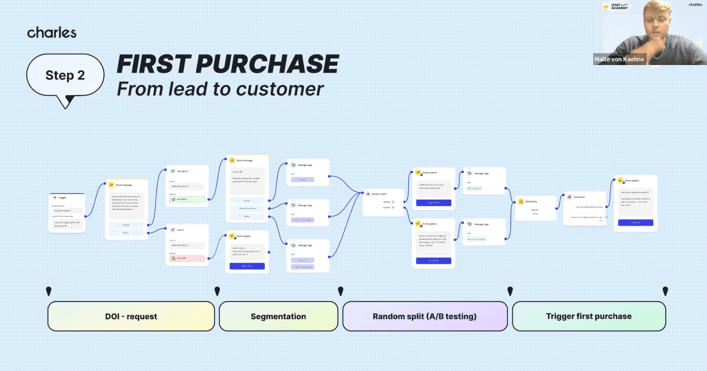 This is how your first-purchase WhatsApp flow might look in charles Journeys tool. Get a demo here.
Generally, during the opt-in, you offer a discount like 10% off for joining your WhatsApp channel. The next message (sent automatically with Journeys) gives them the discount code. they can use.
Typically, if they don't respond, our clients send a reminder to use the code within 24 hours.
Top tips:
Create FOMO: some clients use discount codes that will run out after 24 hours. This is worth testing.
Use max. 23-hour time delay: this will keep costs down by keeping the entire flow within 1 conversation, and so one cost per conversation from WhatsApp (see more on WhatsApp API pricing here)
Don't be too pushy: WhatsApp is still WhatsApp, not email. You want to keep it a personal channel. We advise clients not to send a second reminder.

Repeat purchases:
reengage with relevant WhatsApp messages
Now what? What do you do with all your new subscribers so they buy again, more, additional products and on a regular basis?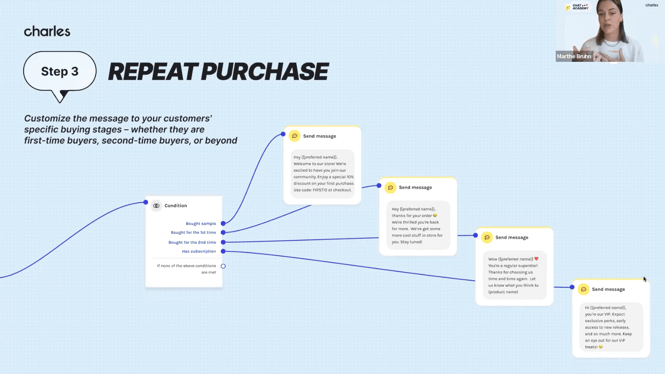 How to encourage repeat purchases with charles WhatsApp automation feature, Journeys.
Want to see how it works? Get a demo here.
In charles, you can connect your shop system, like Shopify, with your WhatsApp platform. When certain shopping events happen, they can trigger automated WhatsApp messages:
Replenishment reminders: "Hey, we think you might run out soon? If you like, order more here"
Cross-sell message: "Liking your sweater? We have something that would go really well with it. With 10% off, just because..."
Upsell message: "Since you bought these bracelets from us lately, we wanted to let you know we've just dropped a new luxury version you might like"
Feedback request: "How did you like your smoothie bowl?" "Great to hear! Here's 10% off your next purchase." OR "Sorry to hear it, what can we do better? Here's another flavor you might like more (with 10% off)..."
About the Journeys "Condition node"
This is one of our clients most favorite charles features. It's a powerful way to personalize WhatsApp conversational flows, but in an automated, highly efficient way.
Use it to split audiences along different WhatsApp conversation paths. For example "If customer bought before..." and "If customer hasn't bought yet" OR "If customer clicked last campaign" and "If customer didn't click last campaign."
In the example below, you can see how this flow won't be send to anyone who hasn't opted in to this type of WhatsApp message – so you can stay GDPR compliant. It then splits audiences further. Depending on how many purchases they've already made, they will get different benefits from you.

Our Condition node splits customers depending on their previous behavior,
for better personalization with minimal effort

Loyal customer:
offer the VIP treatment
Now it's time to reward your best customers. First, make sure you know what conditions you require to make someone a VIP (3x purchases in one month for example).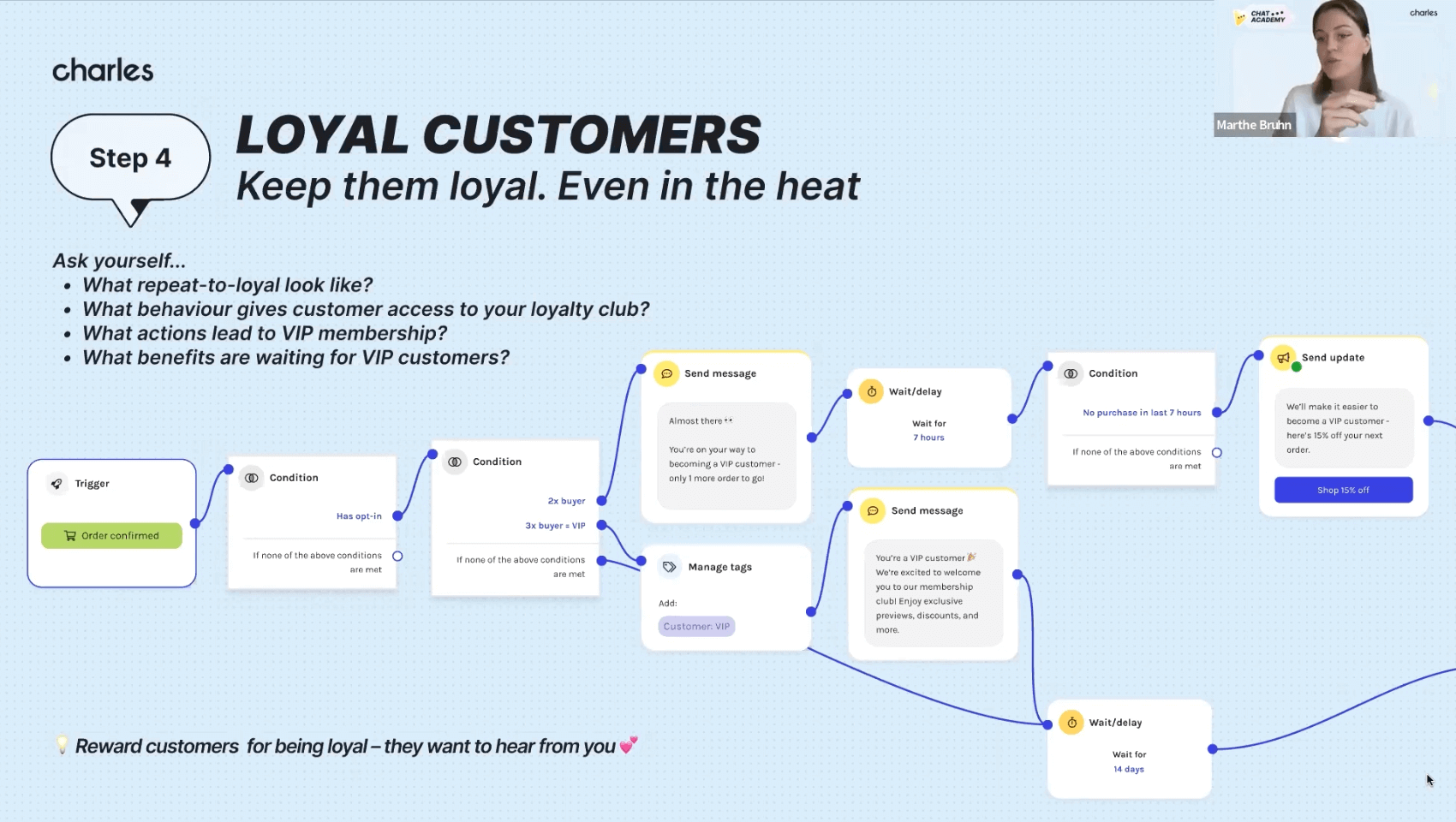 This information will be automatically brought into your charles WhatsApp platform through your shop system integration. When a customer has become a VIP, a tag will automically.
Top tips about WhatsApp loyalty programs
Gamify it for more engagement: make sure customers know exactly what they have to do to become a VIP, and let them know their progress on the path: "Just 1 more purchase left and you're in! Unlock all your VIP benefits by buying 1 more product in the next 24 hours."
Celebrate the new status: when customers become a VIP, let them know. Give them a reward straight away. Create a VIP logo they will see every time you message them to remind them. Make them feel special.
Live up to your promises: make sure they feel value from becoming a VIP so they want to stay one.

Brand advocate:
make it easy to share with friends
Now you have a list of VIP customers that love your brand, ask them to share the love.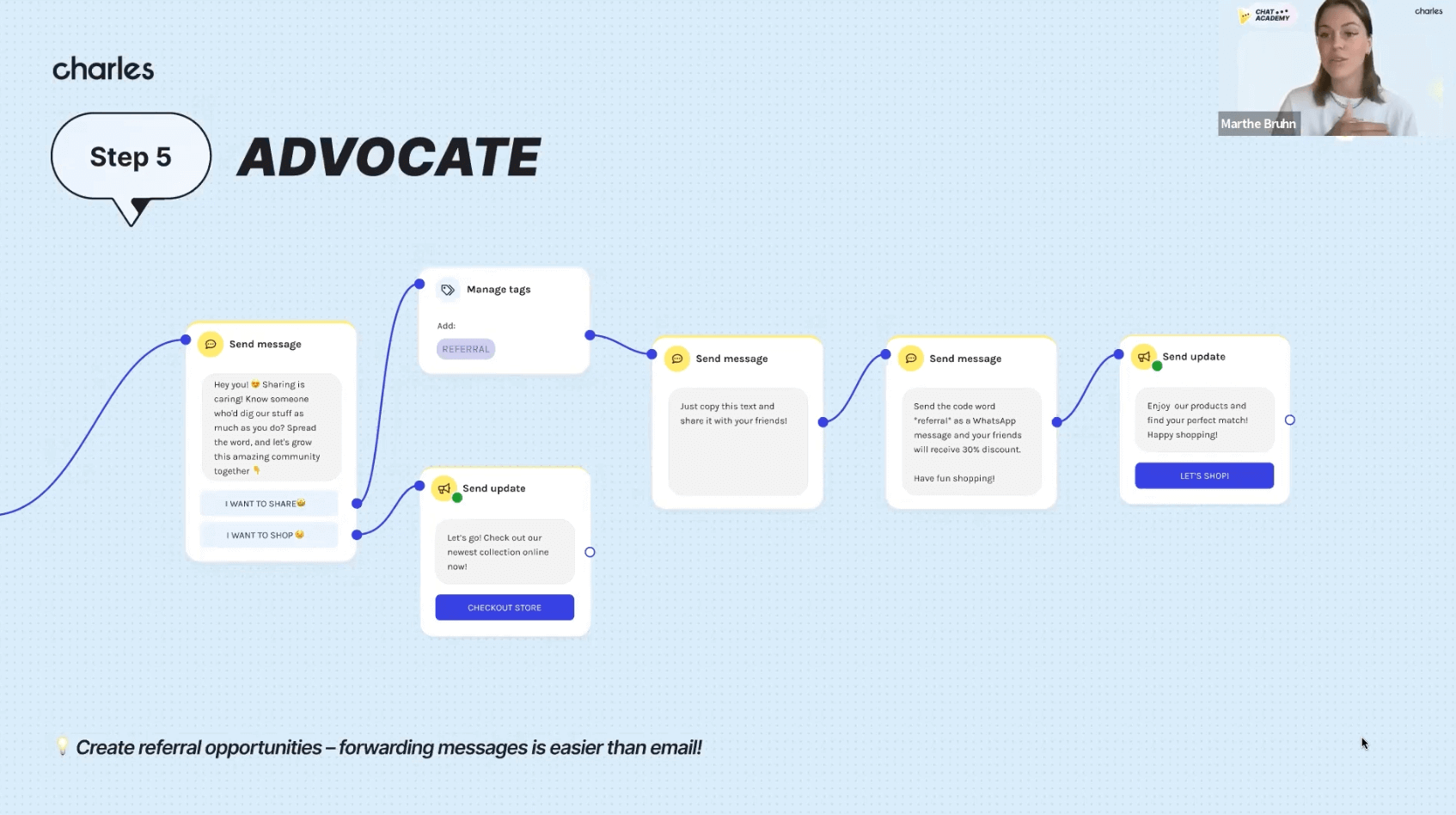 You can set up an automated WhatsApp referral program easily in charles Journeys feature
In this example, we ask if someone wants to refer to a friend or go shopping. They can share a discount code with a friend. When they do this, they get a tag, "Referral" so you know they've become a brand advocate.
You can then lead them to the shop so they can also spend more money with you. If their friend also shops, the referral customer will get a discount too.
And that's it
Using entirely automated WhatsApp flows, you've just converted a new WhatsApp customer into someone who wants to spread the word about your brand with their friends.
All while keeping things personal, relevant and not annoying.
And while drinking a caipirinha on a Bali beach 🍹🌊
How would it work for your brand?
Any questions on how WhatsApp automation and lead conversion would work for your particular industry or product? Just ask us and we'll tailor a demo to you – with use cases and WhatsApp flows designed just for you.
Book your 15/30-minute demo here.
Get more ideas for converting leads in WhatsApp
There are many ways to boost customer loyalty in WhatsApp – to build relationships and keep revenue flowing in beyond the first purchase.
For more on how to do this, with 7 message template examples you can use, see: "Why WhatsApp is great for customer retention [+7 CRM templates]."
To sum up: with charles, you can automate the entire WhatsApp process from lead to loyal
As discussed in the webinar, it's easy to convert WhatsApp leads into loyal customers in 5 steps. It's a personal channel that you've been invited into, so the relationship is based on trust. Also, customers appreciate the short, friendly messages and the 1-to-1 connection they can have with your brand.
Not to mention the exclusives they will come to expect in WhatsApp.
With WhatsApp automation it's even easier. Thanks to easy-to-use WhatsApp automation features like charles Journeys, you can set up as many WhatsApp conversation flows as you like, for all stages of the customer journey, all segmented, all split into the right audiences.
This means you can get leads into WhatsApp, get your first purchase, get repeat purchases and create VIP and referral programs, all without any extra effort from you, or a need to have customer agents on hand.
Personalization is important, especially in WhatsApp. With WhatsApp automation, you can add tags automatically to customers when they opt in, interact or shop with you. That way, even with automation, you can be highly relevant and targeted – for better response and higher revenue.
We hope this helps you understand why WhatsApp is a powerful tool for creating extremely loyal customers, how to convert leads in WhatsApp, and how you can ease your life by using WhatsApp automation.
Black Friday 2023 is approaching fast (November 24). If you're thinking about using a WhatsApp marketing channel this year, we recommend you start with WhatsApp as early as possible.
Talk to charles to find out how to get started and learn how to use this opportunity to build your WhatsApp audience – and retain them for ongoing revenue.