By Jay Pendragon
Copywriter
Updated on December 8, 2022
In 2022, it's become tougher than ever to differentiate your brand from your competitors. Given the swathes of seemingly identical products and services, how can a company truly stand out? Two words: conversational commerce.
When it comes to purchasing decisions, potential customers care more about a positive experience than product quality or prices. 80% of customers are even willing to pay more for better service.
This goes beyond cha bots and voice assistants: conversational commerce can be found in messenger apps like WhatsApp or Facebook Messenger. It's there that customers habitually spend a huge chunk of their time.
Yet simply having a WhatsApp Business account won't 10x your revenue or shorten your customer journey or sales funnel. So what exactly is conversational commerce or cCom? How can you use the power of conversational commerce for your business and which best practices can you lean on? Are there cases in which cCom is not ideal for you?
Here at charles, we've made it our mission to help our customers channel the power of conversational commerce from chat-in to chatout and beyond. In this ultimate guide, join us as we uncover together with Christopher Schubert, Sales Director here at charles:
What you need to know about

conversational commerce in 2022
How to unlock its benefits for your business
Why automation will never replace sales
Ready? Let's go!
Why has conversational commerce taken over customer service?
What started as a trend in the mid-2010s has evolved into a stable tool for marketers around the globe. Given the large user base of messenger apps, it won't surprise you that brands want to use WhatsApp, Facebook Messenger, or WeChat, too.
According to a 2021 tweet from Will Cathcart, Head of WhatsApp, 175 million people chat with WhatsApp business accounts every day. The number has certainly only grown since then.
Why conversational commerce has become so popular with businesses has several reasons:
cCom meets people where they already are
Chances are, you've received several messages while reading this guide. WhatsApp alone reports more than 100 billion messages sent daily, and about 60% of German WhatsApp users check their app daily. How often have you checked your messenger apps today? If high-quality customer service means providing convenience, there is no easier channel to engage with clients than messenger apps.
Messenger apps trump email
Our own clients have proven that messenger apps trump email. Just look at SNOCK's WhatsApp newsletters that achieve a 2.5x higher open rate than conventional newsletters. In general, WhatsApp has an open rate of 98% vs. the 14.5% of emails.
Chris Schubert exemplifies the advantage of WhatsApp over email with one easy question: When was the last time you didn't read a WhatsApp message? Especially when you opted in to receiving them, you will at least check.
Messenger apps are an ideal extension of online stores
Sure, a chat on WhatsApp can't replace a face-to-face meeting with a sales agent in a store. Yet messenger apps have a much more personal touch than email. Just compare the experience of chatting with a person on WhatsApp to having an exchange via email. Which feels more like a real conversation to you?
Conversational commerce helps with SEO
In terms of website content, conversational commerce takes the onus off a company's marketer. Sure, it is possible to write content that meets SEO requirements. Yet optimizing text for search engines tends to impact the customer reading experience. With the option to add a chat-in link, this dilemma is much easier to face. You can focus on SEO-friendly content and personalization of the customer's journey on your site at the same time.

The real power of a conversation: 5 examples of highly effective uses of cCom
The application of conversational commerce offers many possibilities, depending on your field, brand, and offers.
Let's see how existing charles customers leverage the power of a conversation to maximize sales and customer satisfaction:
1. Maniko: "Chatout links" and QR codes
This beauty brand is giving the classic nail polish an overhaul with their innovative products and leverages conversation commerce through creative chatout-links and QR codes.
Maniko provides these links on checkout pages and on flyers added to product shipments, allowing customers to chat with their nail experts. They can easily find out which nails suit them, get informed about new styles, or quickly re-order.
A special bonus is the ability to automate recurring questions, which saves time and capacity of service agents for more sophisticated tasks. Since you can include videos, this channel is perfect for tutorials to explain the product better. By now, service for Maniko has turned into a profit center, engaging customers and delivering high retention rates.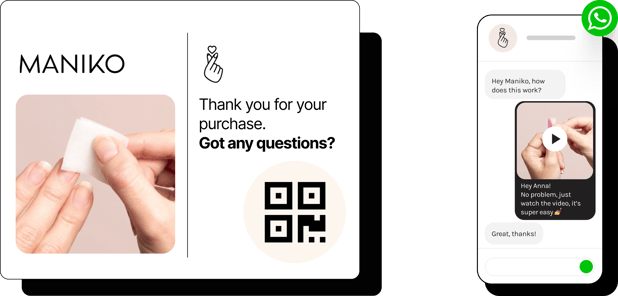 After a successful service conversation, Maniko uses the excellent customer experience to generate opt-ins in a manually triggered flow. The opt-in is automatically added to a campaigning list. Lists can be further segmented with the use of custom properties and tags. That way, customers are always provided with relevant content.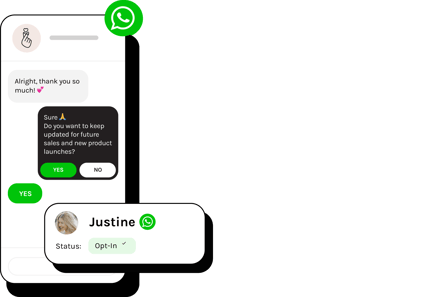 This strategy has yielded impressive results: Their WhatsApp newsletters achieve a 11x higher CTR than they ever did on email with a 4x higher opening rate. They receive 10x the value per sendout on WhatsApp and they are building a community of true fans who love their easy and personal style of communication.
2. Concrete Jungle: exit-intent popups
Concrete Jungle, delighting the world with special jewellery made out of concrete, leverages their thank you page for exit-intent popups. They offer customers to receive their shipment tracking updates via WhatsApp and subsequently lean on the automated flow to provide a wonderful experience.
Upon delivery, Concrete Jungle offers another opt-in, this time for their newsletter – with impressive results: They have 1.4k subscribers so far which yield a staggering conversion rate of 13%.
You can see the power of conversational commerce in action here: By reaching their customers in their daily habits and providing a seamless service experience, Concrete Jungle has managed to 50x their revenue per sendout via WhatsApp compared to email newsletter. 50x, you read that right! ​😯​
3. Fitness products: doubling your average order value (AOV)
Using WhatsApp and other messenger apps to turn sales conversations into a personal, fun, and engaging experience also impacts a brand's average order value. The more trust you build, the more people are willing to spend.
One of our clients here at charles doubled their average order value by leveraging WhatsApp as a sales and marketing tool. They sell fitness and wellness products and thus need stellar customer service since their community requires specific answers and information before making a purchasing decision.
Furniture is another consulting-intense field that benefits immensely from conversational commerce. Just look at the case of woodboom. 😎​
Another charles client from the same field uses cCom to guide clients through the purchasing process, including follow-ups and automating the after-sales flow.
In March 2022, this furniture brand made 33% of total sales on WhatsApp, while 80% were supported by WhatsApp in some shape or form. Thanks to charles and the power of conversational commerce, this brand has reached a 1.5x higher AOV for Chatouts compared to general purchases.
So customers aren't just happier when ordering via messenger apps, they also spend more!
4. SNOCKS: building a community through cCom
SNOCKS managed to take an everyday product, i.e. socks and underwear, and turn it into a source of joy for their growing community of customers. The rising e-com fashion brand receives 6x the value from their WhatsApp newsletters than they did with email.
How they achieved it is rooted in a well-established strategy in marketing: SNOCKS uses an "exit-intent" popup, i.e. a popup that appears when a visitor is about to close the website. They A/B-tested two versions: Popup A offers a 10% discount if customers sign up for the WhatsApp newsletter, popup B a similar deal for email.
The resulting numbers speak volumes: For the first campaigns, opening and conversion rates of SNOCKS' WhatsApp newsletters jumped by almost 150%. What's more, customers loved the frictionless interaction of website and chat apps.
Next up for the brand is to scale their WhatsApp opt-ins with post-purchase flows. This will certainly drive engagement even more and help SNOCKS build an even bigger community.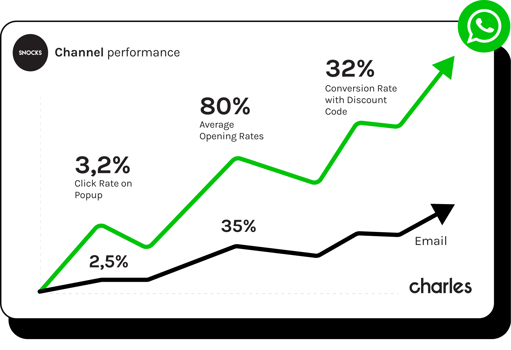 Newsletters for community building and increasing sales also worked well for Every Food. The vegan food brand leveraged the Veganuary trend to run a newsletter campaign that provided tips, recipes, and more on a plant-based lifestyle.
Subscribers could choose the frequency of WhatsApp newsletters and generally responded very enthusiastically to the idea. With 850+ sign-ups and less than 10 unsubs during January 2022, they converted 300 first-time customers.
What's more: 91% of all customers loved the format and want to participate again, meaning Every Food successfully used the power of conversational commerce. Ccom yielded more clients and increased customer satisfaction, which in turn will inspire loyalty and increase customer lifetime value. All through simple chats, eh?
5. ecommerce: Increase revenue through conversational commerce
When we talk about cCom and the power of conversations, we of course mean how it can impact the bottom line of any business using it.
Two examples from the list of charles' clients show just how much of an effect conversational commerce can have on sales revenue:
A premium retail brand with both online stores and a local presence ran a pilot to see if their target audience would respond to WhatsApp as a channel of communication. Another aim was to get customers from their couch back into the store following the closure of retailers due to the pandemic.
The results clearly answered their question: They made 7x more revenue per sendout via WhatsApp than email and even 3€ / and a more than satisfying return per sendout for their Black Friday Campaign. Beyond increasing sales, conversational commerce resonated deeply with customers: 8 out of 10 users of the service said they were "very satisfied".
Even more impressive is the case of an online grocery store. They offered a 20% discount for opt-ins to their WhatsApp newsletter. Less than a month after go-live, they had sent 12k messages and gained 1.1k subscribers.
Guess how much revenue they attribute to charles and cCom? 12k. They attribute €12,000 of revenue to charles and conversational commerce. Let that sink in, my friends.
More examples of the power of cCom
Of course, there is more to conversational commerce than the examples mentioned above. We don't mean voice assistants or using the google assistant – for Christopher Schubert, they don't count as genuine cCom cases. These, on the other hand, do:
Abandoned cart flows
Abandoned cart flows in conversational commerce count toward the marketing case that Christopher Schubert values for it's potential. Once the automated flow is set up, any client who abandons their cart will receive a message. This directs them to ask any question that still remains and keeps them from hitting that "buy" button.
Once engaged, it is up to the flow or the customer service and sales agents behind the chat to take the doubtful customer to a successful chatout.
Chat-ins on the product page
Similar to cart abandons, exits on the product detail page are common. "People don't find the information they need, have a question, or just want some reassurance," Christopher Schubert explains. If you want to provide a seamless experience for your customer and successfully move them through the journey, you need to offer them a convenient and familiar solution here. A chat-in link lowers the threshold for customers to reach out and – voilà. You can now convert them via conversation!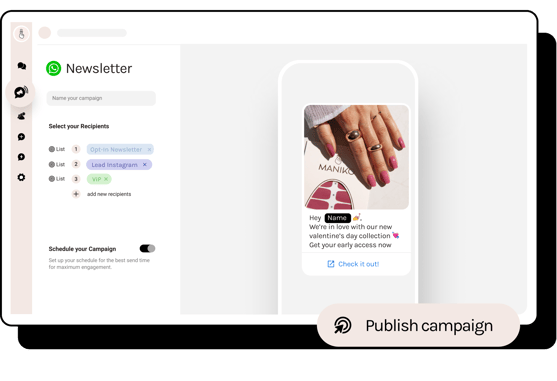 Create basket
Speaking of chatouts: That's the term we use for clients ordering via WhatsApp. Yes, you read that correctly: Clients can fill their carts right in WhatsApp. The backend allows the service agent to drag and drop products into the chat, combine a cart and have the client confirm the purchase. All without leaving the convenience of their messaging app!
Reviews
Last but not least, you can leverage the power of conversational commerce to gather reviews for your online store. Asking customers to provide feedback as a final step in the post-order flow or as a part of your newsletter strategy is a promising method. Combined with a thank-you offer or discount code, it will generate even better results. Beyond that, it shows potential customers what stellar service and quality they can expect from you.
How to get started with conversational commerce
Conversational commerce really packs a punch, doesn't it? Given the data on usage of messenger apps like WhatsApp, it should be clear to any e-commerce and hybrid business that they need to provide customer journey touchpoints via chat.
Here's how you can get started with conversational commerce:
Step 1: clarify your need for cCom
"The question is not," Schubert says, "whether you should use conversational commerce to increase sales and improve customer service experience." The real question is: When will you start?
Step 2: research the power of conversational commerce
Since you're reading this article, you're already making headway on this step. For more information about how cCom can transform your business, check out our "Book of cCom". You can also find several case studies on brands from different fields, such as beauty, furniture, health, fashion and more.
Step 3: choose your cCom provider
Once you have a feeling of what you need from a conversational commerce provider, it's time to reach out and book demos.
To see how we can help you boost your business with the power if cCom, simply request a demo. During the chat and subsequent calls, Christopher Schubert and our team will help you design the strategy that best fits your cCom needs.
Ready to transform your business and inspire long-lasting customer relationships?
Reach out to us for a chat today! 💛
Sign up for the charles newschat on WhatsApp 💛

and never miss any news in cCom.

Just scan the code